Madonna has spoken out after she was subjected to negative social media comments and headlines about her appearance at this year's Grammy Awards.
Her appearance at the annual music bash prompted scrutiny and speculation on social media and in the press, with some questioning if the 64-year-old had undergone cosmetic surgery, which the singer said was rooted in "ageism and misogyny".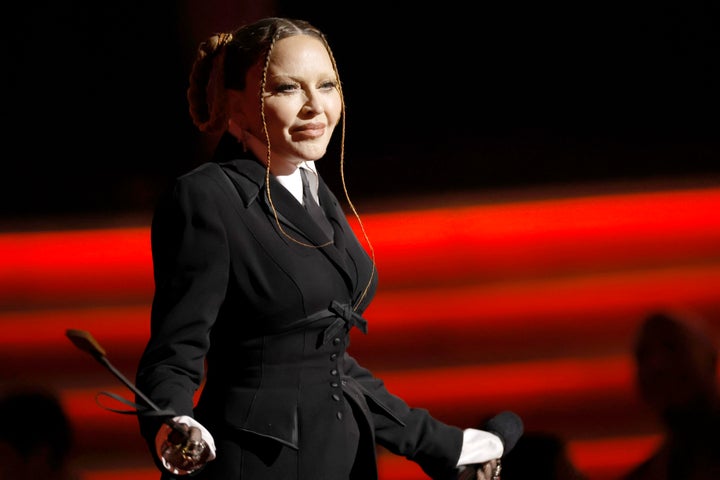 In an Instagram post shared on Tuesday evening, Madonna responded to the criticism.
"It was an honour for me to introduce Kim Petras and Sam Smith at the Grammys," she wrote. "I had wanted to give the last award which was album of the year, but I thought it was more important that I present the first trans-woman performing at the Grammys – a history-making moment," she wrote.
"And on top of that she won a Grammy!!" Madonna continued, referring to Kim and Sim winning the Best Pop Group/Duo Performance award.
She added: "Instead of focusing on what I said in my speech which was about giving thanks for the fearlessness of artists like Sam and Kim, many people chose to only talk about close-up photos of me taken with a long lens camera by a press photographer that would distort anyone's face.
"Once again I am caught in the glare of ageism and misogyny that permeates the world we live in. A world that refuses to celebrate women pass [sic] the age of 45 and feels the need to punish her if she continues to be strong-willed, hard-working, and adventurous.
"I have never apologised for any of the creative choices I have made nor the way that I look or dress and I'm not going to start."
Madonna pointed out that she's been "degraded by the media since the beginning of my career but I understand that this is all a test and I am happy to do the trailblazing so that all the women behind me can have an easier time in the years to come."
The singer ended her message by quoting the Beyoncé lyrics: "You won't break my soul."
She concluded: "I look forward to many more years of subversive behaviour – pushing boundaries – Standing up to the patriarchy – and Most of all enjoying my life.
In a follow-up tweet, Madonna also wrote: "The world is threatened by my power and my stamina. My intelligence and my will to survive.
"But they will never break me, this is all the test."
In the clip, the Like A Prayer singer is seen showing off her moves to the Gaga album cut Bloody Mary, which went viral on TikTok last year after it was used to promote the hit Netflix series Wednesday.
Madonna will embark on a global tour in the summer, which will see her perform her greatest hits from across four decades in shows across North America and Europe.