We already knew beards weren't the most hygienic of hairy areas when a study confirmed that some contain fragments of poo. But new research now suggests that men's beards are actually dirtier than dogs' fur. Is it time to go clean-shaven?
The new study analysed bacteria levels in the beards of 18 men aged between 18- and 76-years-old and revealed them all to show high microbial counts. That's bacteria to you and me.
Professor Andreas Gutzeit, from Hirslanden Clinic, Switzerland, said: "On the basis of these findings, dogs can be considered as clean compared with bearded men." Good news for dog owners, not so great for beard owners.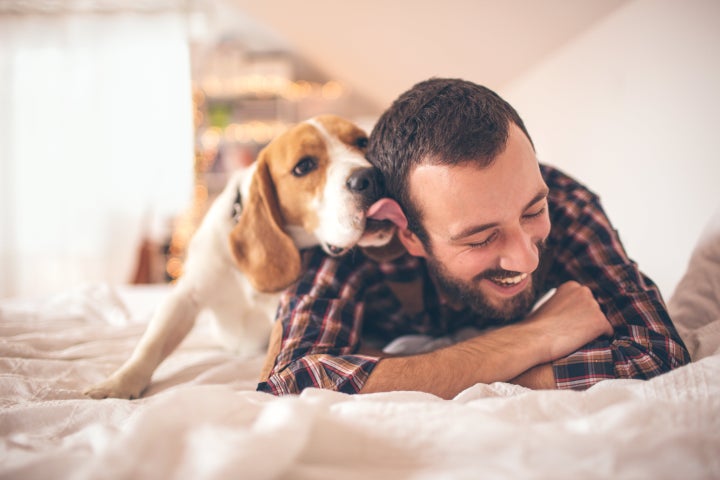 The results are perhaps unsurprising. A previous study by Fragrance Direct and Manchester Metropolitan University found that, after testing a range of beards (ranging from long and short to stubbly), almost half (47%) of male beards contained faecal matter. Grim.
The majority of participants involved in the study claimed they had washed their beards the same day of the test. Interestingly, the study revealed even shorter beards had more bacteria.
Discussing the latest body of research Keith Flett, founder of the Beard Liberation Front, said it's possible "to find all sorts of unpleasant things if you took swabs from people's hair and hands and then tested them". He added that he doesn't believe beards are unhygienic.
For those feeling slightly grossed out by the study, there are various things you can do to keep that mighty bit of facial furniture clean and tidy.
Sam Hickey, head barber at Murdock London, says men with beards shouldn't be too worried, unless they are working around dirty or unhygienic areas.
"Naturally, people pick up bacteria from the world around us and there are easy steps to help prevent this," he tells HuffPost UK.
"Cleansing the beard using a three step process – shampooing, conditioning and moisturising with specific beard-related products – will enable the gent to gain a cleaner and softer beard."
Washing your beard can help stop itching. It also removes any build-up of dust and dead skin.
Hickey recommends using beard shampoo and conditioner once a week to remove both excess product build-up and then strengthen the beard afterwards. He says you might want to use a beard moisturiser – like Murdock's which contains aloe vera and menthol – daily.
Brushing your beard with a bristle brush can also prevent bacteria from spreading, while also helping to exfoliate the skin and hair, removing any unwanted flakes.