Rio Ferdinand broke down in tears as he spoke about how he is supporting his children through their grief following the death of their mum.
Ferdinand, who is dad to Lorenz, 10, Tate, eight, and Tia, five, has spoken about how his family are coping after the death of his wife Rebecca Ellison, in a new BBC documentary, 'Rio Ferdinand: Being Mum And Dad'.
The former Manchester United and England footballer said his greatest concern is for his eldest son who has barely spoken about his mum's death.
"I get nothing out of the two boys," the dad said.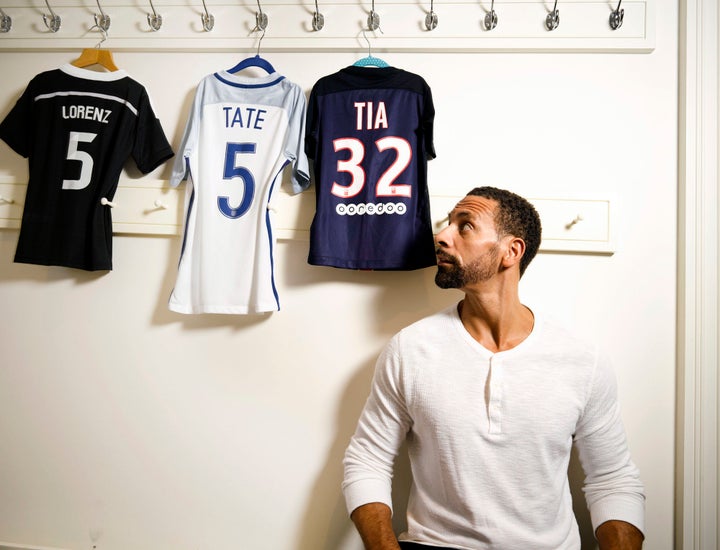 Ellison, 34, died in May 2015, shortly after being diagnosed with breast cancer for the second time.
The documentary follows Ferdinand and his family as part of a focus on bereaved parents and children.
Ellison told her husband he would be "a perfect mummy and daddy" to their children, but he has felt that he has struggled with the transition to single parent.
"When they first went back to school I woke up in the morning scrambling around," he said, according to The Sun.
"It was the first time they've ever been late for school but I was having a panic attack on my own in the house.
"I had to go into a room on my own and sit there and think, 'What happens now?' Then I've got one of them in the car going, 'Mum wouldn't do this'. You don't know what to do. You sit there."
Bedtime has also proven to be a difficult moment.
"Rebecca used to fix their beds a certain way, and when they'd tell me it almost felt like a slight," Ferdinand told The Radio Times.
"I'd think, 'Whatever I do isn't going to be good enough'."
During the documentary, Ferdinand meets with the charities Child Bereavement UK and Jigsaw, as well as with other parents who have lost their partner.
Golfer Darren Clarke, whose wife Heather died of cancer in 2006, tells Ferdinand: "The best thing you can do for your kids is to let them see you smile now and again."
Ferdinand found this advice to be a great help and he also learnt about a tool he could use to help his children talk about their feelings.
He gave them a "memory jar" – a large bottle into which they can put notes with memories of their mother.
Lorenz wants to write down his mum's favourite Ed Sheeran songs and Tia said: "I like doing this. I'm going to do it every day."
Ferdinand said afterwards: "We can talk about Rebecca now. That memory jar has changed everything."