The Duke and Duchess of Sussex have announced the birth of their first child, with the royal couple sharing news of their baby son's arrival through a statement from their Instagram account @sussexroyal.
Meghan Markle, 37, and Prince Harry, 34, said they are "excited" about this "special time in their lives".
The seventh in line to the throne baby boy – an eighth great-grandchild for the Queen and the Duke of Edinburgh – arrived at 5.26am, weighing 7lb 3oz.
A beaming Harry called it "the most amazing experience I could ever have possibly imagined," adding: "How any woman does what they do is beyond comprehension.
"We're both absolutely thrilled and so grateful for all the love and support from everybody out there, it's been amazing, so we just wanted to share this with everybody."
Next on the to-do list for the royal couple is choosing a name. Harry said they were "still thinking" but "the baby was a little bit overdue so we've had a little bit of time".
He said he planned to make another announcement in two days' time "so everyone can see the baby".
Harry could not stop beaming after giving his hastily arranged live public announcement about the birth of his son.
The prince added: "I haven't been at many births. This is definitely my first birth – it was amazing, absolutely incredible.
"I'm so incredibly proud of my wife. And as every father and parent would say, your baby is absolutely amazing.
"But this little thing is absolutely to-die-for so I'm absolutely over the moon."
Off camera he looked relaxed and was understandably in a very good mood but confessed to missing out on rest, saying: "I've had about two hours' sleep."
A tweet from The Royal Family's Instagram account confirmed the couple's parents had all been informed and were "delighted with the news".
The Queen and Philip, grandfather the Prince of Wales, and the Duchess of Cornwall and the Duke and Duchess of Cambridge are all said to be delighted with the news.
The palace statement also mentioned the siblings of Harry's late mother Diana, Princess of Wales, who died in a car crash when he was 12.
"Lady Jane Fellowes, Lady Sarah McCorquodale and Earl Spencer have been informed and are delighted with the news," the statement said.
"The Duchess's mother, Doria Ragland, who is overjoyed by the arrival of her first grandchild, is with their Royal Highnesses at Frogmore Cottage," the palace said.
A framed notice of birth went on display on a ceremonial easel on the forecourt of Buckingham Palace following the birth.
The framed notice was brought out of the Privy Purse Door of the Queen's London residence and carried across the forecourt.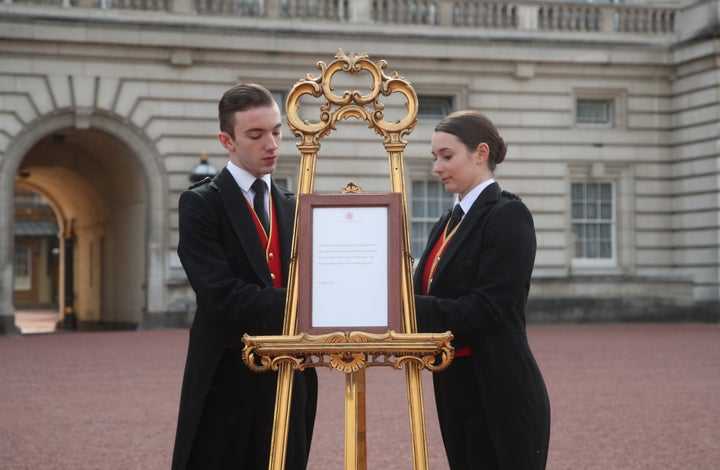 Harry and Meghan had decided to keep their plans around their first baby's arrival private – a break from recent royal tradition which has seen Prince William and his wife Kate, Duchess of Cambridge, pose for world's media outside the Lindo Wing of St Mary's Hospital, Paddington.
In a recent statement, Kensington Palace officials said Harry and Meghan were looking forward to sharing the news of their baby's birth after celebrating privately as a new family.
The Sussexes recently re-located from Kensington Palace in London, where they lived in an apartment near to the Duke and Duchess of Cambridge, to Frogmore Cottage in Windsor, where they got married on 19 May 2018.
The Duke and Duchess announced that Meghan was pregnant with their first child on 15 October at the start of their tour of Australia and New Zealand.
Meghan's mother, Doria Ragland, has already flown into the UK from her home in Los Angeles to be at her only daughter's side.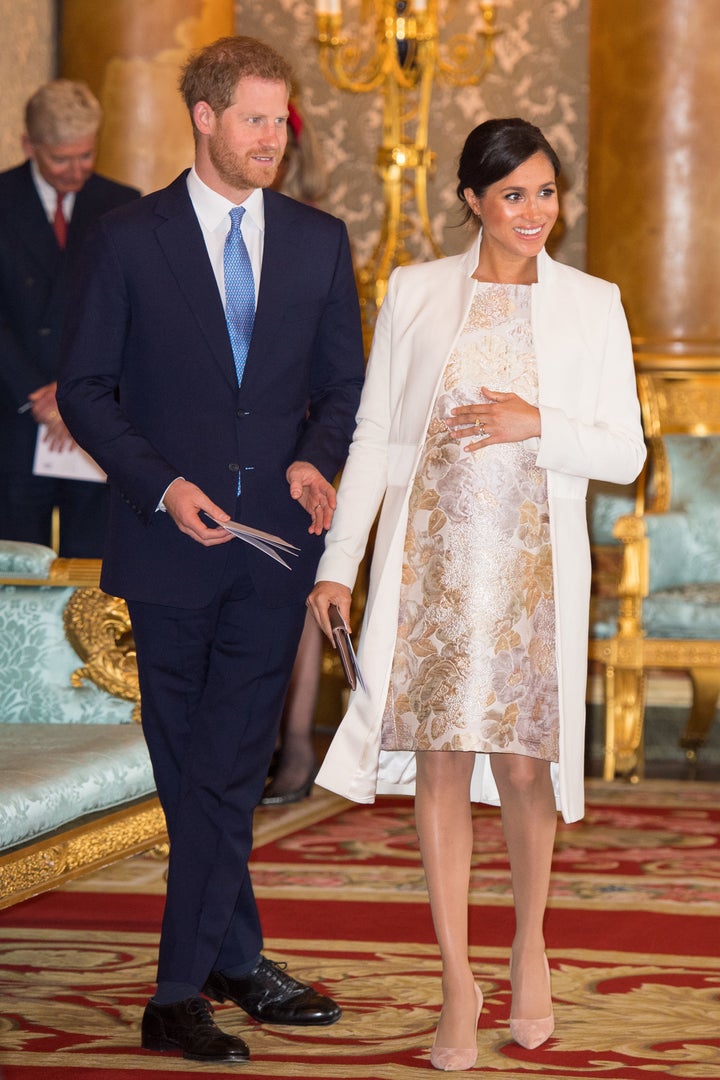 The Sussexes recently launched their own Instagram account @sussexroyal, which gained its first one million followers within a record-breaking six hours.
″[We] are immensely grateful for the outpouring of love and support in anticipation of the birth of their first child," they captioned a picture after the global #globalsussexbabyshower, a grassroots event that saw children around the world send their best wishes to the couple and baby to be.
"The Duke and Duchess remain appreciative for your warm wishes and kindness during this especially happy time in their lives! Thank you for sharing the love ❤️."
Much of Meghan's pregnancy was documented in the media, including her baby shower – reportedly a trip to New York, at a £57,000-a-night penthouse suite at The Mark Hotel in Manhattan.
Interest in Meghan's pregnancy included speculation as to potential baby names: with Victoria and Albert initially thought to be most likely. Phillip, Charles, Elizabeth, James, Mary, and William were also on the list.
Meghan and Harry shared their desire to have children in an interview together for the BBC shortly after their engagement. Asked if they wanted to start a family, Harry said: "Not currently, no" and that the couple were taking things "one step at a time". He added: "Hopefully we'll start a family in the near future."
At a royal engagement in Ireland, in July 2018, one well-wisher reportedly asked Harry: "My husband also has red hair and he gave me five children — when are you and Meghan going to get going?"
Harry laughed and replied, "Five children? Too many."