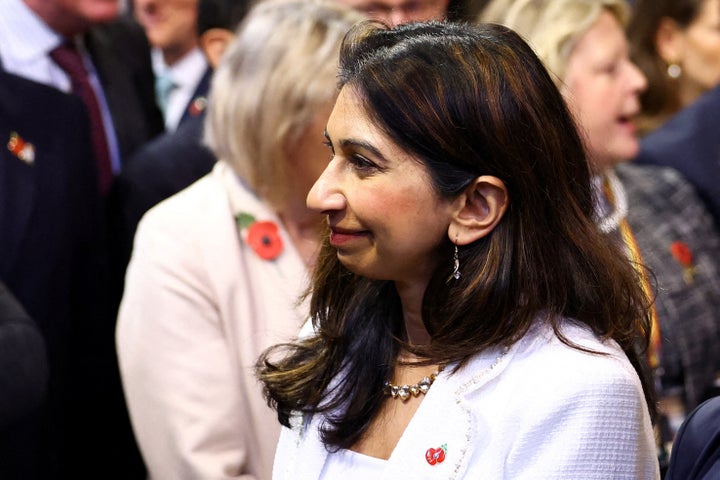 Tory splits have erupted once again after Suella Braverman accused the police of being biased towards left-wing protesters.
Braverman's comments come amid the ongoing controversy over this weekend's pro-Palestine march, which coincides with Armistice Day.
She claimed "there is a perception that senior police officers play favourites when it comes to protesters".
"Right-wing and nationalist protesters who engage in aggression are rightly met with a stern response yet pro-Palestinian mobs displaying almost identical behaviour are largely ignored, even when clearly breaking the law," the home secretary said.
"I have spoken to serving and former police officers who have noted this double standard."
The home secretary is also facing a backlash from Tory MPs over the controversy.
One told HuffPost UK: "She's toast. Rishi wants to sack her but she is trying to go over the top to make it more difficult for him to do it because it looks like he's buckling to press and Labour pressure."
A former cabinet minister said: "It's all about her leadership ambitions, but she's backed Sunak into a corner. If he sacks her now and Saturday's march turns into a riot, then she's proved right."
"Colleagues understand what she's up to and they find it very depressing."
Transport secretary Mark Harper this morning became the latest member of the government to fail to give Braverman his backing, and directly contradicted her by insisting police carry out their duties "without fear or favour".
But John Hayes, a close ally of Braverman, defended her in a Tory WhatsApp group.
In the message, seen by HuffPost UK, he said: "So sad to see protests being allowed on the remembrance weekend. Wholly inappropriate.... and we should speak for the law abiding, patriotic majority by saying so."