Sign up now to get The Waugh Zone, our evening politics briefing, by email.
Happy Halloween And The Blurred Ditch Project
On what had long been billed as an historic Halloween, Jeremy Corbyn started early by trolling Boris Johnson for his broken promise to deliver Brexit by 11pm, October 31.
With a Mexican wife, Corbyn knows all too well that November 2 is the Day of the Dead, by which time the PM's 'do-or-die' pledge will itself be lying lifeless in a ditch somewhere in SW1. I'm told the famous countdown clock in No.10 has been paused and no one's quite sure what date to reset it for.
In an attempt to blur the missed deadline, the PM inevitably blamed Corbyn for the delay. But thanks to an impassioned and slick campaign launch in Battersea, overall it was a happier Halloween for the Labour leader than it was for his Tory counterpart.
Most importantly of all in this festive election campaign, Donald Trump gifted Corbyn the best early Christmas present he could have wished for. The president's LBC interview with Nigel Farage - "Corbyn would be so bad for your country, he'd be so bad, he'd take you on such a bad way, he'd take you into such bad places" - fed perfectly into Labour's narrative that Johnson really is Britain's Trump. No wonder Corbyn quote tweeted Trump later.
At his rally in south west London, Corbyn got his biggest cheer when he said that Labour "won't let Donald Trump get his hands on our National Health Service - it's not for sale, to him or anyone". Cries of "Not for sale! Not for sale!" proved that he was onto something electrifying following claims that the UK and US trade officials have been secretly discussing drugs prices.
Amazingly in PMQs this week, Johnson had no real answer when confronted with the findings of Channel 4's Despatches programme that exposed the talks. Since then, health secretary Matt Hancock has also floundered, saying only that the meetings were "unofficial". Many Tories know they've got to come up with some better answers, and fast, before this dominates the early campaign.
The NHS 'privatisation' line certainly allows Corbyn to deploy his wider message that the current system is rigged in favour of the rich and against the interests of most voters. Add in record waiting lists, chronic staff shortages and Johnson's misleading claims about building 40 new hospitals (Corbyn even did an impersonation of the PM saying "I don't know what the details are") and it's obvious why the health service is a battering ram for Labour on the Tories' overall record over nearly 10 years in office.‌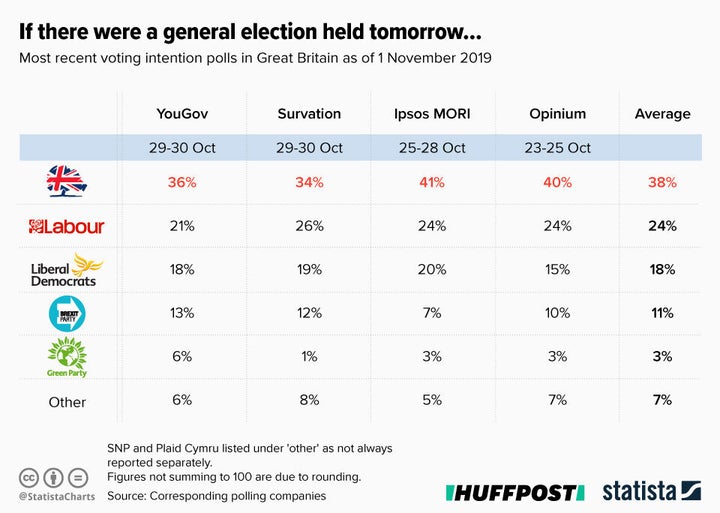 The slogan deployed today was "it's time for real change", a message that aims to contrast with the superficial change of swapping one Tory leader for another. It also heralded what is likely to be an even more radical manifesto than 2017's.
Remember Corbyn cut short his party conference speech because of the Supreme Court ruling on parliament, allowing him to reveal more eye-catching policies in this campaign. A glimpse of that came today when he said on Labour's first day in office, he would "immediately buy all the properties necessary to house the rough sleepers".
Unlike 2017's return to two-party politics, 2019 is very much a four-way contest thanks to the Lib Dems and Brexit Party (indeed five-ways, with the SNP). Even the Greens are on a stubborn score (one poll put them on 10% this week), though Labour strategists believe they can squeeze that come polling day. When Corbyn said today "this election is our last chance to tackle the climate emergency", his interest was political as well as environmental.
And in a first past-the-post system, he needs as many votes as he can get. Today, Corbyn kept asking the crowd "whose side are you on?". They replied "YOURS!" Ideally, he would have preferred them to shout "The People's!", but in fact the Labour leader really needs the voters to make a forced choice (that phrase beloved of pollsters) across the country.
In Labour-Tory marginals, he can't afford for his Remainer supporters to drift to the Lib Dems or for his Leavers to flirt with the Brexit Party. His forced choice messages are varied but equally strident. To Remainers: 'It's a referendum or a Trump Brexit'; to Leavers: 'It's my Brexit or a Trump Brexit', to everyone: 'It's me or Johnson'.
We will find out in coming weeks whether 2017 really was 'Peak Corbyn'. Although their attacks on his IRA links failed last time, the Tories are lining up campaigns to focus on his 'extremism' on everything from the Salisbury poisonings to anti-Semitism. We will find out whether Corbyn's answer today - "It's not about me...it's not a presidential election" - will resonate.
But thanks to a real, live president (who is phenomenally unpopular among British voters) his chances on Day One of this campaign were given a rocket boost. Labour has lift off. And Johnson, you have a problem: Trump is in Britain the week before election day, for the Nato summit.
Quote Of The Day
"Even if the rivers freeze over, we're going out to bring about real change for the many, not the few."
Jeremy Corbyn says the winter weather won't stop his election campaign
Thursday Cheat Sheet
Speaker John Bercow confirmed that Royal Assent had been granted to the Early Parliamentary General Election Act, and polling day is now officially December 12. The current 2017-19 parliament will dissolve automatically at one minute past midnight next Wednesday morning.‌
The Commons passed a motion authorising the six-month suspension of Leicester East MP Keith Vaz. The Commons Standards Committee had concluded there is 'compelling evidence' he offered to pay for a class A drug and had paid-for sex in August 2016.
Diane Abbott said "he should consider his position and I think he himself should agree not to be a candidate'. If as expected Labour withdraws the whip, Vaz's 22,000 majority constituency will be a plum seat for his successor.
Tory MP Andrew Bridgen attacked Bercow for his handling of the Vaz session, attacking "your very close relationship with the honourable member in question". On his last day in the chair Bercow replied "he can try to smear me, he will get the square root of nowhere".
The Intelligence and Security Committee, chaired by Dominic Grieve, wants the urgent publication of its potentially explosive report on Russian interference in the 2016 referendum. No.10 was expected to approve it by today and time is now running out of this parliamentary session.
The Jewish Labour Movement announced it will not campaign for Jeremy Corbyn in the coming election and will support only a handful of MPs who have battled against anti-Semitism in the party.
What I'm Reading
Got A Tip?
Send tips, stories, quotes, pics, plugs or gossip to waugh.zone@huffpost.com.
Subscribe To Commons People
Each week, the HuffPost UK Politics team unpack the biggest stories from Westminster and beyond. Search for Commons People wherever you listen to podcasts and subscribe.