If you've ever thought of doing a triathlon, there's probably one thing holding you back: thinking you're not 'good enough' at one of the sports.
But that's where you're wrong.
People with different fitness abilities, body shapes and ages successfully complete triathlons - and the distances aren't always as long as you'd think.
At the London Triathlon in 1997 just 12% of the participants were female, but in the 2016 event, it rose to 29%, Despite the increase, the stats are far from balanced, when you consider 71% of the participants taking part are men.
"Perceptions of the sport are slowly changing," said Emma Young, triathlon coach at RG Active, the official training partner of the AJ Bell London Triathlon.
"Often the only time triathlon gets coverage on mainstream media is at the Olympics or other championship events. It's very rare that we see coverage of the sport at novice or grass roots level where the reality is, athletes come from all walks of life are a variety of different ages, sizes and speeds."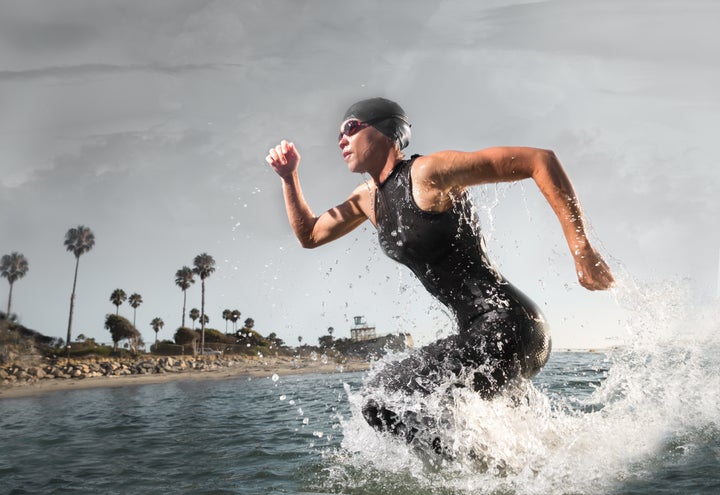 Young said beginners shouldn't be daunted by taking part in their first triathlon and investing in expensive equipment isn't necessary.
What you should be more concerned about is introducing your body to the different sports and enjoy bringing them together. Because training for those three different sports at the same time actually does wonders for you.
Lucy Macdonald, specialist physiotherapist at Octopus Clinic, said the three different disciplines result in broader benefits for our muscles, joints and cardiovascular system.
"Cycling is particularly good for strengthening the knees, running is excellent for the gluteal (buttock) and calf muscles and swimming trains the upper back and shoulders," she told HuffPost UK.
"Spreading training across three forms of exercise means that common injuries associated with repetition are significantly reduced. For example, back pain in cyclists, shoulder pain in swimmers and knee pain in runners."
Rowena Harding, 42, first got into triathlons in her mid 30s. After becoming a confident runner, she wanted to set herself new goals and challenge herself by attempting the swim and cycle.
"My first triathlon was great as I didn't know anything," she told us.
"I swam in a lake outside a shopping mall but it felt like the great outdoors. Even running around the car park made me feel like some sort of athlete, as it felt so different to do each discipline with a bit of fatigue as the event progressed.
"I finished with a massive smile on my face."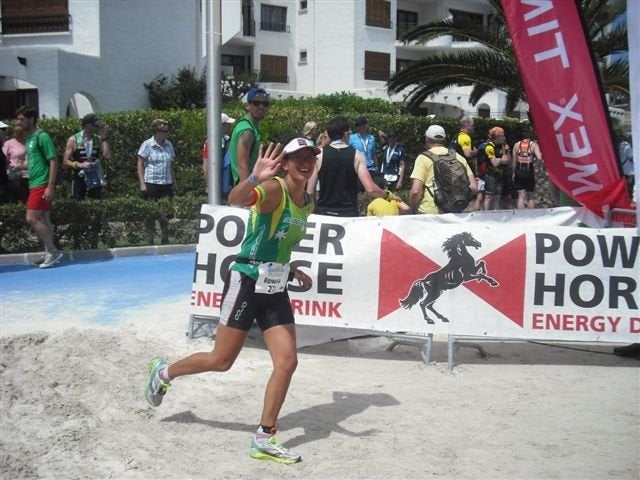 Harding said the hardest part of doing a triathlon was the mental approach, adding: "Everyone says something like: 'I can't do the swim' or 'I can't ride a bike' or 'I don't like open water'.
"That's what's great about triathlon, you have to believe in yourself and give it a go. I always tell people two things: 1) Don't worry about what everyone else is doing (especially middle aged men in lycra) just do your own thing and 2) Most importantly, enjoy it."
Despite everyone having different strengths when completing a triathlon, the swim is the main reason women hold back from signing up.
"The swim isn't necessarily the hardest part of a triathlon," explained Young. "But the majority of new athletes we see are often most apprehensive about the swim leg of the race, in particular open water swimming.
"Putting on a tight rubber suit and jumping in a murky cold lake is so far out of the comfort zone for most people. It is a very big deal for a lot of people to find a coached swim session, turn up to swim somewhere new, surrounded by people you don't know and give something a try for the first time."
"The majority of new athletes we see are often most apprehensive about the swim leg of the race."
Young added: "We always say the first swim is the worst one, and once someone has done it and knows what to expect, the next few sessions they settle in and focus on the swimming a bit more."
Marita Moore, who runs Lotus Fitness Academy, got involved in triathlons after having a road accident on her bike. After taking a break she decided to face her fear of cycling head on by signing up to a triathlon.
"My first one was a small sprint distance done through a local group that consisted of 400m swim, 20.6km bike and 5k run," she said.
"Although all these distances are barely even a warm up for me on their own, put them together and that is a whole different story.
"My body was exhausted but my mind was in elation when I had finished as I had achieved something quite special. It was amazing."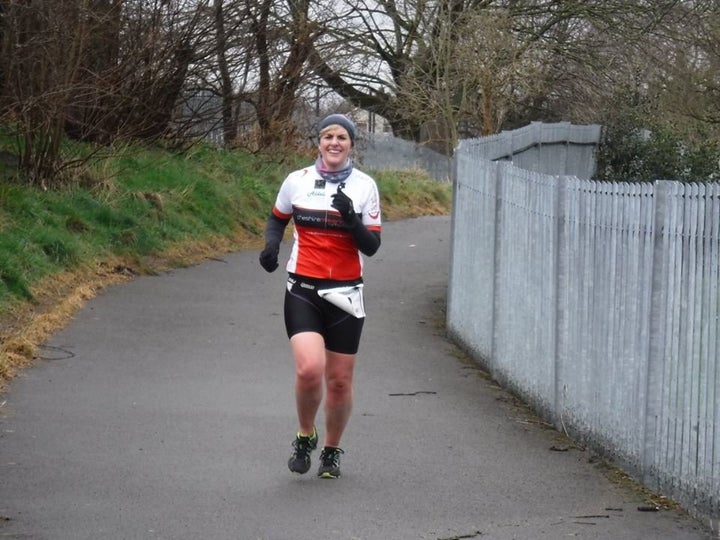 Moore has now done eight triathlons and moved into competing longer distances.
"There is an art to training for a triathlon," she said. "The biggest mistake people often make is they train each discipline separately and also do more of the one that they are best at.
"I personally think woman are underestimated in this sport, we are known for our multi-tasking and these events require exactly that."
Moore said her top three tips would be:
"Find out what your weakest discipline is, train all but do extra on this one to improve your weaknesses."

"Add in what is known as 'brick sessions', where you train two disciplines together."

"Have a plan that allows you to conserve energy, if you train hard in all disciplines throughout the week you will deplete your energy and your training will not be effective."
If you're keen to take part in a triathlon, set yourself some achievable training goals and milestones as a way to keep motivated.
"The majority of your swim training can be done in a pool," Young said.
"Just make sure you get some open water practice - we recommend swimming at least three times in open water prior to your race.
"Do short repetitions of cycling and running (it could be done indoors on a gym bike and treadmill). It gets you used to the tired 'jelly legs' feeling of running off the bike, as well as getting practise at transitioning between the two.
"Cycle 3km, run 1km and repeat two to four times through with no break in between. It's great for getting in both disciplines when you're strapped for time."
Interested? London Triathlon lengths:

- 400m swim / 10km bike / 2.5km run

- 750m swim / 20km bike / 5km run

- 1500m swim / 40km bike / 10km run
For those that would like to take part in The AJ Bell London Triathlon on 22-23 July please visit www.livetotri.co.uk.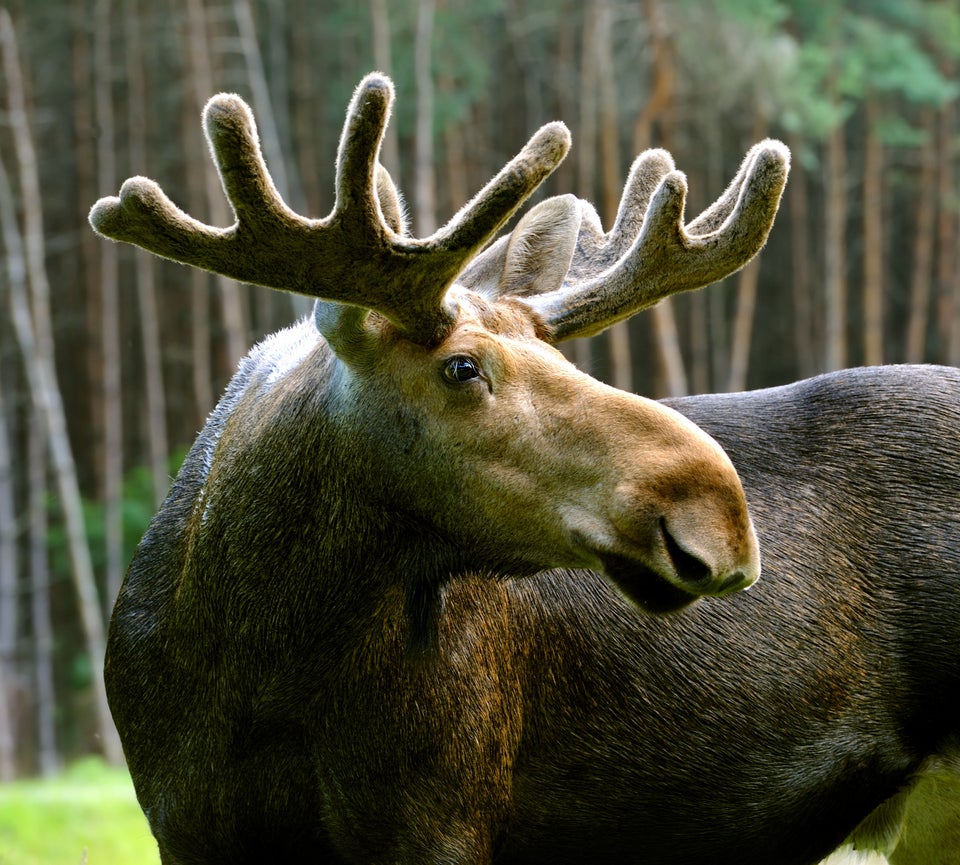 10 Of The Most Unusual Injuries In Sporting History