Shortly after demanding police arrest those calling Ukip members fascists, a candidate for the eurosceptic party has been photographed giving Green campaigners the finger while campaigning.
She also told them to "fuck off" and referred to one of them as "fat", it is claimed.
Janice Atkinson, who is standing in South East England in Thursday's European elections, was canvassing in Ashford, Kent when the Green Party held a counter-demonstration with signs and banners attacking Ukip.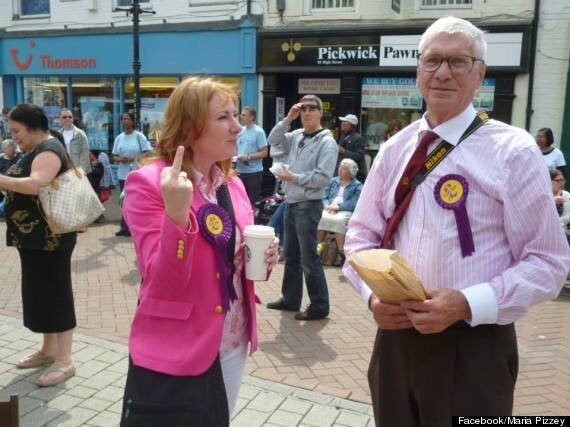 Janice Atkinson flipping off the Greens
According to the protesters, Atkinson made "personal comments about the body size" of activist Maria Pizzey, who posted the image to Facebook, and said: "I don't care where you fucking post this, just fuck off."
In her Facebook post, Pizzey said the other man in the photo looked "embarrassed" about having Atkinson as a candidate.
Atkinson, who describes herself as Nigel Farage's 'number two', posted her own photo of the Greens to Twitter, calling them "the attractive face of the Greens, apparently".
Speaking about the Ashford incident, she told The Independent: "They were intimidating my party workers, women and elderly distinguished gentlemen, calling them racist bigots. That is unacceptable, we are the third party of politics.
"They were also intimidating members of the public who approached me. One young woman who said she was in her 30s and had never voted before, said she was voting for me.
"The fat Green woman approached her, telling her that I was a racist bigot. She was very upset, she later told me she had complained to the police."
The Greens denied using any intimidation.
Activist Thom Pizzey told the paper: "We never shouted. We stood respectfully and quietly to the side of their stall and let people approach us."
Popular in the Community