Nigel Farage has "a lot of questions" to answer after being pictured in the Mediterranean on the eve of the crucial Newark by-election, "hand in hand" with a woman who is not his wife, says a national newspaper.
The Daily Mirror ran the photographs of the married Ukip leader and the woman, who was appeared to be walking using a crutch, across its front page on Thursday, beneath the headline: "Off To Bed At 3.42am...So Did Ukip Alone, Nigel?"
The paper claimed Farage, whose party are deemed serious contenders to enter the Commons at next year's general election after coming first in the European elections, had been partying all night in Malta and entered the hotel with Ande Soteri, identified as a "travel chief".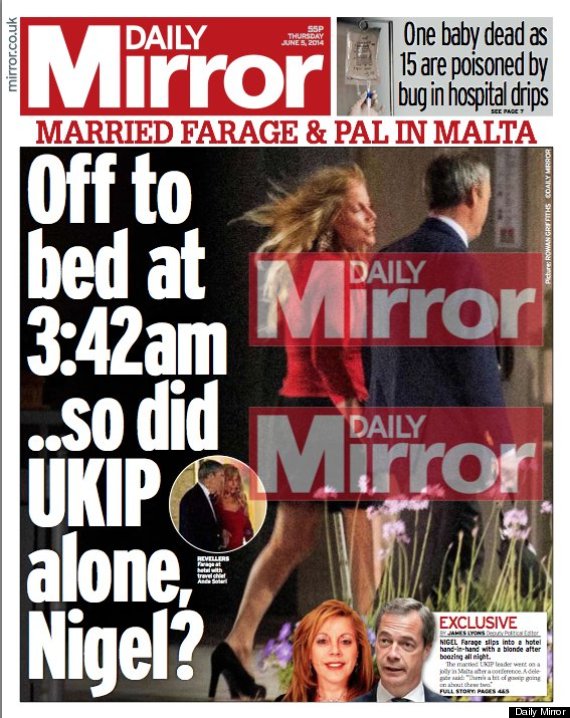 The Daily Mirror's front page on Thursday
The tabloid's reporters approached Farage for comment, asking whether there was any impropriety, to which he said: "Good god no.
SEE ALSO
"I had never even met her before yesterday – completely innocent."
Farage also told The Daily Telegraph: "There isn't much to say. I was at a party in a bar next to the hotel and we walked back to the hotel and went to bed. I didn't go to bed with her.
"She is disabled. She has a stick and I had to help her walk the 50 yards from the bar to the hotel. I have never heard anything so ridiculous in the whole of my life."
But in an editorial, the Mirror said he had questions to answer when he returned to the UK, adding his wife Kirsten Mehr "is likely to have a few of her own".
The paper said: "Ukip members and voters will have questions after he flew off to a sunshine island before today's Newark by-election, a crucial test for the upstart party.
"Farage deserted the battlefield for fun in the sun. This is a political leader who clearly loves the perks of office."
The Mirror claimed it had shown its pictures to Mrs Farage, who reportedly smiled and said: "Absolutely no comment."
Farage was in Malta addressing a tourism conference but not some questioned whether he should have appeared.
Ian Taylor, editor of trade paper Travel Weekly, wrote: "It was a mistake to invite him to speak, not because he represents a non-mainstream political party or appeals to populism or wishes to take Britain out of the European Union.
"It was a mistake because Ukip is a racist party."
Ukip, which has always denied being racist, had not responded to a request from The Huffington Post UK for comment on the Daily Mirror's story as this article went live.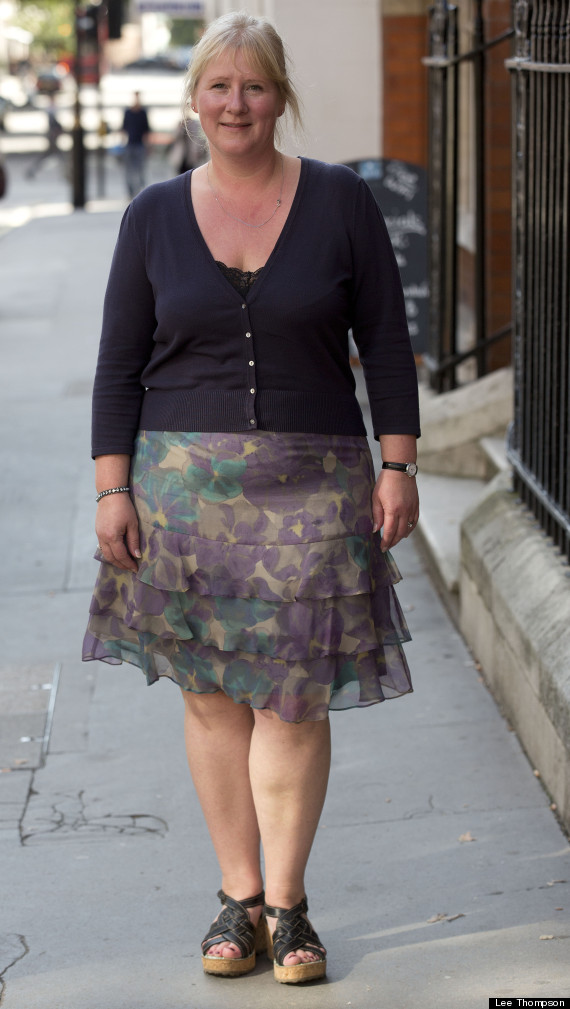 Nigel Farage's Wife Kirsten
Last month, The Daily Mail was forced to apologise to Kirsten Mehr and pay damages after it wrongly claimed she and Farage had an affair before they married, when the politician was still with his first wife.
She made a rare public comment after the European election results, when she voiced fears her husband drank and smoke too much - and revealed he did not know how to use a computer.
"He doesn't get a lot of sleep, he doesn't get a lot of rest, he lives on adrenaline a lot, he doesn't eat regular meals, now I am beginning to sound like his mother, and he smokes and he drinks too much," she said.
"But if you have that sort of lifestyle I think it is what keeps him going, it keeps the adrenaline going."
She also denied he was racist, saying: "If he was a racist I wouldn't be with him. I don't think he has got a nasty bone in his body – he is not a bully, he likes things done properly."