A group of pro-Palestinian demonstrators had to be ejected from the Cabinet Office after staging a protest against Israeli military action in Gaza this afternoon. The loose-knit group, who call themselves London Palestine Action, posted photos on their Facebook page of demonstrators linking arms as they sat in the lobby of the Whitehall building at around 4.30pm. Police officers were called to remove the small group, who were chanting anti-Israel slogans and carrying banners reading "Stop arming Israel". Leila White, an art history student at King's College, took part with up to 25 fellow activists in the 45-minute protest, in response to the Israeli ground offensive which began in Gaza on Thursday.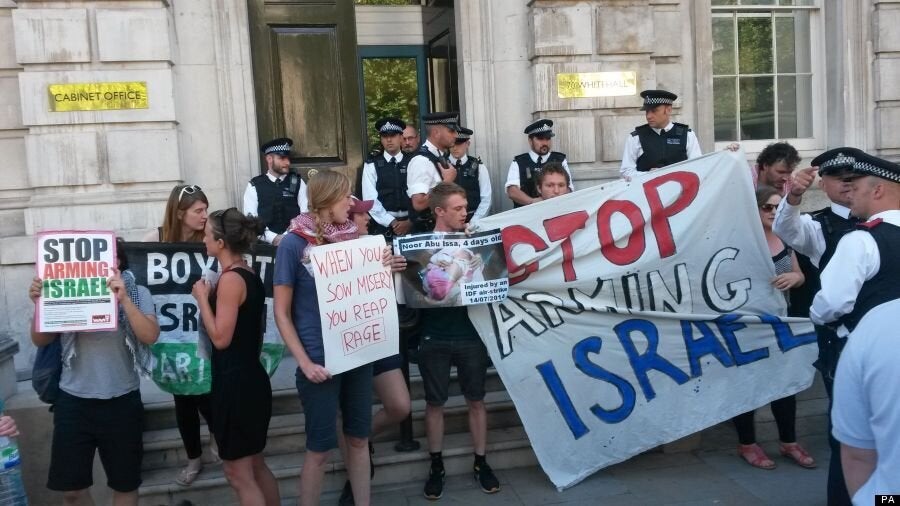 Pro-Palestinian demonstrators group, London Palestine Action, outside the Cabinet Office in Whitehall
"It was really easy to get in, we just opened the door and very calmly walked in," the 22-year-old said. "Three of us locked on to railings using bicycle locks so they could not remove us and we unfurled our banners and chanted a bit. By allowing arms exports to Israel to flourish, the UK Government is providing material and political support for Israel's violent oppression and collective punishment of Palestinians, including the current massacre in Gaza. We asked to speak to Nick Clegg or a Cabinet Office official so we could read them the names of the dead, but no-one showed up. There has not been enough condemnation of Israel's military action. Basically, we want the UK Government to invoke an arms embargo against Israel."
A spokesman for the Metropolitan Police confirmed they had attended at around 4.30pm and nobody was arrested before the group moved on. Meanwhile, a Cabinet Office spokesperson said: "There was a small protest at the Cabinet Office on Friday afternoon. The protesters were dispersed quickly and peacefully." The group, who have previously staged flashmob demonstrations in the capital, describe themselves as "a network of people in London taking creative action against Israeli apartheid through BDS (boycott, divestment and sanctions) and other effective, participatory Palestine solidarity work". It comes before a national march and rally by the Palestinian Solidarity Campaign (PSC) in central London tomorrow. The march will form up in Whitehall from midday before making its way through the city to a static rally in Kensington High Street.
Below are the latest pictures from the Israeli invasion of Gaza: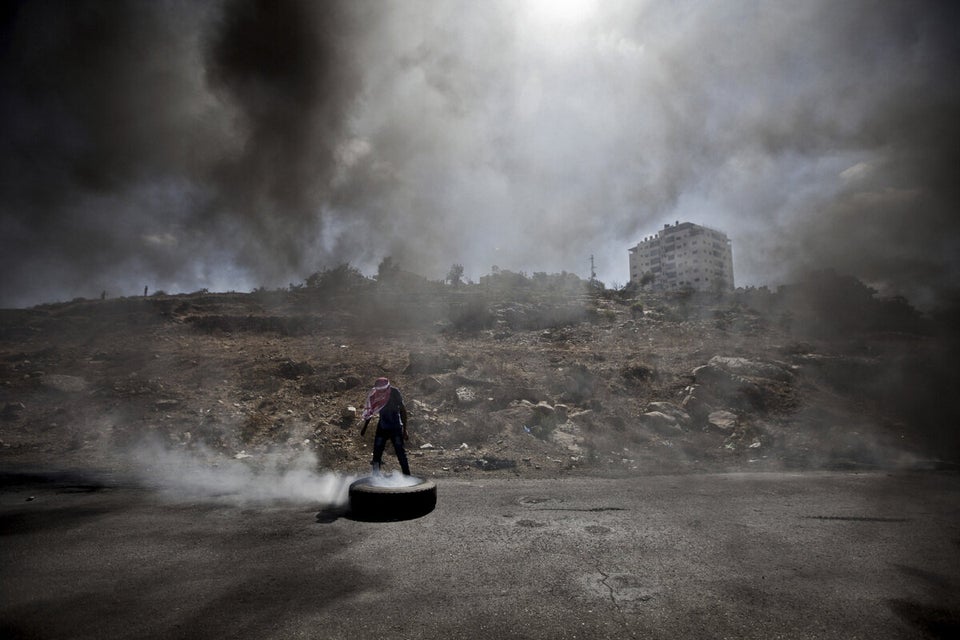 Gaza Invasion