Barack Obama made a family' s day when he swapped "banter" with three young boys during his sightseeing trip to Stonehenge, their mother has said.
Janice Raffle, a mum of three who runs 10K races dressed as a bee to raise money for Cancer Research UK, rushed to the famous monument with her husband and sons after hearing that the leader of the free world was paying a surprise visit.
The family, who live nearby, shook hands with the US president and chatted to him over a barbed wire fence as he toured the ancient site in Wiltshire yesterday.
"I squealed like a teenager. You'd think I would know better," Mrs Raffle told ITV.
A delighted Mrs Raffle shared the moment the family tracked down the President on Twitter.
Mr Obama had taken advantage of his attendance at the Nato summit in Wales to visit the historic site.
Mrs Raffle told BBC Radio 4's Today programme: "He was really sweet, he asked all our names, whether we lived in the area, which we've only just moved to two weeks ago.
"He commented on the fresh air and the beautiful countryside and also said that I was quite outnumbered because I have three little boys as well as my husband."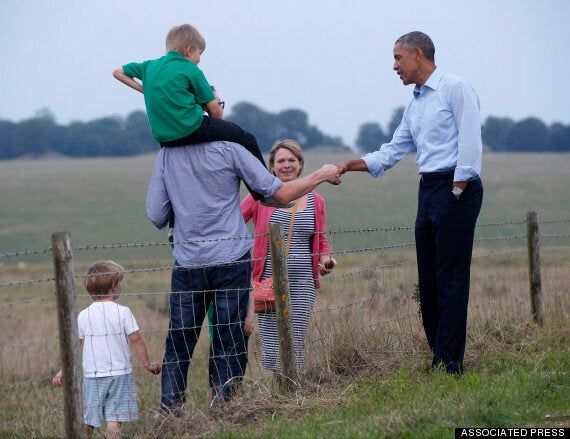 President Barack Obama greets the family
She also told the BBC: "There was a bit of banter between the boys, saying boys are best and he said 'Well, I don't know if I agree with that'. He was really kind, it was a really amazing experience for all of us."
Her husband, James Raffle, said the chance encounter had been "incredible".
He told ITV News: "He was worried about the kids on the barbed wire fence. He was worried about Janice because she was overrun with boys."