A girl aged just 11 has become a victim of revenge pornography, according to new figures which found less than 5% of reported incidents lead to a police caution or conviction.
Ex-lovers, peers and hackers are releasing explicit images of schoolgirls, including three female teenagers from Manchester, one of whom was 11.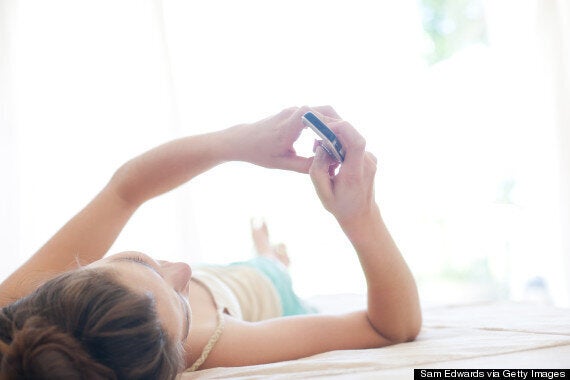 Revenge porn is the act of posting explicit or naked photos of someone online without their consent, often to cause humiliation. It has been described as 'an epidemic' among young people according to charities.
There have 149 allegations of crimes involving revenge porn in England and Wales in the last two-and-a-half years, according to police forces which had data. Only six incidents resulted in any sort of police caution or charge.
And just eight out of the 43 police forces asked by The Press Association for the research had data covering the period it was researching, between 1 January and 1 July 2014.
The figures show the "vast majority" of victims are women.
The three girls in Manchester were aged 11 to 19. In two of the three cases, the victims were ex-partners of the offender. Both were threatened that further images would be published.
Police in Cambridge said a schoolboy there circulated naked photos of a fellow pupil on Facebook and to other friends in the playground. Another boy in the same area made threats to place naked images of a pupil's older sister on social media.
Two 15-year-olds were among 28 victims in Leicestershire.
In one case, an ex-boyfriend's new girlfriend found sexual pictures of the victim and uploaded them to Facebook with derogatory comments. Another woman uploaded an indecent video of her former partner to YouTube with the sole purpose of causing embarrassment, police said.
Thames Valley Police said it had received reports of 60 revenge porn incidents over the two-and-a-half years. The youngest alleged victim was a 13-year-old girl, with her perpetrator claiming to have explicit pictures to post on Facebook. She was one of 17 teenage victims in the Berkshire, Buckinghamshire and Oxfordshire area covered by Thames Valley Police.
Incidents were also reported to forces in the West Midlands, Devon and Cornwall, and Merseyside.
The data that was available suggests revenge porn is on the rise: there were 35 reported incidents in 2012, jumping to 58 in 2013, and there have been 53 in the first half of this year alone.
Campaigners and politicians have called for tough legislation to be introduced to tackle those who share naked images and videos without the victim's consent. And the problem could be far greater than the numbers suggest, experts have warned.
Laura Higgins, manager of the UK Safer Internet Centre helpline said she feared the full scale of the problem remained hidden.
She said: "I feel this is just the tip of the iceberg. Plenty of people, particularly young people, won't want to go down the police route or even speak about them at all, so many incidents are going unnoticed.
"Our research shows that for every site we find, there are potentially dozens with those images on which the victim has no idea about.
"We are living in an age where technology is a part of our everyday lives, and children are becoming sexualised at a younger age.
"But we must do what we can to tackle bullying, harassment and sharing explicit content without permission."
Adults have also been blackmailed into having sex with their tormentor after private and indecent images were posted on the internet. In one case a taxi driver blackmailed a passenger into having sex after discovering naked images of her.
A man is also said to have been threatened into having gay sex through fear a woman would post naked photos of him on Facebook.
Police in Cheshire said a man was cautioned after finding images of his estranged wife in an "undressed state". The woman denied they were pornographic, to which the offender is said to have replied: "I'll show you that they are, I'll let your family make their mind up." The images were subsequently send to family member.
Article continues below the video:
Police are largely powerless to stop those responsible until new laws - due to pass through the Lords next month - are introduced to make revenge porn a crime. Currently, convictions have to be made under the Malicious Communications Act.
Sarah Green from the End Violence Against Women Coalition described the figures as "alarming". She said: "The ability to abuse through technology is growing fast and its impact is very real, which is why politicians and the police must get to grips with it.
"If we are serious about cracking down on this we have to think long-term and talk to young people while they are at school about respect, equality and consent in relationships. Compulsory sex and relationships education is the best way of doing this.
"Leading politicians are listening and responding to the growing chorus of support for this which is very welcome."
Former culture secretary Maria Miller said the data showed revenge porn was more widespread than previously thought.
The Tory MP, who raised the issue at Prime Minister's Questions, said: "Police are finding it difficult to know how to react when incidents are reported. All of this points to the need for a clarification of the law, and also to make sure its clear revenge porn and the posting of it is a criminal offence.
"This is not a victimless crime - it is a sexual act against another individual.
"Good schools are already having to tackle this issue, because they are already dealing with sexting. They have to support youngsters where images are going into the public domain."
Earlier this year the Prime Minister backed proposals to make revenge porn illegal, acknowledging it ''clearly has criminal intent''.
A Facebook spokesman said: "Facebook has a strict policy against the sharing of pornographic content. We encourage people to use our reporting tools to highlight anything they find unacceptable - if it breaks our rules it will be removed."
Popular in the Community