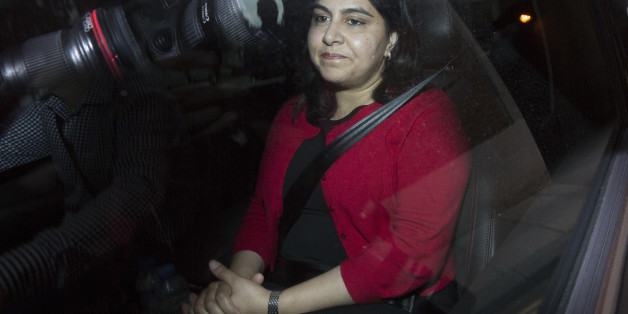 Oli Scarff via Getty Images
Ex-Tory chairman Baroness Warsi has called for people to "push back" against the sexist portrayal of female politicians in the media.
In an interview with Red Magazine, she said: "Men resign, women 'flounce'. Men have an opinion, women are 'bitchy'. Men are forceful, women are 'awkward'.
"It's time we started pushing back against that kind of language."
She also repeated her observation that the bitchiest women she met were "men in politics".
Warsi, who resigned as a Foreign Office minister in August citing Britain's "morally indefensible" position on the conflict in Gaza, was described by the Daily Mail as having "flounced out in a fit of righteous fury".
@NotSariAboutIt Baroness Warsi resigning over 300 killed & the headline reads 'flounce' low even 4 the daily mail .. pic.twitter.com/5sGeXWWvlQ

— M (@misiyeh) November 15, 2014
The Mail was also slammed for its "heinously sexist" portrayal of David Cameron's reshuffle in July which featured a fashion critique of the new "girls" on the Downing Street "catwalk."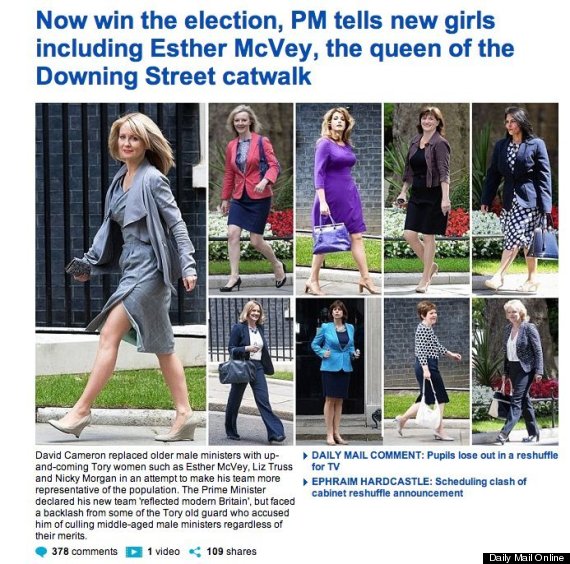 How the Mail reported David Cameron's reshuffle in July
Even the Mail's own Business Correspondent, Becky Barrow - who has since departed the tabloid to go to the Sunday Times - slammed the paper's coverage:
One thing that I will not miss about working for the Mail: unspeakably awful and demeaning spreads about women. pic.twitter.com/DqIS86kYDm

— Becky Barrow (@beckymbarrow) July 16, 2014
Speaking to The Huffington Post UK on the day of her resignation, Baroness Warsi accused the coalition of failing to act as an "honest broker" in the Middle East and called for an immediate arms embargo against Israel.
See also:

Daily Mail Slammed For 'Heinously Sexist' Cabinet Reshuffle Coverage

Foreign Office In Crisis: Why Do David Cameron's Ministers Keep Quitting?
"The British government can only play a constructive role in solving the Middle East crisis if it is an honest broker," the former Foreign Office minister said, "and at the moment I do not think it is."
Describing her thought process for her resignation, Baroness Warsi told Red Magazine: "It almost felt, in those last few days, like I was having a constant anxiety attack.
"For days I kept the letter in my handbag. And even on the morning I planned to resign I thought to myself, 'Am I really going to do this?'
"It felt like I was walking round with an illegal substance. I kept thinking, I must look really shifty. It's a I wonder I don't get picked up by the police."
The Tory peer said that the talk she had with Prime Minister David Cameron when she told him of her intention to quit was "not the kind of conversation I would like to have again".
However, she said the public are "struck by the fact that she could have stayed in office but resigned on principle.