Prime Minister David Cameron and Home Secretary Theresa May are heading to Paris this weekend ahead of a unity rally, described by French officials as "a cry for freedom" in the face of terrorism. In a tribute that will coincide with the rallies across France, London landmarks including Tower Bridge and Trafalgar Square will display the colours of the French Tricolore national flag from 4pm.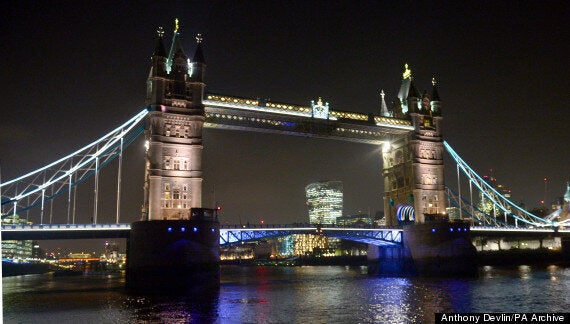 Tower bridge is to display the French Tricolore on Sunday in tribute to the victims of the atrocities in France
Tower Bridge will display the flag's colours from 4pm until 5.30pm, after which the bridge will go dark, while the emblem will also be projected on to the National Gallery. The Trafalgar Square fountains will rotate the colours of the French national flag, while the London Eye will go dark with the red, white and blue projected on to County Hall behind it.
London mayor Boris Johnson said: "Londoners have been appalled by the distressing scenes in France this week and it is important that we pay tribute to the victims of these attacks, as well as demonstrate our solidarity with the people of Paris. We should not forget the hundreds of thousands of French citizens who call London their home. Our thoughts will be with them this weekend as they do their best to deal with the agonising scenes we have witnessed.
"Joining together in opposition to the ideology of hatred sends the clearest possible message - one of freedom of expression and one of resolve. Nous sommes Charlie." Across the world, people have pledged their support for victims and their families by holding pens and pencils aloft, while others have used the hashtag "Je Suis Charlie" as a gesture of solidarity.