At Least Four Hostages Dead As French Police Storm Two Siege Sites
Brothers Behind Charlie Hebdo Massacre Killed In Fiery End To Siege
Gunman Linked To Policewoman's Death Shot Dead At Kosher Grocer
Hostage With Kouachi Brothers Said To Have Hidden In Cardboard Box
Whereabouts Of Female Accomplice Of Grocer Hostage Taker Unknown
Three terrorists behind a bloody spate of terror attacks in France have been killed after police stormed both scenes.
Two al Qaeda-linked brothers suspected in the Charlie Hebdo killings came out of their hideaway with guns blazing. Brothers Cherif Kouachi, 32, and Said Kouachi, 34, were killed in a shootout and their hostage was freed, authorities said.
Minutes later armed officers stormed the Jewish supermarket in Paris where Amedy Coulibaly had been locked in a bloody stand off. He had threatened to kill at least five hostages if police acted against the Kouachis.
Ambulances streamed away from both scenes after the gunfire and explosions which brought the sieges to an end.
There were reports that four hostages were killed at the supermarket, which would take the death total since Wednesday to 20.
On another day of extraordinary developments, Coulibaly, an associate of the Charlie Hebdo killers, launched a fresh strike at the Hyper Cacher kosher store in Porte de Vincennes in the east of the capital.
That came hours after the Kouachi brothers were cornered in Dammartin-en-Goele, a town around 25 miles (40km) north of Paris.
Two police officers were injured in the gun battle with the brothers.
Coulibaly, 32, was also behind the murder of a policewoman in the Paris suburb of Montrouge yesterday morning.
He is believed to have been connected to the Kouachis, who started the killing spree on Wednesday morning when they attacked the offices of satirical magazine Charlie Hebdo.
All three men were known to the French security authorities.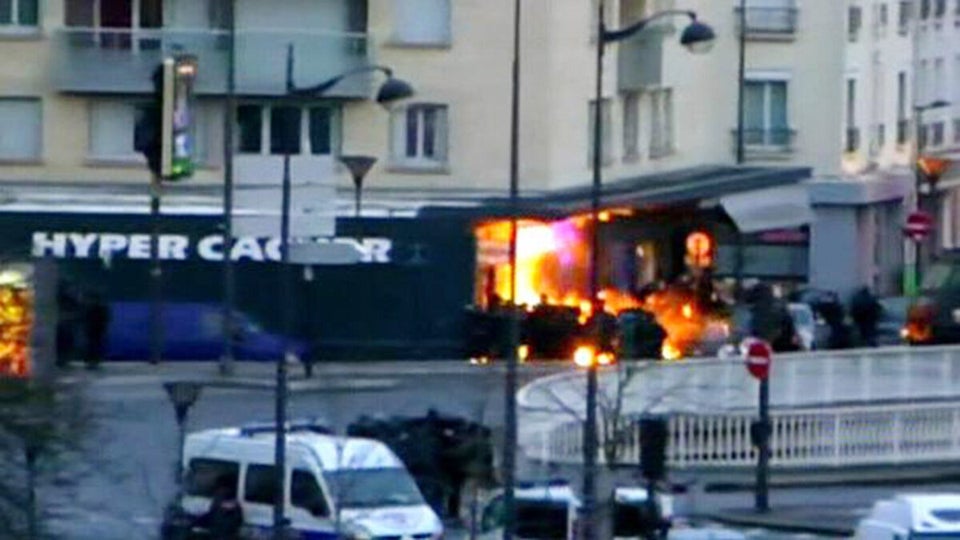 Hunt for Charlie Hebdo suspects
One of the supermarket hostages managed to call her daughter, who told Europe 1: "She called me and told me 'I am in the shop, I love you'."
The daughter added: "I am scared. Someone told me there have been two deaths. No one has told me if it is my mother or not."
Hostage taker Coulibaly opened fire in the supermarket before telling police who flooded the area: "You know who I am."
He then threatened to kill his captives if police launched an operation against the Kouachi brothers cornered on the industrial estate in Dammartin-en-Goele.
Police also want to trace Hayat Boumeddiene, a 26-year-old woman said to have been Coulibaly's partner. None of the officials could say what happened to Boumeddiene.
It is understood that the Kouachi brothers, who were well-known for holding jihadist views, were on a British watch and no-fly list to prevent them from entering the UK or passing through a British airport.
The Kouachis stole a Peugeot earlier today in the town of Montagny Sainte Felicite, triggering a car chase during which gunfire was reported.
The enormous operation to apprehend the Kouachi brothers ended on its third day at the premises of a printing firm called Creation Tendance Decouverte on an industrial estate in Dammartin-en-Goele.
Before they were killed, they were said to have declared they want to die "as martyrs".
A salesman told how he inadvertently shook the hand of one of the terrorists when he arrived for a meeting with the owner of the printing firm this morning, whose name he gave as Michel.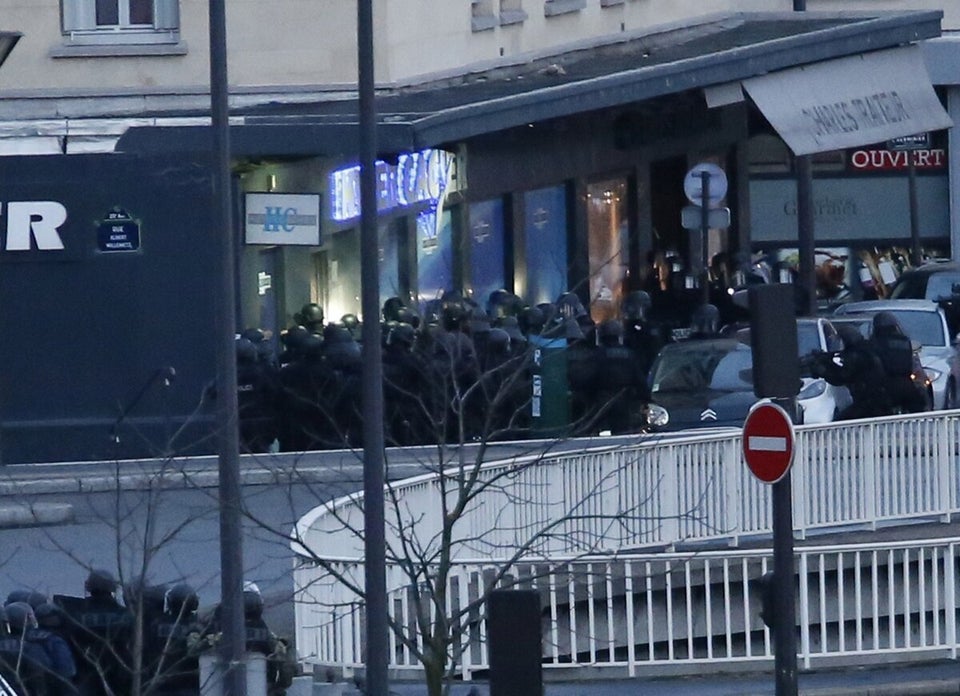 The Moment Police Storm Grocery Store
The eyewitness, named as Didier, told radio station France Info that he encountered a "heavily armed" man dressed in black and wearing a bullet-proof vest.
He said: "I encountered a terrorist and shook his hand. When I arrived, my customer came out with an armed man who looked like a police officer. My customer told me to leave.
"(The armed man) said to me 'I am the police. Go, we do not kill civilians'.
"I decided to call the police. I guess that was one of the terrorists."
He went on: "I did not formally recognise them. They were dressed like police. It could have been a police officer if he had not said to me 'We do not kill civilians'.
"They were heavily armed. I was in front of the business, I shook Michel's hand and the hand of one of the terrorists. After I left, Michel shut the gate behind me. I knew something was wrong. I have been very lucky this morning."
A lockdown was imposed in the surrounding area as scores of heavily armed police surrounded the building.
Residents in the vicinity were warned to stay in their homes and children were being kept inside schools.