The UK could raise the terror threat level to its highest in seven years, amid fears Jihadis could try to carry out a gun attack on British soil in the wake of the Charlie Hebdo attacks in France.
The threat level could rise to "critical" as security sources fear a "terrorist spectacular" committed by one of 150 British jihadis, The Sunday Times reported.
These include more than 30 people under surveillance by MI5 and 120 extremists who will now be "reassessed" for fear they too could commit a copycat attack, the paper reported.
A source told the paper the move to "critical" from "severe" means an attack is believed to be imminent.
"Right now we are at the very upper end of severe," they said. "We could move very quickly to critical."
Amedy Coulibaly and co-conspirators Said and Cherif Kouachi, the brothers who killed 12 people at the offices of satirical magazine Charlie Hebdo on Wednesday, were finally killed during simultaneous police assaults in a dramatic conclusion to France's deadliest terror attack since 1961, in which 17 people died over three days.
The UK alert level was raised from "substantial" to "severe" last August, which meant an attack was "highly likely".
The last time it was raised to critical was June 2007 after a failed attack on Glasgow Airport.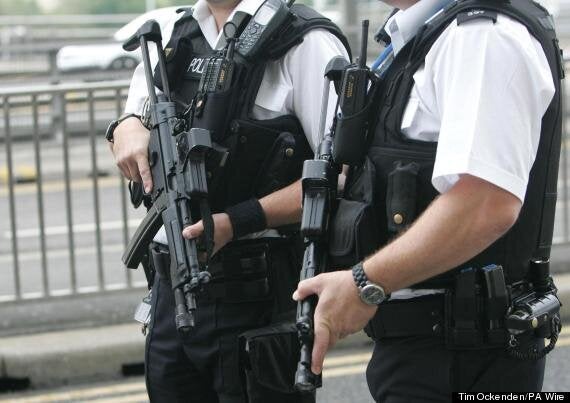 The UK terror threat could reach its highest levels in seven years following the Charlie Hebdo attack in France
Former defence secretary Liam Fox said more money should be invested in the intelligence services to combat the terrorist threat.
Writing in the Sunday Telegraph, he said: "The spending priorities of any government are usually a reflection of the values of the population it serves. If that is so, then we have to question the priorities of our country.
"At a time when we face growing and sustained terrorist threats, we spend more on the heating allowance for the elderly in a year than we do on the combined budgets of our security services - GCHQ, MI6 and MI5."
Around 50 heads of state and government are expected to gather in Paris later on Sunday, in a show of unity that a million people are expected to attend.
David Cameron will be among those joining with French president Francois Hollande at the Elysee Palace before embarking on what is billed an unprecedented show of international solidarity near the head of the march through the capital.
The senior figures marching behind the families of victims are expected to include Spanish prime minister Mariano Rajoy, German chancellor Angela Merkel, Italian prime minister Matteo Renzi, Ukrainian president Petro Poroshenko - with Russia also represented by foreign minister Sergei Lavrov.
Also attending are Palestinian president Mahmoud Abbas and Israeli premier Benjamin Netanyahu - who has directly encouraged French and other European Jews to flee the threat of terror and move to Israel.
Related