Tim Willcox was interviewing the daughter of Holocaust survivors, who was describing the fear Jews feel in France, when he said: "Critics though of Israel's policy would suggest the Palestinians suffered hugely at Jewish hands as well."
This was during the Sunday's march through Paris in which millions of people took part after the attacks on the Charlie Hedbo satirical newspaper and hostage takings that left 17 people and the three gunmen dead last week.
The dead included four Jews who had been taken hostage in a kosher grocery store.
After taking a battering on social media, Mr Willcox apologised, tweeting he was "really sorry for any offence caused by a poorly phrased question... it was entirely unintentional".
Some praised his apology while others maintained he should be sacked.
MSNBC host Scarborough, a former Republican congressman, expressed disbelief at the fact he was still working, attacking him as a "left-leaning media member".
"I cannot believe the BBC is going to allow this man to stay on the BBC," he said on his show, Morning Joe on Tuesday.
"For people in Europe that don't understand why Israel exists, take what happened last week and multiply it 2 million times.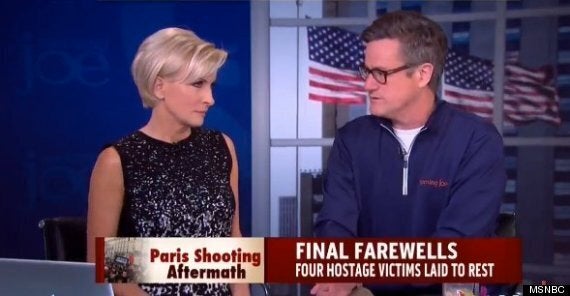 Scarborough (right) on Morning Joe
"The fact that the BBC has a correspondent as insensitive and cold to the realities... this did not happen 300 years ago. This happened 60, 65 years ago, while Europe sat by and did nothing. They let six million Jews be exterminated.
"This is why Israel exists and people need to get a hell of a lot more sensitive to it, even if they are left-leaning media members."
After Mr Willcox apologised, a BBC spokeswoman said: "He accepts (it) was a poorly phrased question during an in-depth live interview with two friends, one Jewish and of Israeli birth, the other of Algerian Muslim heritage, where they discussed a wide range of issues affecting both the Muslim and Jewish communities in France.
"He had no intention of causing offence."