Former England international Sol Campbell, who has his sights set on becoming London Mayor, admitted that he rarely takes the Tube and does not own an Oyster card in an interview with LBC on Tuesday.
The ex-Arsenal, Tottenham and Portsmouth player struggled to answer questions put to him by Beverley Turner, during which he discussed his reasons for seeking the Tory nomination for London Mayor.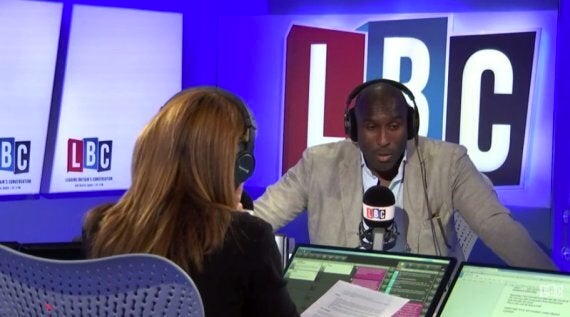 Sol Campbell on LBC on Tuesday
"With the Tube, it just needs more investment. Maybe lengthening some of the platforms to get more carriages in, things like that. It just needs more investment put into it."
Campbell added: "I'm not a regular user but I have used it."
When asked what a typical day consisted of for the former footballer, Campbell said that he liked going to the gym, but did not elaborate what other activities occupy his time.
Campbell had trouble answering a question about how he would travel from Arsenal to City Hall, put to him by LBC's political editor, Theo Usherwood.
The Conservative hopeful retorted: "But the trouble is that when you ask these questions, they are so easy to answer. If I was taking the train every day you can kind of map it out.
"These are the things that are so easy to kind of learn. I think that what London wants are people with ideas and the willpower to get things through. Talking about a Tube, you know if you are saying how to map things out, that's just reading a book and that's it."
He added: "Anyone can do that so if I am up against people who are reading a map of London Underground but then can't come up with decent ideas to actually help people who need help then what way would you want?"
Campbell grew up in east London in a Labour household, but has shunned his family's political views to run for the Tory candidacy.
People were not kind when they heard Campbell's interview, with some labelling it a "car crash" and others questioning whether his bid for the Tory candidacy is actually a "dare".
Campbell is one of the few candidates putting himself forward as London Mayor who does not have a background in politics. On this count, he admitted: "Everybody is going to be better than me."
On the same day as Campbell's interview, Tory MP Zac Goldsmith confirmed that he would be putting himself forward to succeed Boris Johnson as Mayor of London.