The number of migrants trying to get into the Eurotunnel terminal near Calais has fallen to as few as 100 a night, the operator has said.
Some 2,000 migrants were attempting to break into the tunnel each night at the end of July in a desperate effort to reach Britain.
But the number of attempted break-ins now varies between 100 and 200 a night, Eurotunnel said, after security was stepped up at the port.
A Eurotunnel spokesman told the Press Association: "There has been a real fall in the number of attempted break-ins.
"The figure varies every night but is currently between 100 and 200."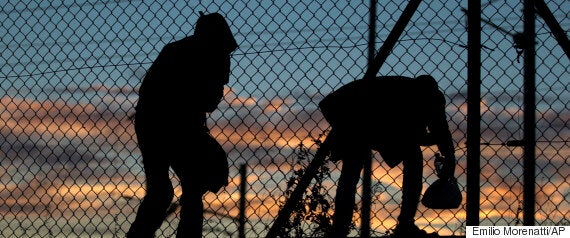 Some 2,000 migrants were attempting to break into the tunnel each night at the end of July
Chaotic scenes in recent weeks have seen would-be illegal immigrants try to scale or break through perimeter fencing around the Channel Tunnel, and jump aboard lorries bound for the UK in a bid to gain asylum.
The unprecedented surge in migrants attempting to cross the Channel has prompted a string of measures to increase security at the terminal, including extra fencing and the deployment of more border force search and dog teams.
Prime Minister David Cameron said illegal immigrants were trying to "break in" to the UK and defended his description of the flow of people across the Mediterranean as a "swarm".
A migrant camp near the French port - known as the Jungle - is at the heart of the crisis which has seen high-level talks involving Mr Cameron and French president Francois Hollande.
A Home Office spokesman said the UK Government had committed £7 million for fencing at the Eurotunnel site and the first phase of the installation was completed last week.
He added: "We continue to work closely with the French government to tackle the situation in northern France - but we must also treat the causes of this problem, not just deal with its consequences.
"That's why the UK is playing a leading role in pushing for action through the EU and the UN to tackle the causes of illegal immigration and the organised trafficking gangs behind it."
The BBC has broadcast a Songs Of Praise episode which was filmed from the camp, where a group of would-be immigrants has thrown up a ramshackle church, providing ministry and Christian worship.
Critics claim the BBC's decision to film there is a waste of TV licence fee-payers' money but Aaqil Ahmed, the public broadcaster's head of religion and ethics, said the show would focus on faith not politics.
Calais Migrants Crisis - Facts Versus Popular Fiction