Home Office plans to pay for Calais migrants to be flown back to their home countries as part of Britain's £7 million deal signed with France to ease the crisis at the port has been criticised for being a "short-term" solution by campaigners.
Theresa May announced on Thursday that the UK would help fund "dedicated facilities" for those undergoing the asylum claims process to ease the pressure on the French government.
The Home Secretary met with her French counterpart in Calais to announce the "joint project team", which will aim to "maximise the number of illegal migrants who return home".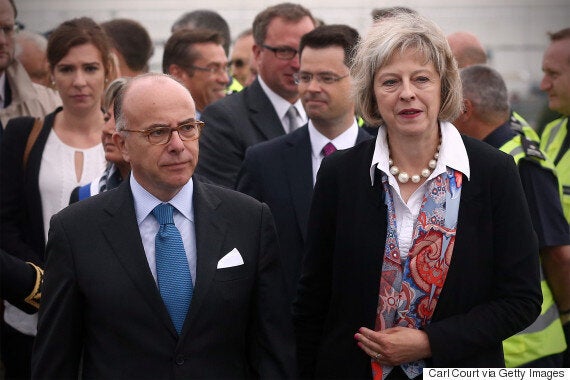 Theresa May (R) met with the French Interior Minister Bernard Cazeneuve in Calais on Thursday
But campaigners have warned that the deal will incentivise the "speedy removal" of migrants, possibly jeopardising their human rights and becoming an ineffective quick fix.
France already organises regular flights from the Calais area, but the numbers are expected to increase following the agreement.
Migrants' rights network director, Don Flynn, said the money the UK is giving to the French authorities could lead to quick and erratic decision making.
Article continues below slideshow: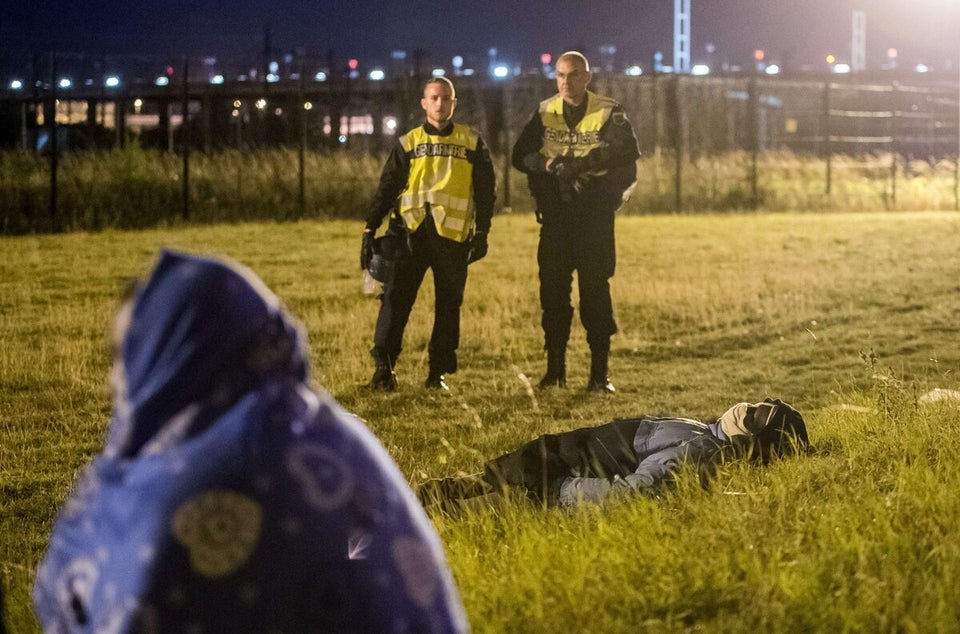 Calais Migrants
Mr Flynn said: "It is a very dangerous presumption if the UK government is giving another foreign government a sum of money on the understanding to be used to remove people from it's territory."
He added: "We are extremely unhappy with the proposal which clearly incentivises a speedy removal and quick decision making.
"It obscures the procedures that need to be taken into account to make sure their human rights obligations are met."
Mr Flynn said that when a migrant lands on European Union soil and approaches the authorities, officials should "work with the individual" to find out where they can "recover from their ordeal", looking at what skills they have, what languages they speak and where else they have family.
He added: "Suddenly the French authorities have been given another pot of money which they will say 'thank you very much' for and instructions are going to be given to their officials that money will keep flowing in."
About 5,000 people are currently camped out in the Calais area, many living in very poor conditions.
The deal between the two nations also agrees that Britain will help pay for analysts and translators to process asylum claims, as well as provide staff to support asylum seekers.
A joint programme will also be put in place to protect vulnerable people, particularly women and children, who are at risk from trafficking gangs.
Jonathan Isaby, chief executive of the Taxpayers' Alliance, said that the plans to introduce flights from Calais is a short-term solution and that the government should fix the existing flaws in the asylum system.
He said: "The biggest concern is that we'll be talking about this again next summer, with another sizeable cheque being produced as a short-term solution.
"Ultimately we need to fix our asylum system, so that it delivers quicker decisions and doesn't leave families in limbo - costly not just for taxpayers but unfair on those involved.
"Regardless of whether it is more charitable or stricter than it is now, if the asylum system is trusted once again we'll see fewer people trying to circumvent it via illegal immigration, and the cost of policing Calais and dealing with the consequences would come down."
Related