Syrian refugees have paid tribute to the victims of the Paris bombings, likening the terror to conditions experienced "every day" in their home region.
Islamic State (IS, also known as ISIS and ISIL) have claimed responsibility for the atrocities which saw 129 people killed in a wave of attacks across the city on Friday night.
Paris authorities said a man who blew himself up outside the national soccer stadium was found with a Syrian passport with the name Ahmad Al Mohammad, a 25-year-old born in Idlib, however there are suspicions the document could be a forgery.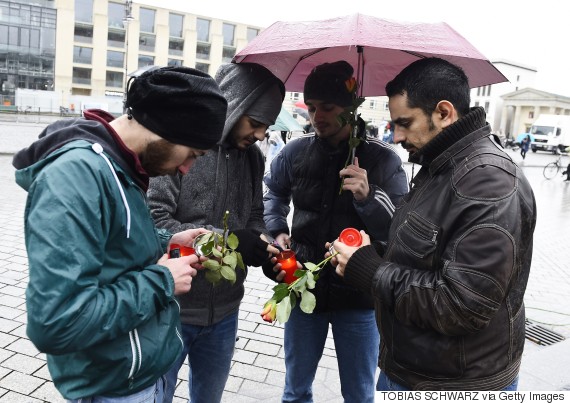 Syrian refugees light candles to place them outside the French embassy to Germany in Berlin in tribute to the victims of the Paris attacks
One 22-year-old Syrian refugee named Ghaled told AFP: "We are with them right now, just to help them with this crisis.
Lighting a candle outside the French embassy in Berlin, he added: "What's happening to them is happening every day in Syria, 100 times per day for five years, so we know what that means."
Haya Jamal Al-Ali, from the IS capital of Raqqa and now living in France, told Quartz magazine: "This is why Syrians are fleeing the country.
"We fled Syria because of ISIS. I am a Syrian, Muslim and Sunni. These terrorists have been killing and beheading my friends since 2013. I came to France seeking safety. ISIS are not Syrians. And we are all fighting terrorism.
"It breaks my heart to see people blaming Syrians, forgetting that we are the first country who suffered from ISIS and its terrorism. I am sure this will affect the Syrian refugees in France. And again, we will be paying the price, even though we ran away from the same terrorists."
According to a CNN report in September, there are around 6,700 Syrian refugees in France.
Marine Le Pen, leader of France's National Front party, has called for authorities to expel immigrants who are in the country illegally.
Asylum seekers fleeing war and poverty in other war-ravaged countries have also condemned the Paris attacks, saying they feared it may become more difficult for the refugees to start new lives in Western Europe.
Zebar Akram, a 29-year-old Iraqi man, was among those streaming through Slovenia toward Austria on Saturday. He said those attacking Paris were behaving "like they act in Syria or Iraq."
SEE ALSO:
Abdul Selam, 31, who was fleeing Syria, said he fears refugees now "will be considered as probable attackers."
Angela Merkel's deputy warned Saturday against cracking down on migrants coming to Europe because of the Paris attacks.
Vice-Chancellor Sigmar Gabriel said those seeking refuge in Europe shouldn't be made to suffer just because "they come from those regions where terror is being exported to us and to the world."
"We stand to protect them too, and to ensure that they don't have to suffer because murderers in France are threatening people and Europe in the name of a religion," he said.