The British press "systematically undermined" Jeremy Corbyn with an onslaught of negative media coverage in his first week as Labour leader, new research has claimed.
The Media Reform Coalition analysed nearly 500 pieces across eight national newspapers, including The Sun, The Times, Guardian and Daily Mail, and found 60% of their articles were 'negative', meaning they were openly hostile or expressed animosity or ridicule.
Out of the 494 articles across the papers during Corbyn's first seven days at leader, 60% (296 articles) were negative, with only 13% positive stories (65 articles) and 27% taking a "neutral" stance (133 articles), the report says.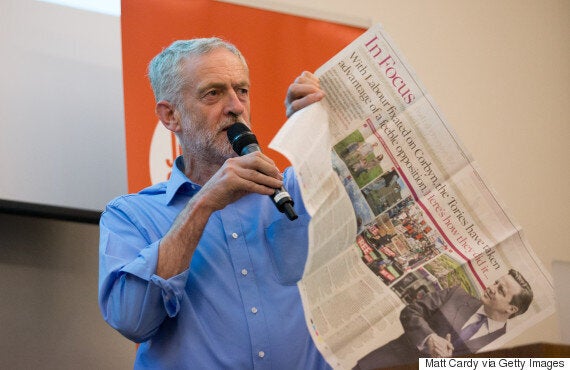 The research, given exclusively to The Huffington Post UK, looked at news, comment and editorial leaders - and claims that "the press set out to systematically undermine Jeremy Corbyn during his first week as Labour Leader with a barrage of overwhelmingly negative coverage".
It was released by the Media Reform Coalition, a group of academics, media campaigners and civil society groups which claims not to be linked to any political party.
In the days after he was selected, Corbyn was criticised for his controversial shadow cabinet appointments, policies that were at odds with the views of many of the party's leading figures, his decision not to sing the national anthem and his poor relationship with the media after pulling out of an interview on the Andrew Marr show.
The Sun, its sister paper The Sun on Sunday, and The Daily Mail published the highest ratio of 'negative' stories about the new leader, according to the report, with 91% of each newspaper's coverage considered critical.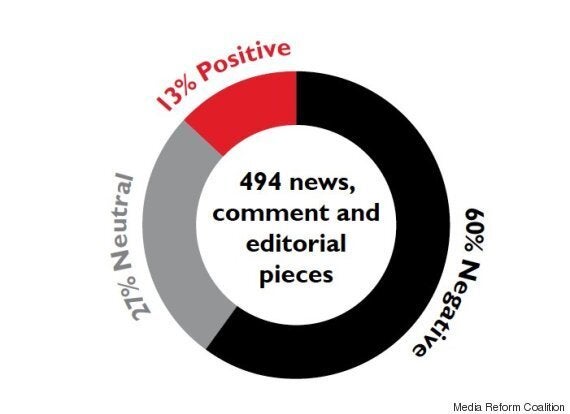 The Telegraph and Sunday Telegraph follow with 83% of its coverage deemed negative, while 71% of stories published about Corbyn in The Times and Sunday Times were 'negative'.
By contrast, just 11% of articles in the Guardian newspaper were 'negative'.
News articles, in which the media ostensibly do not editorialise, were actually the most critical of Corbyn, the report says.
Out of 292 news pieces, 181 were judged negative, while 92 were 'neutral' and just 19 'positive', the report found.
"One might expect news items, as opposed to comment and editorial pieces, to take a more balanced approach but in fact the opposite is true. A mere 6% of stories classed as news (19 out of 292) were positive, versus 61% negative stories and 32% taking a neutral stance."
"This 'default' position is particularly significant given how these stories make up the bulk of the coverage during Corbyn's first week".

The report also looked at editorial leaders, representing the paper's opinion, as well as comment pieces, and found them to be less 'negative' but still more negative than positive:


The research is part of the Media Reform Coalition's project campaigning for a reduction in the monopoly of the UK's media ownership, funded by the Joseph Rowntree Reform Trust.
It looked at the coverage of Corbyn's leadership in the English editions of eight national daily newspapers and their Sunday publications, from 13-19 September, after Corbyn was elected leader of the Opposition on 12 September.
Stories were classed as 'positive' by the researchers if they were "openly supportive; expressed respect, enthusiasm, or hope; chose to focus on positive events; or were dominated by overt praise."
They were called 'negative' if they judge to be "openly hostile; expressed animosity or ridicule; chose to focus on negative events; or were dominated by overt criticism."
They were deemed 'neutral' if they were "neither overtly positive or negative," or "expressed a 'wait-and-see' attitude", even if they did not have a balanced or objective overview.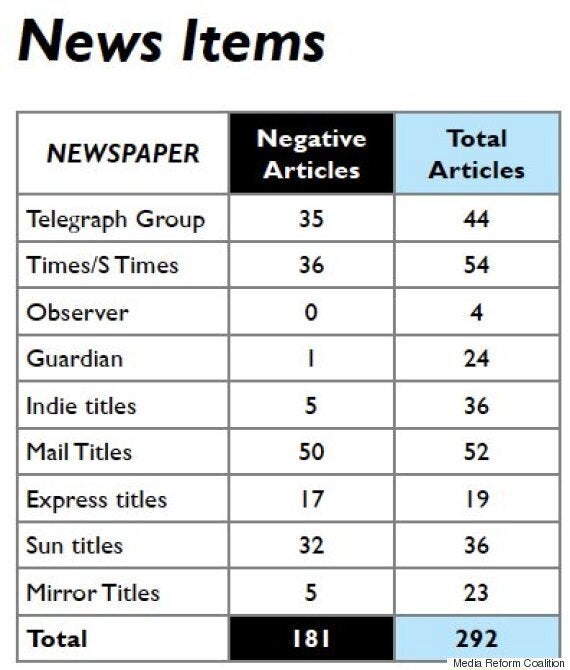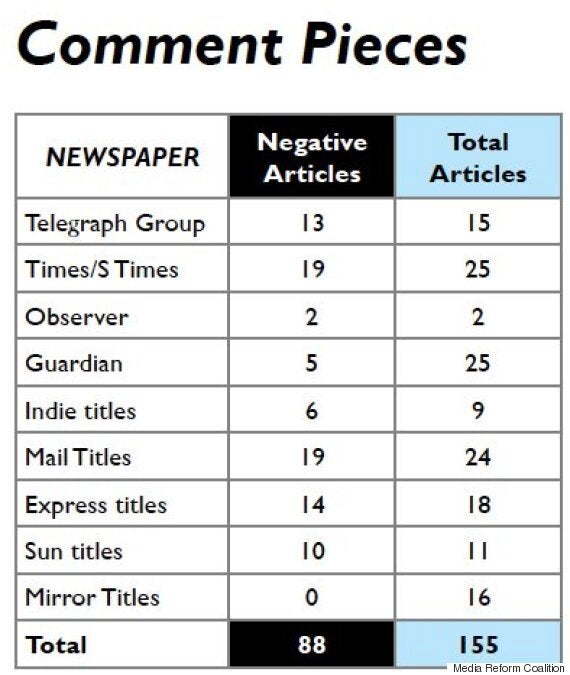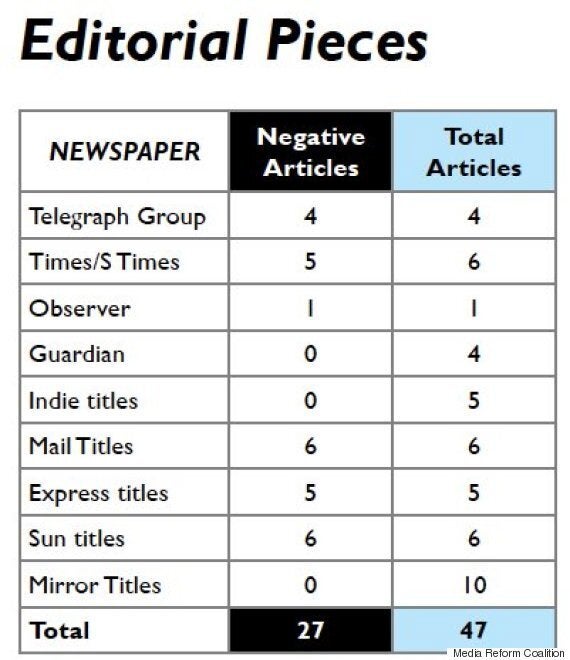 "Newspapers have every right to take a partisan line in their reporting and freedom of the press is a key component of democratic societies," the reports author Emily Seymour wrote, but she stressed their concern about the monopoly over ownership of UK newspapers, which they called "profoundly anti-democratic".
Around 70% of newspaper media is owned by just three companies - News Corp, The Daily Mail & General Trust, and Trinity Mirror.
"What concerns us, however, are the ownership structures underlying this degree of political intervention," the report said. "The risk of undue influence on elected politicians is high, and it's hard to see how democracy can flourish when the mass channels of debate are monopolised in the way that they are."
"When a handful of conglomerates and individual owners have such significant influence over the UK media environment, it becomes virtually impossible for progressive ideas to get a fair hearing."
Related