"I haven't got anybody of my age now left, the last one's gone.
"You never think of what it's like to be old do you? When you're young you can't imagine being old. I've forgotten what it was like to be young."
Kathleen Humphreys has lived in the same flat in Holborn since 1969, when she moved in with her twin sister, Madge. The pair were very happy there and neither of them married or had children, preferring instead the independence and freedom that being single gave them.
But when Madge died in 2008, Kathleen was left alone.
Things got worse when the 93-year-old began having problems with her mobility. Even with a walker, she found it virtually impossible to even make it even as far as the shops directly opposite her home, thanks to uneven pavements and high kerbs.
She told The Huffington Post UK: "I haven't got anyone to ring up anymore. You need somebody just to chat to.
"If you see something on the television, you want to turn to somebody and say 'did you see that? What about that?'. But I can't talk to the television."
But luckily for Kathleen, her physiotherapist put her in touch with North London Cares (NLC).
The organisation was a winner at the Centre for Social Justice awards, which recognise the UK's best small charities making a difference, with its sister charity South London Cares. It describes itself as "a network of young professionals and older neighbours offering one another a little extra time, practical help, social connection and human companionship".
So NLC began the process of finding out more about Kathleen and what exactly she needed.
That's where 26-year-old Tori North came in.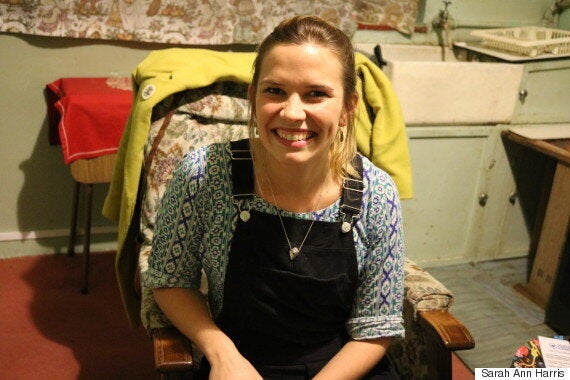 Tori North was keen to find a way to volunteer with elderly people
She explained: "I'm an occupational therapist and I work in a hospital. What I was finding is that I have so many lovely patients that, when it's time for them to be discharged, they say 'you should come over for a cup of tea and see me' and I always wanted to but it was never really appropriate. It's that professional relationship.
"So I though it would be a good idea to get involved in a charity and have someone that I could see regularly. I just looked up volunteering with the elderly in north London and NLC was the first thing that came up."
NLC's Love Your Neighbour project caught Tori's eye and so she began to find out more.
The scheme helps to connect people who may not ordinarily have met, thereby helping to soften the unsettling effects of globalisation, gentrification, digitisation and urban transience, factors which can accelerate isolation and loneliness in London.
It does this by brokering friendships between elderly people and young professionals in the capital. What people do in their time together varies from helping out with some light chores at home to simply having a chat over a cup of tea - or something stronger!
Tori said: "I met with the project officer and she found out a little bit about myself, what I could offer and what I wanted from our relationship and she did then same with Kathleen.
"She worked out that we would be a good match - it's a bit like dating! So they found that our personalities matched and that we wanted and needed was the same and I came here and met Kathleen.
"That was at the beginning of the year and we've met every week since, apart from the occasional holiday."
The pair meet every Monday, with Tori popping round to Kathleen's flat after work to help out with a few odd jobs and sitting down for a chat.
Tori said: "I do some shopping, post letters, take the rubbish out and then we just have a chat. Kathleen watches a lot of television so she knows lots about what's going on in the world. It's quite handy because I can sit down and she tells me all about politics and what's been happening.
"She's also really into her sports, as well as being a member of the Labour Party for 70 years."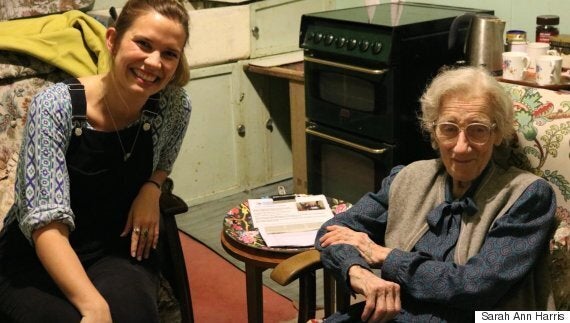 Tori and Kathleen meet up every Monday evening
Kathleen chimed in to explain: "I joined the Labour Party in 1945 and we thought heaven was coming on earth. We though this was the beginning of the classless society and socialism - we all sang The Red Flag! Through thick and thin, up and down, Tony Blair and all the rest of them, I've never left.
"I voted for Jeremy Corbyn, which is hopeless but you've got to have some principles haven't you? I stick by Jeremy, we'll never get elected but I might as well be a liberal if I'm with Tony Blair. So I do support Jeremy Corbyn. My friend has just given me a book about Dennis Skinner. There's no ordinary working class people in Parliament, they're all professional politicians now. They don't know what it's like to be ordinary people."
It's this wealth of knowledge and experience that Tori loves about Kathleen and she is fascinated by her stories. They both share a love of travelling and the common ground gives them plenty to chat about.
Tori said: "Kathleen loves travelling as well. She spent a lot of time in Switzerland, she loves trekking. Her stories about when she first got the train to Switzerland, sitting on wooden seats all the way, and when she first saw the snow-topped mountains and thought they were clouds, she'd never seen anything like it.
"I love hearing her stories."
It's not just Kathleen's stories that Tori enjoys.
She explained: "I definitely think I've learnt things from Kathleen. Just generally her outlook on life is really amazing and whenever I come here, even if I've had a really stressful day, it's just the way that she talks and puts things in perspective is lovely. I always leave with a smile on my face.
"Even just her talking about the War and her opinions on it and just the way she thinks about things.
"For her birthday we had fish and chips and myself and Billy [Tori's boyfriend] didn't finish ours. We went to throw them away but Kathleen was like 'Nooo, what are you doing throwing them away?' She kept them and ate them for her next two lunches.
"We automatically think of things as disposable, we just throw them away but that did make me think - things like as soon as a vegetable has a bit of mould on it, I throw it in the bin.
"It's just lovely having somebody to be able to help. Being able to help Kathleen is a real honour and a joy.
"I'm an occupational therapist and I've worked all round London, part of my job setting people at home and referring to services and I've found that a lot of boroughs will provide a package of care - someone to help you with washing and dressing and things like that - but that's often not what people need. As soon as a person becomes independent, those services are cancelled and what they do need usually are just those little tiny jobs, like a bit of shopping, and also just some interaction where they can see somebody every week."
It is this idea of making life enjoyable, rather than simply liveable, that NLC is keen to stress. They believe that through Love Your Neighbour, people can make new connections, share opportunities and broaden their horizons.
Story continues below video...
Kathleen said that the scheme has reinforced her faith in the kindness of people.
She said: "I think it's a wonderful idea.
"Whatever happens, I've been extraordinarily fortunate. People like Tori have always turned up. Somebody has always turned up when things have been bad.
"I had the Red Cross but they only come for a limited period, but when they stopped, Tori came. She's a gem.
"Tori works all day - she must be worn out at the end of the day but she comes from work to see me. She's so good."
Over the past four years NLC volunteers have worked with over 1,000 older neighbours living in Islington and Camden. Over 24% of those neighbours almost never go out apart from to NLC activities, while 67% live alone.
Tori was keen to encourage anyone who might be interested in getting involved with the scheme to find out more.
She said: "I would really recommend to anybody, even just an hour of your time a week. Some people might worry that it would be a huge commitment and that they are busy after work so it might be too much but I think anyone can fit it into their schedule. It's so beneficial for the person that you're helping but I get so much from it. I honestly really, really look forward to coming here every week - you can see why!
"It's just an honour to know Kathleen and if it wasn't for North London Cares, I wouldn't have got the opportunity to be her friend."
North London Cares and South London Cares were winners at the Centre for Social Justice Awards 2015, which recognise UK charities that display innovation and effectiveness in addressing the root causes of poverty, transforming lives and reversing social breakdown. The Huffington Post UK is the media partner for the awards.
Related