Thomson Airways has extended its cancellation of all flights to Sharm el-Sheikh until at least March, suggesting British holidaymakers will not return to the Egyptian resort for several months.
The Government suspended flights to Sharm on November 4 after an Airbus 321 operated by Russian airline Metrojet crashed, killing 224 people. Islamic State jihadis claimed responsibility for bombing the jet.
Over 16,000 Britons stranded in the area were brought home on a series of rescue flights amid heightened security.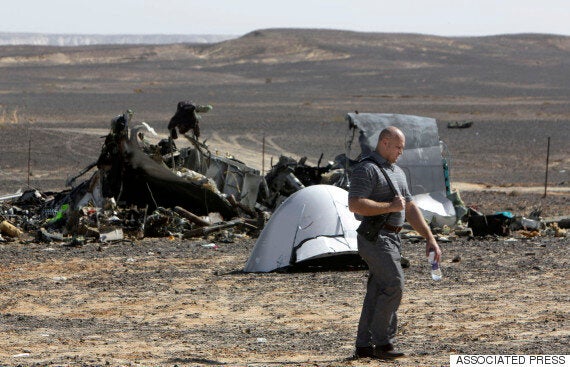 Thomson Airways has extended its cancellation of all flights to Sharm el-Sheikh after a Russian airliner was bombed on November 4; the wreckage of the plane can be seen above
But no flights have operated between the UK and Sharm since November 17 as the Foreign and Commonwealth Office is advising against all but essential travel using the Red Sea resort's airport.
Thomson Airways announced on Wednesday that it has cancelled flights up to at least March 23, while easyJet has confirmed the same action up to February 29.
British Airways has said it will not operate flights to the Egyptian resort until after February 13 at the earliest, while Monarch services are suspended up to January 24.
The Association of British Travel Agents has said the decision on whether to use Sharm airport is being made by the UK authorities rather than the airlines.
Travel analyst Bob Atkinson from Travel Supermarket said the length of the suspension suggested that security issues at the airport are proving difficult to solve.
Asked when he thought services may resume, he told the Press Association: "I suspect they will come back at some point. The longer it goes on makes you think: 'Why are they delaying it so long if it's as simple as making sure security checks are in place?
"It would indicate there are more concerns than they maybe originally thought and it may well be that the Egyptian authorities are taking longer to resolve it for some reason."
Atkinson said he believed the Egyptians would be doing "everything possible within their powers" to give the UK confidence about the safety of its citizens.
"They are so heavily reliant on the tourism industry and Sharm is the big hitter of all their major centres," he explained.
The FCO travel advice states that the UK is working with the Egyptian authorities and liaising with travel companies to enable flights to resume "as soon as appropriate security arrangements are in place".