Beyoncé was the big winner at this year's Grammys, but she wasn't the only one in the Knowles-Carter household to bring home an award.
Since then, Beyoncé has posted a number of highlights from this year's awards show on Instagram, including snaps of herself backstage with fellow winners Megan Thee Stallion, Harry Styles and Billie Eilish, as well as her husband Jay-Z.
However, our favourite of the lot is an already-iconic snap of Blue Ivy, sipping from her first Grammy with a straw.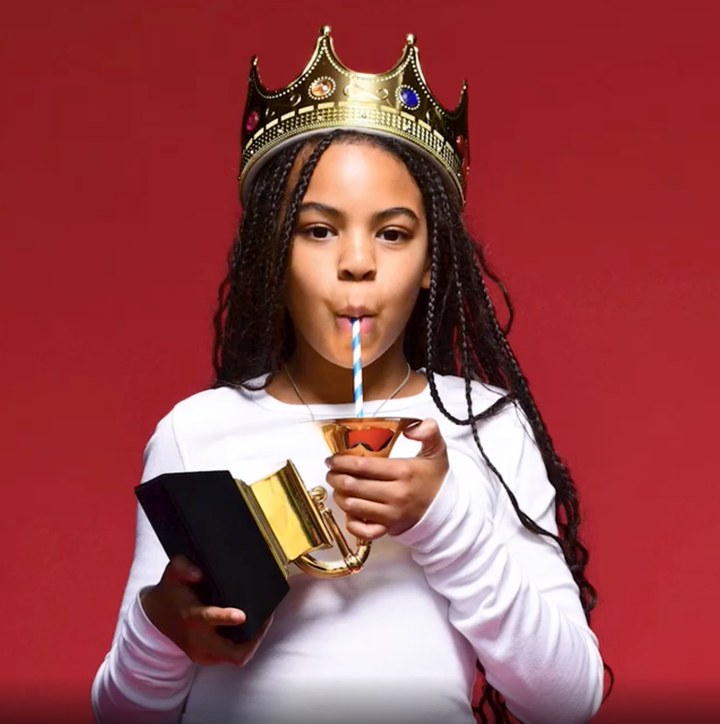 The photo is seemingly a reference to a speech made by Jay-Z at the Grammys seven years earlier, when Blue Ivy was still a toddler.
After accepting the award for Best Rap/Sung Performance alongside Justin Timberlake, the Roc Nation founder said: "I want to tell Blue, Daddy got a gold sippy cup for you."
She said of the achievement: "I am so honoured, I am so excited. As an artist, I believe it's my job, and all of our jobs, to reflect the times. And it's been such a difficult time, so I wanted to uplift, encourage and celebrate all of the beautiful Black queens and kings that continue to inspire me and inspire the whole world.
"This is so overwhelming, I've been working my whole life, since I was nine years old, and I can't believe this happened, this is such a magical night."
She added: "I know my daughter is watching – my two daughters and my son, y'all are all watching – Blue, congratulations, she won a Grammy tonight, I'm so proud of you. And I'm so honoured to be your mommy, and all of your mommy. Y'all are my babies, and I'm so proud of y'all."