A mum has shared a photo of herself tandem breastfeeding her twin daughters alongside an honest account of the struggles she has faced.
Elaina Bellis, from California, admitted she had tried "everything in her power" to build up a supply for her girls, but her body couldn't produce enough milk.
The mother said she never thought she'd have problems with breastfeeding but only now does she realise she tried her best for her daughters.
"Due to the way my birth went and excess of fluids in my body and trauma, my breasts aren't able to supply even enough milk for one baby."
Bellis said she now pumps all day and can only provide her two daughters with one ounce of her milk between them.
She's called on the support of her two friends who have pumped their own milk to donate to the twins.
"I've accepted that's the best I can do," said Bellis. "I wanted to thank my friends who have supplied my girls with their milk @kikialamode and @kacej.
"I also feel like people don't talk about how hard breastfeeding can be and if you can breastfeed, you're incredibly lucky.
"All I can give my girls is my love and that's most important."
The tandem breastfeeding photo, which now has nearly 6,000 likes, encouraged other mothers who also struggle with breastfeeding to speak up.
"I tried breastfeeding, too," one mother wrote. "It was painful, my baby wasn't happy and never slept, pumping killed me.
"I went to visit my grandma a few weeks after she was born, and she said: 'You are starving that baby. Give her some formula!'
"So I did, and everything turned around. I applaud you for sharing this, and I feel your pain, both emotional and physical."
Another new mother wrote: "Hang in there - breastfeeding is so hard. I just had a c-section and my milk took forever to come in, but not enough to feed my baby.
"I'm able to provide him half of what he needs. Not many people talk about how heartbreaking such experience is.
"You're doing best you can and that's the most important thing."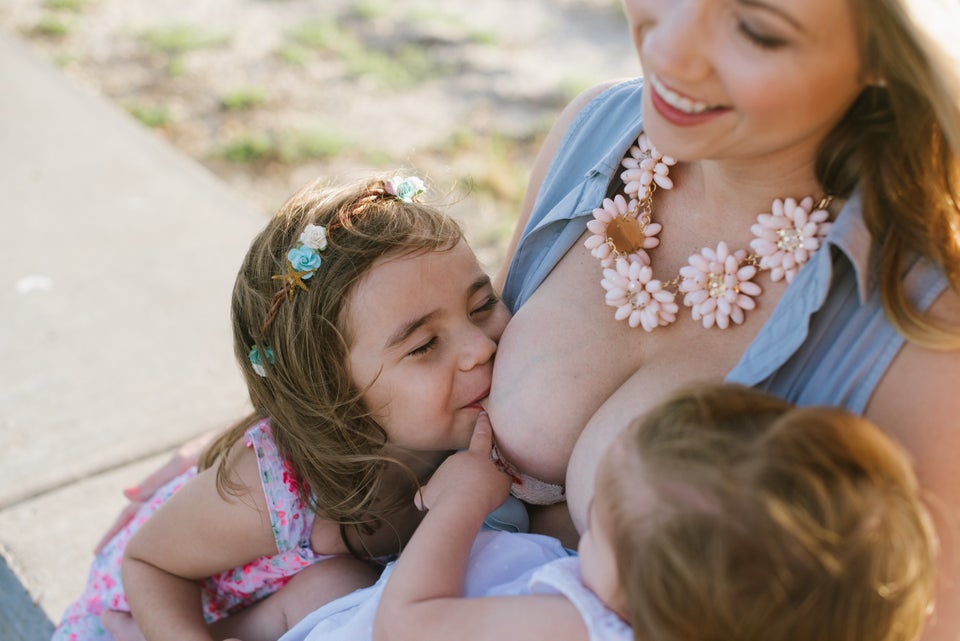 Breastfeeding Tandem Photography
Related