Beijing claims the self-ruled Taiwan as its own and believes a "one China" principle is the foundation of its relationship with the US.
The 10-minute telephone call with Taiwan's leadership was the first by a US president-elect or president since Jimmy Carter switched diplomatic recognition from Taiwan to China in 1979, acknowledging Taiwan as part of "one China".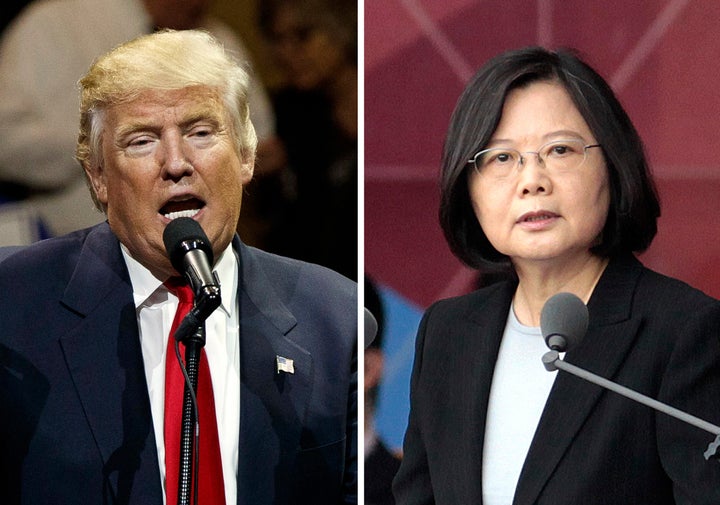 China's Foreign Ministry said it had lodged "stern representations" with what it called the "relevant US side", urging the careful handling of the Taiwan issue to avoid any unnecessary disturbances in ties, Reuters reported.
"The one China principle is the political basis of the China-US relationship," it said.
The wording implied the protest had gone to the Trump camp, but the ministry provided no explanation.
Speaking earlier, hours after Friday's telephone call, Chinese Foreign Minister Wang Yi pointedly blamed Taiwan for the exchange, rather than Trump, a billionaire businessman with little foreign policy experience.
"This is just the Taiwan side engaging in a petty action, and cannot change the 'one China' structure already formed by the international community," Wang said at an academic forum in Beijing, state media reported.
"I believe that it won't change the longstanding 'one China' policy of the United States government."
In comments at the same forum, Wang noted how quickly President Xi Jinping and Trump had spoken by telephone after Trump's victory, and that Trump had praised China as a great country.
Wang said that exchange had sent "a very positive signal about the future development of Sino-US relations", according to the Chinese Foreign Ministry's website. Taiwan was not mentioned in that call, according to an official Chinese transcript.
Trump said on Twitter that Tsai had initiated the call he had with the Taiwan president. "The President of Taiwan CALLED ME today to wish me congratulations on winning the Presidency. Thank you!" he said.
However, Alex Huang, a spokesman for President Tsai, said: "Of course both sides agreed ahead of time before making contact."
Following Trump's call, the White House said the US remained firmly committed to its "One-China" policy.
"Our fundamental interest is in peaceful and stable cross-strait relations," said Ned Price, a spokesman for the White House National Security Council.