The leader of the far-right group Britain First has revealed he is setting up a "training centre" in London where recruits will be "drilled" and taught "self-defence techniques".
Paul Golding, who earlier this year was found guilty of an offence under the Terrorism Act, said the property was donated by a supporter and would be equipped with "a fully sized boxing ring, a huge matted area and every piece of equipment that we need".
He added: "The purpose of this is simple. Because of our political opponents and the extremist jihadi Islamist movement in this country... we need our security department to be highly trained and professional.
"They need to be well-versed in self-defence techniques. They need to be trained to do their job. Just like a firefighter."
Tasnime Akunjee, a lawyer who specialises in terrorism related cases, said while the establishment of a Britain First training centre wouldn't at present warrant police action, it is "worrying".
He told HuffPost UK: "Paul Golding has a string of convictions. He's tried to make a name for himself by allegedly representing the very far right wing of UK politics, bordering on fascistic tendencies and making an issue of going to mosques uninvited and unwelcome and causing people a lot of alarm and distress.
"The idea of somebody who already has a history of public order issues as well as causing alarm to a particular community setting up an organised training facility is worrying."
Britain First has carried out inflammatory actions against Muslim communities including threatening to bury a pig on the site of a proposed mosque, and advocating banning Islam in the UK following the November 2015 Paris terror attacks.
At one point Britain First boasted a large following on Facebook but could only ever muster a handful of supporters to attend real world events.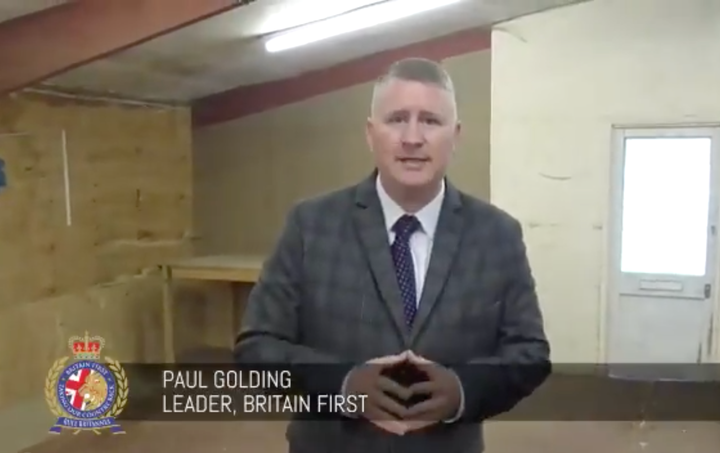 A spokesperson for Hope Not Hate told HuffPost UK: "[Britain First] have always tried try to create fear and intimidation in communities by playing military dress up – whether driving around little towns in an armoured Land Rover, walking about in faux uniforms or using ridiculous job titles like 'chief of staff'. [...]
"Their only achievement is attention-seeking on the internet. This is a tiny organisation that seeks to inflate its size and importance through posturing and pretending to be competent and capable.
"Tragically, it's obvious to everyone but themselves that they are neither."