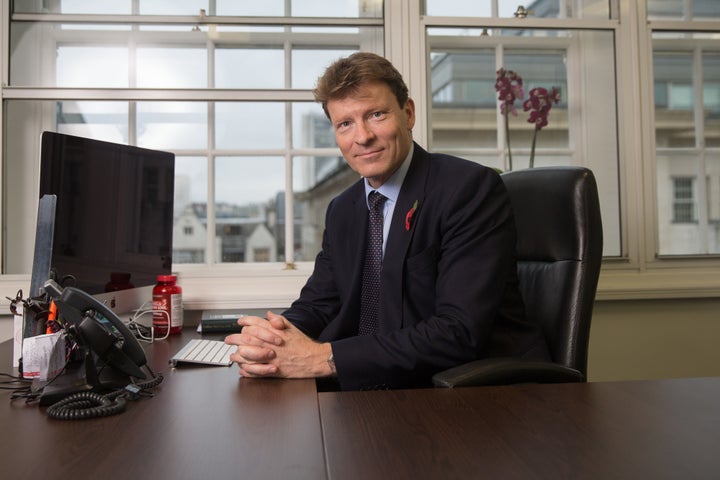 One of the founders of the controversial pro-Brexit group Leave.EU has put his name forward to be the Tory candidate for London Mayor, HuffPost UK can reveal.
Richard Tice – a businessman who formed the anti-EU organisation with ex-Ukip donor Arron Banks – has thrown his hat into the ring to represent the Conservatives in the battle for City Hall in 2020.
Tice's application comes after series of high-profile Tories, including former Education Secretary Justine Greening and rising star James Cleverly, ruled themselves out of the race.
Sources say he is expected to officially announce his bid in the coming days.
The Tories are planning to get the selection process for their candidate completed by party conference in October, and with hustings due to begin in the next few weeks, time is running out for people to throw their hat into the ring.
Through Leave.EU, Tice helped to ensure then-Ukip leader Nigel Farage played a prominent role in the 2016 referendum campaign – even though it was rival organisation Vote Leave which was designated the official pro-Brexit campaign group.
He left Leave.EU shortly after the 2016 referendum and established the hard-Brexit backing Leave Means Leave group.
His position as a hard-Brexiteer will present a challenge for the Tory party, as 60% of Londoners backed Remain in the referendum.
While a success in the business world, the CEO of asset management company Quidnet Capital has little active political experience.
She said: "Thanks @JustineForMayor - all your support is hugely appreciated, but as an MP I'm focusing on socialmobilitypledge.org to drive opportunity for people across our whole country so won't be putting my name forward."
Other potential candidates for the job include Brexiteer MEP Syed Kamall, London Assembly member Shaun Bailey, who has been a vocal critic of Khan's handling of the knife crime epidemic, former MP Nick Du Bois and Evening Standard editor and former chancellor George Osborne.