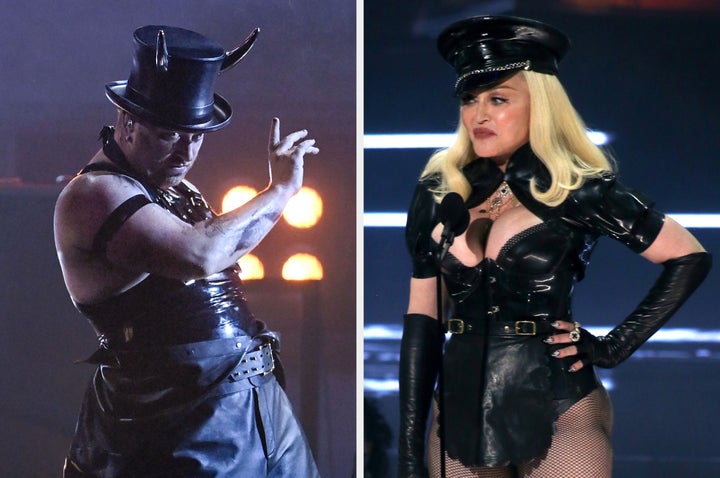 Clocking in at just over two and a half minutes, the song screams club anthem, while also carrying a strong message of allyship and defiance in the face of their critics.
The lyrics couldn't be bolder, either, with Madonna saying in her verse: "If you fuck with Sam tonight, you're fucking with me, So watch what you say or I'll split your banana."
Later in the track, the two declare: "Vulgar is beautiful, filthy, and gorgeous, vulgar will make you dance, don't need a chorus".
Directly taking aim at their opponents, they add: "Say we're ridiculous, we'll just go harder, Mad and meticulous, Sam and Madonna."
Fans are already hailing the track as a "banger" following its release on Friday morning, with many confessing they've been listening to it on repeat.
Madonna and Sam have both shrugged off fierce criticism in recent months.
In February, Holiday hitmaker Madonna was subjected to criticism and ridicule following her appearance at the Grammys, to which she responded: "Once again I am caught in the glare of ageism and misogyny that permeates the world we live in.
"A world that refuses to celebrate women pass the age of 45 And feels the need to punish her If she continues to be strong willed, hard-working and adventurous."
Meanwhile, Sam received backlash from conservative commentators about their I'm Not Here To Make Friends video and subsequent performances at the Grammys and Brits.
Sam and Madonna first came together this year when the Queen of Pop introduced the Lay Me Down singer's performance of Unholy with Kim Petras at the awards show.
At the time, Madonna described Sam and Kim as "two incredibly talented artists" who were "forging a new path and taking the heat for all of it."
Speaking to the crowd, Madonna said: "You guys need to know ― all you troublemakers out there ― you need to know that your fearlessness does not go unnoticed. You are seen, you are heard and, most of all, you are appreciated."
Sam has also been performing their own rendition of Madonna's hit Human Nature as part of their live shows, in what appears to be a reaction to the critics who have spoken out against them during their Gloria era.
Take a listen to Vulgar for yourself below: