New data has shown almost half a million people needed help to apply for the government's flagship Universal Credit benefit online, HuffPost UK can reveal.
The Universal Credit system is the first of its scale to be rolled out by government through an online-only application system.
But the IT-only model has prompted fears that people who do not have a computer or smart phone, or who are not IT literate, will be excluded.
Now, a Freedom of Information request by HuffPost UK has shown 462,000 people required help from friends, family, the Job Centre or a charity to apply.
The data shows the difficulties some are having with the online-only system and has led to concerns that genuine claimants may be blocked from applying.
Rachel Gregory, of the debt charity Christians Against Poverty (CAP), told HuffPost UK: "The question we ask is: how many more are out there who haven't completed their applications because they had no help?"
To obtain the data HuffPost UK asked the Department for Work and Pensions (DWP) how many people had answered "yes" to a question on the online application form asking: "Did anyone help you make your claim - for example a family member, friend, or someone from the Job Centre or a charity."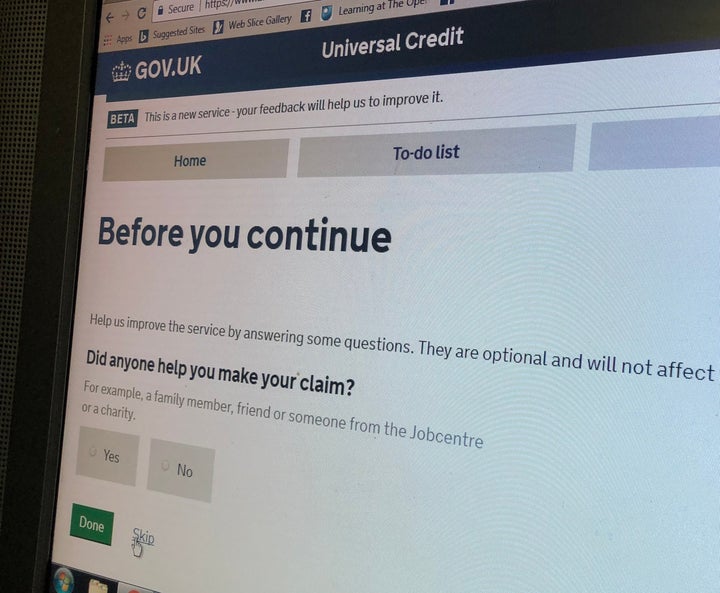 The figures shows 2,000 people answered yes in December 2016, 85,000 in 2017 and 375,000 in 2018 - taking the total to 462,000.
The numbers equate to 22% of the total digital applications for 2017 (380,000) and for 2018 (1.71million).
The steep increase in figures from 2016 to 2018 reflects the increasing numbers of people claiming Universal Credit as the system roll-out has accelerated.
The charity CAP, which is based in Bradford and works with people across the country, says IT and internet access is a problem for many it has contact with.
"Digital exclusion is a significant challenge for many people helped by us," said Gregory. "In our own research we found that 22% said they do not have access to the internet at home, on a computer or smart phone.
"As Universal Credit is designed to be 'digital-by-default', difficulties making a claim online featured strongly amongst our clients."
The DWP says face-to-face support is available until April and Job Centres across the country have free wifi and more than 8,000 computers available to support people who need help making a digital claim.
But charities have demanded alternative application routes for those with genuine IT difficulties, saying older people, those on low incomes, the homeless or people with disabilities, will be among those excluded from making digital claims.
One woman with registered disabilities told HuffPost UK she was unable to even start a Universal Credit application because of being locked out of the system.
Deborah Anderson, 58, who served for 13 years in the British Army from 1977-90, said: "I'm in the process of having to give up work due to ill health. I am going to have to apply for Universal Credit but already I have a problem.
"Unfortunately when I'm trying to get online it keeps saying 'unable to identify you' over and over. I've spoken to DWP but to no avail. I'm just another statistic."
The online-only model has been particularly controversial because of wider criticisms Universal Credit applications are complicated and difficult to complete.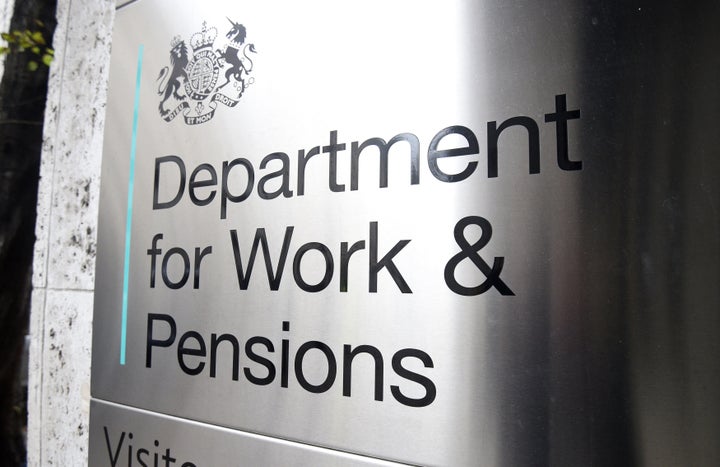 Margaret Greenwood MP, Shadow Secretary of State for Work and Pensions, told HuffPost UK: "It's clear that making people make and manage their Universal Credit claims online is stopping people getting the social security support they should be entitled to.
"Nobody should lose out because they find it difficult to use IT or don't have easy access to it, especially with the widespread closures of libraries and jobcentres.
"The government must stop the roll out of Universal Credit before any more people are pushed into poverty by a benefit that should protect them from it."
The roll-out of the system, which merges six working-age benefits into one monthly payment, has also been beset by wider problems and delays.
In October Secretary of State for Work and Pensions Esther McVey reportedly warned cabinet that it involves £200 monthly cuts to the income of many poor households.
The government has already allocated £39million to the Citizens Advice Bureau to assist people applying for Universal Credit and says 1.6million people are receiving the benefit successfully.
A DWP spokeswoman told HuffPost UK: "Tailored support is an important principle of Universal Credit and these quoted figures include people helped by Job Centre staff.
"98% of people claim online and our latest claimant survey showed the majority of people found the process easy. Additional support is also available for those that need it."
How long does it take to complete the online application?

HuffPost UK watched a Universal Credit claimant complete the online application process in December.

The single-mother, Joanne Harrison from Leeds, took two hours to fill in the online forms, which was longer than the DWP's estimated 40 minutes.

Harrison had her own computer and access to the internet at home.

Despite this, she would have been unable to complete the application in full without HuffPost UK's journalist allowing her the use of a smart phone to download an app needed to verify her identity.

″I feel worried because I'm not clued up about how to work my way around the system just yet," said the single mum.