Due to the outcry against the new British animal fat £5 note, some shops have been refusing the note as tender. Reports show that customers even deny it for change. Perfect Solution: Reprint the new British £5 note with pumpkin seed oil.
With a new year on the horizon, is it time to start taking these shows for the slice of entertainment that they are and not get so caught up in labelling everything a fix just because it is not running the way we would hope.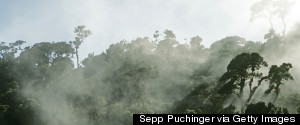 Series 16 of 'I'm a Celebrity, Get Me Out of Here!': its ad breaks peddle a nostalgic vision of Christmas with a 2.4 family (and thanks to John Lewis,...
I'm a normal teenager, but I do go to star-studded events. On Friday night, I attended a wonderful evening with the world-renowned punk/rock fashion designer, Vivienne Westwood, with my mum Gillian McKeith and my sister Skylar. This evening left quite an impression on me.
But those who long for a more serene jungle experience can now opt for a relaxing escape instead, as more and more travellers look to explore luscious green tropics without leaving luxury far behind.
Here we are again - glued to our TV screens, revelling in the hilarious and at times toe-curling jungle trials of ITV's I'm a Celebrity... Get Me Out Of Here! This year's series is captivating the nation's imagination more than ever with the opening episode bursting back onto our screens with a record-breaking audience of 12million viewers. The show's popularity is all the more impactful because behind the fun and frolics in the jungle, the celebrities have united to support an important cause - Malaria No More UK.
In my role as an Easy Team ambassador for Zanussi, I recently got the chance to meet up with the team's Captain, Gino D'Acampo, in Newcastle's Fenwick.
It appears that the days of meeting and dating are gone and the generation of dating auditions has begun, well it probably begun quite some time ago to be fair. The internet does play a large part in this with the huge rise in internet dating websites that now means it's easier to find a date.
This week's nonsense on X Factor is only the latest evidence that this show has X-pired its sell-by date. It's bubble gum pop and the bubble has popped. But I'm A Celebrity... Get Me Out Of Here! is actually an increasingly necessary cultural phenomenon.
This is the fourth year of our partnership with ITV's I'm a Celebrity... Get Me Out Of Here! raising funds and awareness to save lives from malaria. We're inspired and moved by the celebrity's own stories and experiences. Some have suffered themselves, such as 2011 contestant and former horse racing champion Willie Carson. Others have spent time in Africa, where over 90% of all malaria deaths occur, so it is no surprise they've seen the impact of the disease close up... Despite half the world's population being affected by malaria, many celebrities and people across the UK have little knowledge or experience of the disease.
Being judges (without a jury, mind) is becoming ingrained into our culture. We're constantly told that our opinion counts, we're encouraged to comment, to vote, to Tweet, to share 'what's on your mind.'
When he first sauntered into the jungle with his '80s counterpart, Sinitta, he seemed like this series' bland, middle-aged man. However, he has distinctly upped his game in the last few days, and for this I salute him.