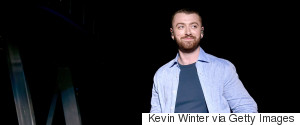 Over the next fortnight, HuffPostUK Entertainment is going LOUD & PROUD, where we'll be celebrating how gay culture has influenced and, in turn, been embraced by all fields of entertainment, inspiring cinema-goers, TV audiences, music-lovers and wider society with its wit, creativity and power of expression.
You'd think this conversation wouldn't need to happen at Smith's level of fame - but media training and Sam Smith are strangers across a crowded room. Not that you can be media-trained for the specific brand of "Did I really just say that?" that Smith does so well.
There's a plethora of non-white talent in the UK that hasn't been viewed by the BRITs let alone the general public. If the awards focused on record quality, rather than record sales then acts like Boy Better Know, FKA Twigs and Kwabs would have received a gong by now.
Writing's on the Wall will be a huge success - a monster hit, the first Bond theme to be Number 1, which it already is on iTunes and the Vodafone Big Top 40. But that won't make it any good. It's a pale, lacklustre impersonation of what's gone before. It will swiftly go the way of instantly forgettable X Factor chart toppers. Above all, it doesn't bode well for the film itself.
We've got to understand what the goal of gay advocacy really is. When I was growing up I didn't want to be like everyone else... Gay people aren't criminals asking to be loved in spite of their crimes. They're not addicts wanting to be understood beyond their addiction. And they're certainly not sinners wishing to be spared of evil.
What I'm saying to Sam Smith is that he might not want to be a spokesperson for gay rights, but as far as I care he doesn't really have a choice in the matter. If he wants to sit next to Katy Perry and Miley Cyrus at the VMAs, then he's going to have to face up to the fact that his words have weight to them now.
After the star and her dancers took their final bow the curtains closed and the lights went up, drawing an end to an almost year long tour. It won't be too long to wait before we hear from her again as her new album is rumoured to be released this year following the two year cycle that her previous albums have followed.