Goodbye racist vans! Thanks for the memories...
The Home Office has finally confirmed what everyone already pretty much knew, the beleagured "go home or face arrest" vans aimed at illegal immigrants will not be rolled out across the UK.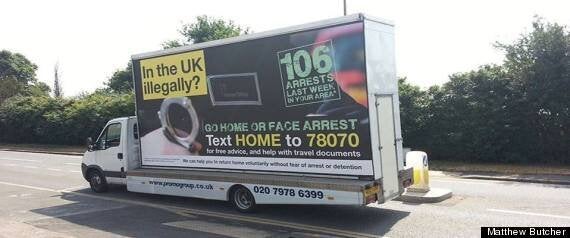 The controversial vans have left the streets
The department has confirmed it does not intend to roll out the campaign nationwide following an evaluation.
A Home Office spokesman said: "The Home Secretary has seen an interim evaluation and has not been convinced by the results. As such, there will be no further roll-out."
The campaign was banned by the Advertising Standards Authority (ASA) earlier this month for using misleading arrest statistics, but cleared over complaints that it was offensive and irresponsible.
The ASA received 224 complaints including some from groups representing migrants in the UK, legal academics and the Labour peer Lord Lipsey.
Yvette Cooper, shadow Home Secretary insisted that Labour's plans, which include trebling the maximum fine for employing illegal workers, were in contrast to the Government's "gimmicks" such as text messages and "offensive" advertising vans.
She said: "The Government is failing to address the exploitation of low-skilled immigration in the labour market. Nor do they have any serious strategy for tackling illegal immigration.
"That's why we are setting out sensible and practical policies, instead of the Tory-led Government approach of resorting to ineffective and offensive ad vans, gimmicks or incorrect text messages to people who have lived here for 30 years.
"At a time when there is real pressure from a cost of living crisis, people are really concerned that low-skilled immigration is being exploited to undercut wages.
"We need a system that is fair for all and a labour market that works for all. That's why we need practical measures to close loopholes in the minimum wage, or deal with agencies recruiting only from abroad, or gangmasters exploiting illegal labour.
"And we need more sensible measures to address illegal immigration. The Government is doing little to deal with problems at border control which have been getting worse, with fewer people stopped at the border, and more absconding.
"The Tories set out to play divide and rule, but they have been left with a net migration target nobody trusts, falling levels of confidence and increased public concern."
Popular in the Community