Alex Salmond has hailed an "important" poll which he said demonstrates Scotland is "not going to bullied by big oil, big supermarkets, and big London government". A Guardian/ICM poll put support for the UK at 51% ahead of 49% for independence, excluding undecided voters, while a Times/Sun/YouGov poll gave No a slightly larger lead at 52% against 48% for Yes.
With just six days to go until the referendum, Mr Salmond and his deputy Nicola Sturgeon travelled across the country, making visits to Glasgow, Edinburgh, Stirling, Aberdeen, Dundee, Inverness and Perth. Welcoming the ICM poll in Perth, Mr Salmond said: "Obviously the polls are encouraging, up another 4% today, and of course it will send the No campaign into another desperation of uncertainty which they have been displaying over the last few days.
"I think this poll is important, because given the No campaign have been flinging the kitchen sink and most of the living room at Scotland over the last few days, we have a demonstration that we are not going to bullied by big oil, by big supermarkets, by big London government. The people of Scotland are not going to be bullied out their opportunity to create a more prosperous country and also a fairer society."
Former SNP deputy leader Jim Sillars, widower of nationalist trailblazer Margo MacDonald, said there will be "a day of reckoning with BP and the banks" if Scotland votes Yes. "The heads of these companies are rich men, in cahoots with a rich English Tory Prime Minister, to keep Scotland's poor poorer through lies and distortions," he said.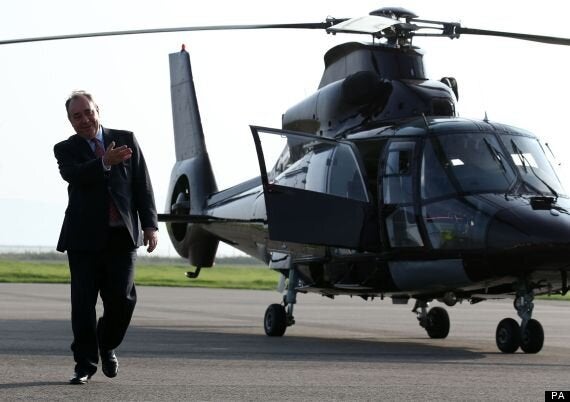 Salmond arrived at Dundee by helicopter
"The power they have now to subvert our democracy will come to an end with a Yes. BP, in an independent Scotland, will need to learn the meaning of nationalisation, in part or in whole, as it has in other countries who have not been as soft as we have been forced to be. As for the bankers: your casino days, rescued by socialisation of your liabilities while you waltz off with the profits, will be over."
But Scottish Conservative finance spokesman Gavin Brown said: "To even suggest BP would need to learn the 'meaning of nationalisation' and there will be a 'day of reckoning' for big businesses is not only threatening but also utterly unnecessary."
Meanwhile, Labour leader Ed Miliband was joined by former prime minister Gordon Brown and Scottish Labour leader Johann Lamont at a rally in Glasgow, as the party seeks to build support for No.
Ukip also joined the campaign trail tonight with its own rally in Glasgow. Speaking ahead of his visit, Ukip leader Nigel Farage said the Queen should make a public statement in support of the union. "There are times when, if the United Kingdom, over which she is the monarch, is threatened itself, when it might be right to say something," he said.
Today's campaigning comes amid the ongoing row between Mr Salmond and the Treasury over the alleged leak of "market sensitive" Royal Bank of Scotland information. The UK's most senior civil servant has rejected Mr Salmond's allegation that someone within the Treasury broke ministerial rules - and perhaps the law.
Mr Salmond has followed up with another letter to Sir Jeremy Heywood demanding a "who, what, where and when" investigation. Speaking in Aberdeen, Mr Salmond said: "My understanding is that figures from the Scottish financial sector believe there has been a breach of the law.
"Jeremy Heywood confirmed that the Treasury had released a statement, which is an extraordinary revelation." He added: "I have sent him a letter today which asks him some very simple questions. He has confirmed that a statement went out from the Treasury so we now want to know the time, the form that statement took, who authorised that statement - was it a senior civil servant or was it a Government minister? And is it the case that that statement in terms of its timing went out either before, during or after an RBS board meeting?"
Elsewhere, Chancellor George Osborne and Bank of England Governor Mark Carney announced they are pulling out of G20 talks in Australia so they can be in the UK for the referendum result. And Chinese finance minister Guangyao Zhu issued a call for "stability" in the UK.
Another business, insurance and pension provider, Aegon UK, announced it is setting up a new registered company in England and Wales to protect policy-holders from the impact of a potential Yes vote. Asked whether Mr Cameron had been privately pressing business leaders to speak out about the potential consequences of a Yes vote, his official spokesman said he had "made no secret" of his wish for people to make their voices heard.
Actor Peter Mullan criticised the "scaremongering" by anti-independence campaigners, branding it "deeply insulting and very patronising". Alex Russell, Professor of Petroleum Accounting at Robert Gordon University in Aberdeen, has backed a Yes vote in next week's referendum.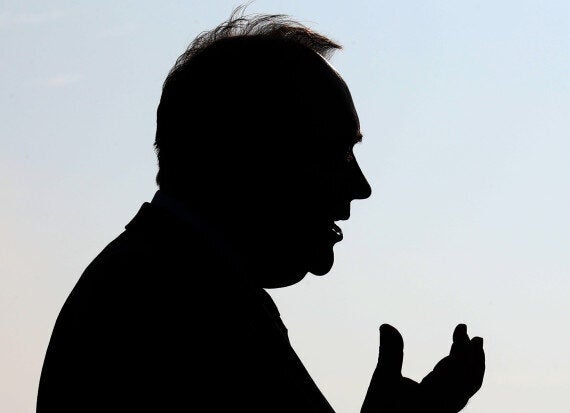 The First Minister spoke to the media following his arrival
But oil economist Professor Alex Kemp has said "there will be no bonanza" for the industry, potentially dampening the expectations of some nationalists. The chairman of pub group Wetherspoons, Tim Martin, said there is "absolutely no sensible reason in the world" why the price of a pint would rise in an independent Scotland.
"There is a lot of nonsense talked, particularly by businessman, also politicians, to say that it is impossible for Scotland to survive as successfully by itself," he said. Almost a third of people think house prices in Scotland will fall if the country becomes independent while about the same number believe prices will rise, a new survey found.
Edinburgh University research has found that the current Scottish Parliament may not be big enough to give full oversight to an independent Scotland's security and intelligence service, academics have found. If kept unchanged after independence, Holyrood's 129 MSPs may not be able to give the issue the attention it needs while current members lack expertise in the area, it said.
On Sunday, the Moderator of the Church of Scotland Rt Rev John Chalmers will deliver a call for unity whatever the outcome of the referendum. "I'm one of those people who has spent a lifetime trying to see both sides of every argument, trying to work out complicated 'middle ways' that keep as many people as possible content, but I'm not going to get away with that this week," he said. "On this issue like the people of Israel standing before Elijah, I need to come off the fence."
Also on Sunday, the leader of both the Yes and No campaigns will appear on the same live television programme. Alex Salmond and Alastair Darling will be questioned on The Andrew Marr Show by the veteran broadcaster.