Campaigners must stop intimidating journalists covering Scotland's independence debate, union chiefs have said, after an extraordinary protest calling for the BBC's Nick Robinson to be sacked.
Cybernats - pro-independence campaigners who maul their opponents on social media - also attacked a BBC journalist who took a photo of the crowd, saying she deliberately photographed it to make it look like it was smaller than it was one.
One tweeter called this "beyond parody".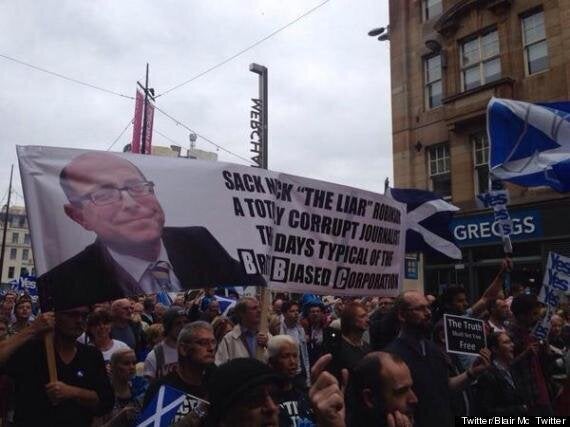 The banner calling for Nick Robinson to be sacked
Mr Holleran said journalists in Edinburgh and Aberdeen had been "abused over the weekend when simply turning up to report on events organised by both sides" of the referendum campaign.
He added that others in the media had been "on the receiving end of a range of abuse and intolerance on social media, some of which has been logged and may be reported to the police".
He said: "Robust debate is fine. Pointing out when journalists get their facts wrong is expected and welcomed.
"But NUJ members believe in a free press, a fair media, with journalists allowed to do their jobs free of intimidation.
"We hope the politicians and campaigners, and those who follow politics, take this on board and act with a bit of maturity and understanding of the role of journalists in holding those in power to account.
"What is totally unacceptable is the use of threats of violence. The NUJ has A history of acting on this type of behaviour and Police Scotland has been supportive and has intervened when we have previously pursued such action."
A BBC spokeswoman said: ''We believe our coverage of the referendum has been rigorously impartial and in line with our guidelines on fairness and impartiality.''
Scottish Secretary Alistair Carmichael claimed Yes campaigners were using "intimidation tactics" and called on the First Minister to act.
He said: "The reality of this is the people who are jostled in the streets, the people who are pushed off the streets are not Alex Salmond or Nicola Sturgeon or John Swinney; it's people like John Prescott and Alistair Darling. And they are pushed off the streets by people waving Yes posters.
"If there is bullying here, clearly there is now quite a serious atmosphere where people who are supporting a No vote don't feel comfortable in saying so publicly. And then, at the weekend, you have somebody like Jim Sillars come out and say there'll be a 'day of reckoning' for any business that supports a No vote.
"You've got a mob outside Pacific Quay, the BBC headquarters in Glasgow, trying to influence their reporting of this referendum. These are serious, serious tactics to be adopted and really, the person who could stop it all and pull the heat out of this is Alex Salmond. But time after time, despite every invitation to do so, he just ignores it."
A spokesman for Yes Scotland said: "We are very clear that Yes supporters should spend the next few days campaigning for something, not protesting. All abuse is of course to be condemned, and we agree with Paul Holleran.
"The reality of this debate is that it is overwhelmingly a vibrant celebration of democracy, and we shouldn't allow the few badly behaved people on either side to mis-characterise an event that the people of Scotland are very proud of."
Yesterday, Deputy First Minister Nicola Sturgeon said the BBC protest was a mistake.
She said: "I'm very clear in my view that we've now got three days to the referendum and I would say to all to all yes supporters that we should spend every moment of those three days not protesting against something but campaigning for something, for a yes vote to give us the power to transform our country."
Related