Alex Salmond's vision for Scotland to rejoin the European Union within two years of gaining independence while keeping the pound has been awkwardly undermined by Spain.
Íñigo Méndez de Vigo, Spain's Europe minister, said that the Scottish first minister's plan to negotiate membership of the political bloc in an 18 month timescale had "a lot of ifs" and "more ifs than a poem by Rudyard Kipling".
Speaking to BBC's Newsnight on Tuesday, he also signalled that the process would take five years and suggested an independent Scotland would be forced to adopt the troubled Euro currency.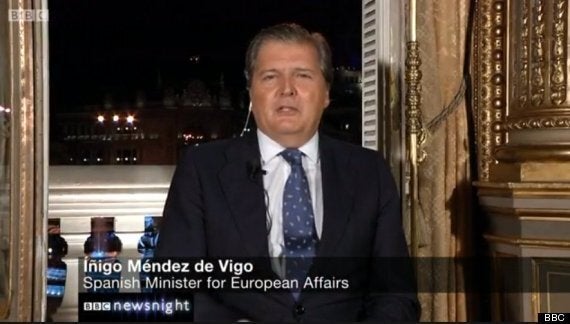 "You have to follow the rules," he said. "You have to apply under article 49 and follow the procedure to become a member state of the European Union. It's a process that takes more or less five years."
"I don't see in the future for any member state to be granted that possibility if any member state [candidate] puts that on the table, I can tell you that all member states will look at it very carefully."
In response, the SNP's Stewart Hosie said a newly independent Scotland would not have to apply as a "new member" to the European Union.
He said: "The other side of the argument is that article 48 is negotiation within, which is under what it would be considered... We accept that, we have always accepted that to be negotiations, but it will be done under [article] 48 from within, not 49 under new entry.
He also said that Scotland would continue to use the pound as an independent nation, insisting: "Sterling is Scotland's currency as much as it is anyone else's."