The Scottish edition of The Sun and its owner Rupert Murdoch, have been accused of "bottling it" and failing to declare their political allegiance on the final day of campaigning for the Scottish referendum.
The Sun proudly claims it shapes politics and famously bragged about its own influence in the 1992 headline "It's The Sun Wot Won It," which alluded to its support for the Conservative Party after it unexpectedly won the general election.
Murdoch hinted that he supported Scotland becoming independent in a series of tweets suggesting he would back Alex Salmond's Yes campaign, as well as consider removing Page 3 from The Sun.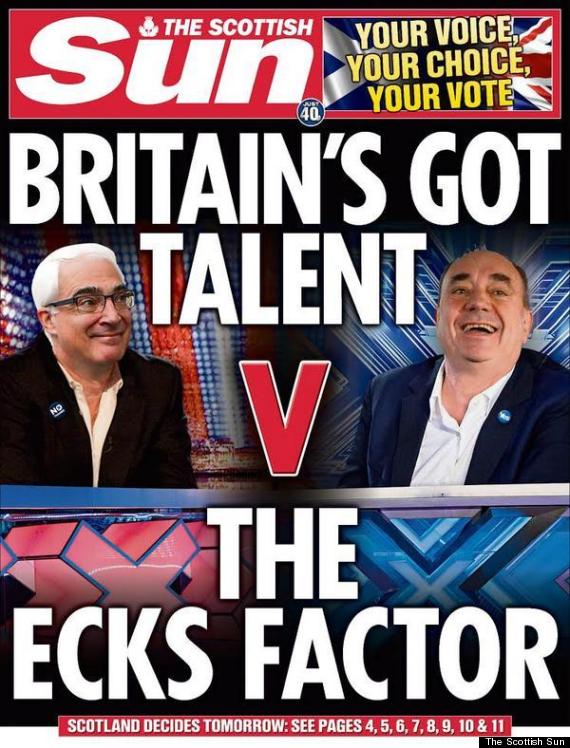 Today's front page of The Scottish Sun
He said the Scots where "better people than to be dependants [sic] of London"
But today, 24-hours before the Scottish referendum, his biggest paper in the country stayed on the fence, presenting what one online commenter called "the naffest splash ever".
The front page showed a talent-show themed mockup of Alistair Darling and Alex Salmond, with the line "Britain's Got Talent V The Ecks Factor": setting the pair behind the pro-and anti-independence campaigns against each other but not backing a winner.
With unusual impartiality, the paper told readers it has faith in them "to make the right choice".
Twitter wasn't impressed:
I see the Scottish Sun decided not to back an #indyref horse after all. Less 'the Sun what won it' more 'the Sun cannae guess right' #fence

— iHaggerty (@AngelaHaggerty) September 17, 2014
At moment of truth, the Sun bottled it. Naffest splash ever MT @SkyNews: Britain's Got Talent V Ecks Factor pic.twitter.com/6SocBbOfVX #indyref

— Arthur MacMillan (@arthurmacmillan) September 16, 2014
The Scottish Sun has bottled it! Tomorrow's edition backs nobody. Salmond will not be happy with Rupe.

— Andrew Neil (@afneil) September 16, 2014
Scottish Sun doesn't back Yes or No, despite Murdoch being pro-Indy. He doesn't set opinions, he follows. Close race and he bottles it.

— Conor Pope (@Conorpope) September 16, 2014
Disappointed that the Scottish Sun bottled it by not making a decision on Scottish referendum. They are usually so ballsy.

— Sam Dale (@Samuelsdale) September 17, 2014
It's possible, some argued, that the inside pages of the paper could be decoded to reveal Murdoch's opinion. The Scottish Sun's traditional topless Page 3 girl was booted back to page 13 today to make way for a double-page Yes campaign ad.
Ads for the No campaign appeared much further back in the newspaper.
READ MORE: