Tesco's chairman has been forced to resign as the supermarket revealed that its pre-tax profits had plunged by a record 91.9% and that its £250m accounting scandal is bigger than previously thought.
Britain's biggest supermarket admitted its pre-tax profits for the first half of the year had fallen to £112 million, with its investigation revealing that it had previously overestimated profit expectations by £263 million.
Tesco's UK like-for-like sales were down 4.6% for the six months to August amid "strong competition across the grocery market", showing that the troubled grocer is still being battered in a price war and suffering from the discounters Aldi and Lidl.
Tesco's shares opened 6% lower as it told the City it could not even provide any guidance on full-year profits because of a range of uncertainties.
James Abbott, trader at Accendo Markets, asked: "Why would anyone take a risk on a compan that continues to disappoint in this manner?" Fortune often favours the brave, but the stupid?"
Meanwhile, Shore Capital retail analyst Darren Shirley said the fact that the accounting issue relates to more than just the first half of the year raised "all sorts of questions to our minds as to what has gone on in prior years".
He added: "We cannot, therefore, rule out that a lot of ground will have to be raked up with potentially time-consuming and damaging ongoing headlines for Tesco. If there is a silver lining here then it is that Mr Lewis has acted quickly, decisively and that he is not associated with the practices."
Tesco boss Dave Lewis admitted his team has "a lot of work to do" to rescue the ailing supermarket, revealing that a full review of the business is underway. He added: "We know what it is we need to do to turn the business around."
He dismissed the idea that fraud may have been involved in the accounting blunder: "Nobody gained financially as a consequence of the overstatement of performance."
A review by Deloitte into the profits overstatement identified £118 million in relation to trading profit for the six months to August, with £70 million covering the 2013/14 financial year and about £75 million for previous periods.
The accounting group has concluded its work but Tesco said that as the matter is in the hands of the Financial Conduct Authority it was not able to make any further statement about how the mis-statement took place.
Sir Richard Broadbent, who became chairman in 2011, said his decision to step down will help the company draw a line under the past.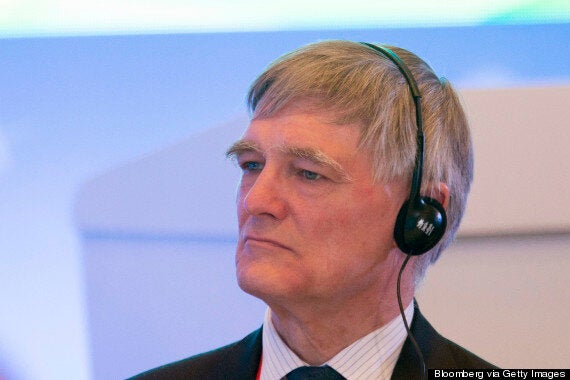 Tesco's now departing chair Sir Richard Broadbent
He added: "The board's immediate focus must be on ensuring that we complete the transition to a new management team and that new and far-reaching business plans are put in place quickly.
"These plans will mark the beginning of a new phase for the company and I will begin now to prepare the ground to ensure an orderly process for my own succession at that time."
Popular in the Community