Reporters Without Borders (RWB) says it is "appalled" that leaders of countries including United Arab Emirates and Turkey were present, when it claims those countries continue to persecute journalists in their own regions.
It accused the leaders of trying to "improve their international image" while "spitting on the graves" of the dead cartoonists and journalists of Charlie Hebdo.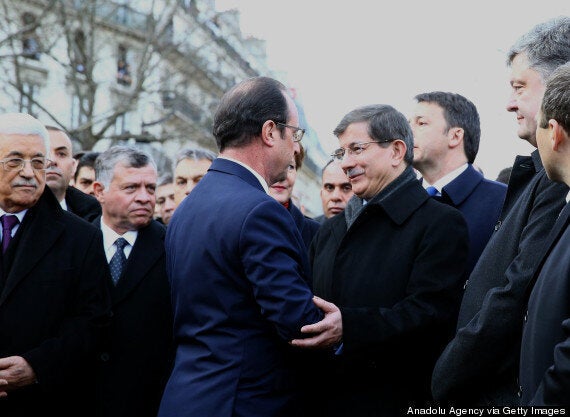 French president Francois Hollande [L] greets Turkish Prime Minister Ahmet Davutoglu at the march
RWB secretary-general Christophe Deloire said: "It would be unacceptable if representatives of countries that silence journalists were to take advantage of the current outpouring of emotion to try to improve their international image and then continue their repressive policies when they return home.
"We must not let predators of press freedom spit on the graves of Charlie Hebdo."
"We must demonstrate our solidarity with Charlie Hebdo without forgetting all the world's other Charlies."
RWB added in a statement: "On what grounds are representatives of regimes that are predators of press freedom coming to Paris to pay tribute to Charlie Hebdo, a publication that has always defended the most radical concept of freedom of expression?"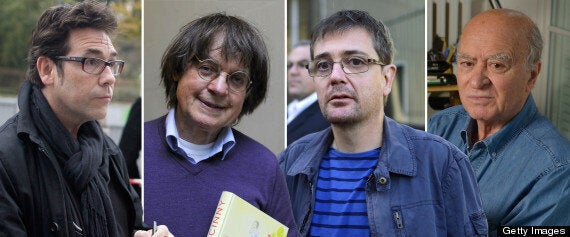 Four well-known French cartoonists were among the 12 people killed
RWB said it was outraged by the presence of officials from "countries where journalists and bloggers are systematically persecuted" such as Egypt and The United Arab Emirates, which rank poorly on the charity's press freedom index.
Egypt ranked 159th lowest out of 180 countries in the index. Russia is 148th, Turkey is 154th and United Arab Emirates is 118th.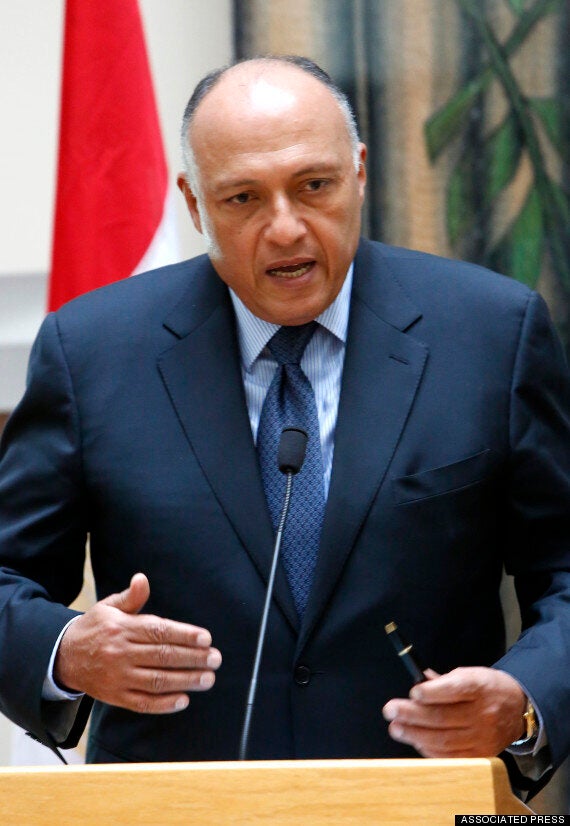 Egyptian foreign minister Sameh Shoukry is confirmed to be at the demo
Turkish Prime Minister Ahmet Davutoglu, Egyptian foreign minister Sameh Shoukry, Russian foreign minister Sergei Lavrov, Algerian foreign minister Ramtane Lamamra, UAE foreign minister Sheikh Abdullah bin Zayed Al Nahyan and Gabonese President Ali Bongo are all at the march today.