Nicola Sturgeon has vowed to take action against so-called 'cybernats' who use social media to send abusive messages to politicians, in what may also make for uncomfortable reading for one of her own MPs.
The SNP leader said she would "send a clear message that politics in Scotland will not be sullied by this behaviour", and vowed to crack down on members who breached the party's guidance for posting online, subjecting defiers to "disciplinary processes".
Thursday's intervention came after a national newspaper accused her of having links with "vile cybernat trolls", claiming she had met and chatted on Twitter with Robert 'Rab' Dickson - an alleged "internet abuser".
An article in the Scottish Daily Mail said that Dickson, tweeting from the handle Roy1Batty, sent a barrage of abusive messages to politicians online.
Just some of the vile Tweets from the internet troll exposed in today's Scottish Daily Mail: (*Offensive language) pic.twitter.com/t2jdITcTCA

— Alan Roden (@AlanRoden) June 24, 2015
It alleged he told his ex-MP Jo Swinson she was a "pole climbing vicious halfwit", called Scottish Labour's interim leader Kezia Dugdale a "thick bitch", and referred to former Tory employment minister Esther McVey as a "c***".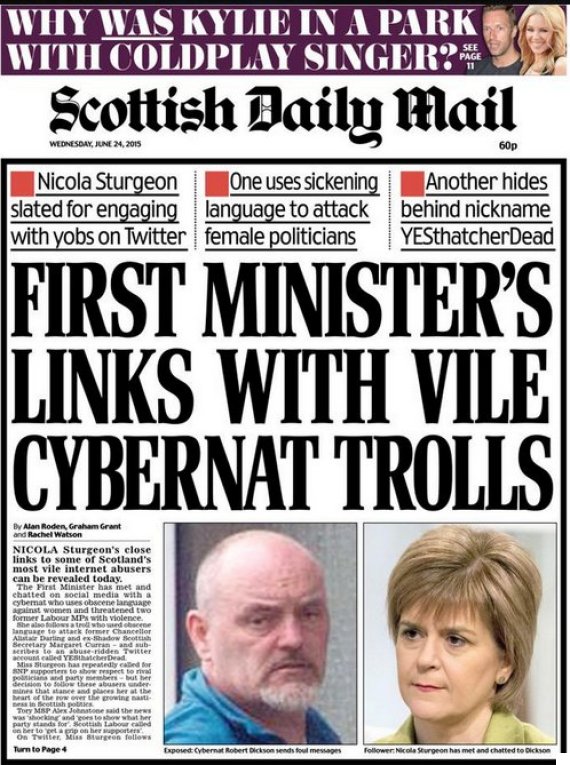 Wednesday's Scottish Daily Mail front page
The First Minister today responded to the claims with a strongly worked blog post on her party's website, which was also published in full in the Mail, claiming that while she could not be expected to "police Twitter single-handedly", she would act against SNP members that "cross the line".
"Just like every other politician, I volunteered to be in public life," she wrote on Thursday, "and with that comes an acceptance of public criticism.
"I don't expect everyone to agree with me - it would be a dull world if they did. Robust political debate is part of our public life and we must cherish it, even when it takes place in terms or in language we might not personally use.
"But what simply cannot be tolerated is the lowering of our political debate to threats of violence, or to insults and abuse based on misogyny, homophobia, sexism, racism or disability.
"No one should be subject to threats or abuse of that nature as a result of sharing their views - whether they do so in a parliament, a pub or on the internet."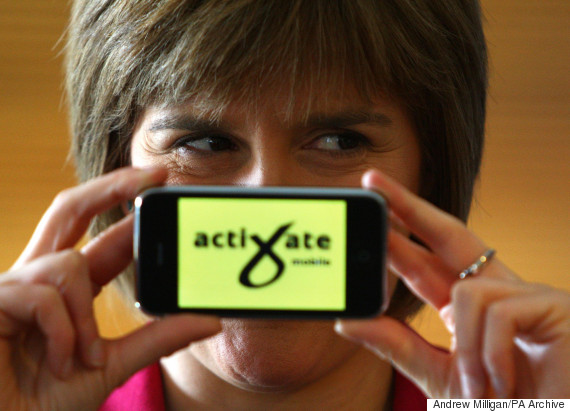 Sturgeon is a frequent tweeter and has over 229,000 followers
Sturgeon cited having previously stood up to abusive cybernat trolls, publicly speaking out in defence of Scottish Conservative leader Ruth Davidson after "homophobic" and "misogynistic" comments were made about her.
"They were unacceptable," Sturgeon said. "I said so publicly and my party acted against the person responsible. And we will not shirk from those decisions in future.
"Obviously, I can't police Twitter single-handedly. I follow 3,500 people and am followed by almost 230,000 - I can't personally keep track of everything that is said.
"But when tweets or postings from SNP members that cross the line are brought to our attention, we will act - as we have done before."
Sturgeon's blog and article in the Mail will make for awkward reading for one of Sturgeon's colleagues - SNP MP Pete Wishart, who represents the constituency of Perth and North Perthshire.
Wishart decried the Mail's front page yesterday for ignoring other topical topics, including the migrant crisis in Calais, deaths of those fleeing across the Mediterranean, and the government's latest U-turn on an EU referendum.
Calais immigrant crisis, deaths on the med, EU referendum, Scot bill. What's illing the 'fail'? Cybernats, of course pic.twitter.com/bV0zcrufzm

— Pete Wishart (@PeteWishart) June 24, 2015
Hold the Fail front page - 'Cybernats ate my Hamster'. Inside - our Tory posh boy columnist says 'cybernats, they must now be rounded up'

— Pete Wishart (@PeteWishart) June 24, 2015
Wishart's attack on the paper was quickly echoed by others, some part of the so-called 'cybernat' collective.
The Daily Mail can be useful?............ pic.twitter.com/LGqYu8Ly7R

— Ron Windward (@ronwindward) June 24, 2015
@ronwindward @Roy1Batty pic.twitter.com/21EZAe9XFv

— Freedom Come-All-Ye (@Reido80) June 24, 2015
@patronsaintofca @Roy1Batty @PeteWishart @PetrieGeorge scotlands most hated rag tries to smear scotlands most popular politician. good luck

— david morgan (@MorganDavid32) June 24, 2015
The Scottish Daily Mail is going on about "obscene language about women" on its front page. The Daily Mail.

Let that sink in for a moment.

— Melisandreilidh (@EilidhL_) June 24, 2015
The developments come as Buckingham Palace officials distanced themselves from briefings attributed to them yesterday, having claimed that Sturgeon was seeking to cut £1.5 million-a-year in funding for the monarchy, but on Thursday declaring this allegation to be false.
Sturgeon yesterday slammed journalist Cathy Newman on Twitter for writing allegations that were "simply not true".
Newman, a presenter on Channel 4 News, was reprimanded in a string of tweets by Sturgeon for having posted a blog on the Daily Telegraph website, re-heating claims that the Scottish leader was planning to stop bankrolling the monarchy to the tune of £2.2 million-a-year if further devolution went ahead.
In briefings several Fleet Street papers including The Times, Telegraph and Daily Mail, Buckingham Palace claimed that if Scotland took control of its Crown Estates north of the border there could be a serious shortfall in Royal revenues.
(1/2) "Sturgeon's Twitter smackdown of Cathy Newman showed just why she is her party's number one 'cybernat'," says @Paulwaugh. #waughzone

— Ray McRobbie (@Ray_McRobbie) June 25, 2015
(2/2) A nice acknowledgement that a cybernat is actually someone who calls out lies with evidence, not some skirt-wearing nutter. #waughzone

— Ray McRobbie (@Ray_McRobbie) June 25, 2015
But both the UK and Scottish governments have strongly denied the allegations, and said devolution would not have any negative impact on Holyrood meeting its legal and constitutional obligations.
In a testy Twitter exchange, Sturgeon blasted the offending material and called out Newman for republishing allegations that had "no basis in fact":
@cathynewman you do know this story has no basis in fact? Scotland is not 'set to' do this - and never has been

— Nicola Sturgeon (@NicolaSturgeon) June 24, 2015
@cathynewman and I did not refuse to take an oath of allegiance in 1999. The affirmation which I made contains the oath of allegiance.

— Nicola Sturgeon (@NicolaSturgeon) June 24, 2015
Sturgeon referred in her second tweet to a claim in Newman's article that she did not take an oath of allegiance to The Queen upon election as an MSP for Glasgow in 1999.
Newman enquired why the First Minster had chosen to affirm rather than swear an oath upon her election to Holyrood, and asked why Buckingham Palace sources, who Wednesday's newspaper claims were attributed to, had been briefing against her.
@NicolaSturgeon so why is Buckingham Palace under the impression you are?

— Cathy Newman (@cathynewman) June 24, 2015
@NicolaSturgeon interested why you decided to affirm rather than swear oath...

— Cathy Newman (@cathynewman) June 24, 2015
. @NicolaSturgeon quote in @thetimes from Keeper of the Privy Purse is quite categoric. Is he mistaken?

— Cathy Newman (@cathynewman) June 24, 2015
The Channel 4 anchor was rebutted by Sturgeon, who set the record straight by telling Newman the oath/affirmation quandary did not concern any reference to The Queen.
@cathynewman the difference between the oath & affirmation is not the reference to HM Queen. The difference is the religious element.

— Nicola Sturgeon (@NicolaSturgeon) June 24, 2015
She added:
@cathynewman there is absolutely, categorically, no intention by @scotgov to cut S'land's contribution to Sovereign Grant & never has been

— Nicola Sturgeon (@NicolaSturgeon) June 24, 2015
Newman quipped back, calling on Sturgeon to "pay generous tribute to The Queen as your predecessor [Alex Salmond] did.
. @NicolaSturgeon fair enough, so I assume you will pay generous tribute to the Queen as your predecessor did?

— Cathy Newman (@cathynewman) June 24, 2015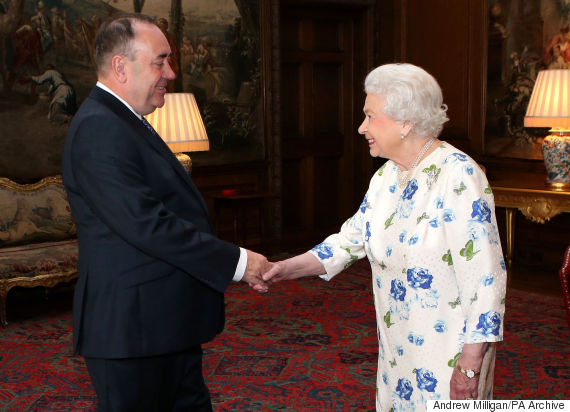 Salmond, who has "strong" affection for Queen Elizabeth II, greets her at the Palace of Holyroodhouse in Edinburgh
But Sturgeon, who herself met the Queen back in December 2014, hit back.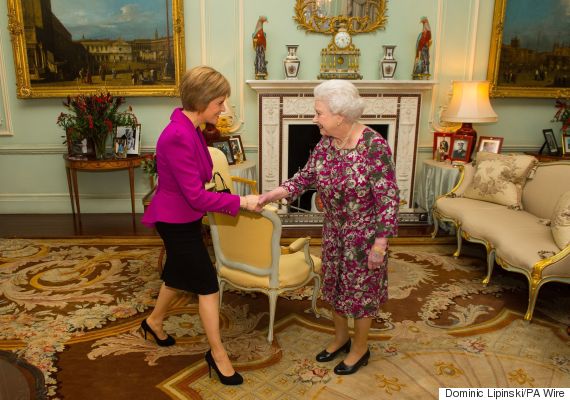 Sturgeon greets The Queen, 3 weeks after becoming Scotland's First Minister
She claimed to have paid tribute to the monarch on "many occasions", and asked Newman to amend her blog post.
@cathynewman I have done so on many occasions. I assume you will now correct your blog?

— Nicola Sturgeon (@NicolaSturgeon) June 24, 2015
Newman replied, claiming she had simply reported the Palace's briefing and included the Scottish National Party's response.
. @NicolaSturgeon correct what? I've reported the Buck Pal briefing & @the SNP response

— Cathy Newman (@cathynewman) June 24, 2015
"The bit about me refusing to swear allegiance to HM Queen", Sturgeon retorted. "It's simply not true. Correction?"
@cathynewman the bit about me refusing to swear allegiance to HM Queen - it's simply not true. Correction?

— Nicola Sturgeon (@NicolaSturgeon) June 24, 2015
The journalist then appeared to back down slightly, agreeing to change one part of her article.
@NicolaSturgeon I will make clear you affirmed rather than swore oath. Do tell me if Keeper of Privy Purse mistaken though!

— Cathy Newman (@cathynewman) June 24, 2015
But her concession failed to win over Sturgeon, the SNP leader keen to hammer home her point.
@cathynewman I have already told you that any suggestion that we want to cut sovereign grant is wrong. What bit of that is unclear?

— Nicola Sturgeon (@NicolaSturgeon) June 24, 2015
READ MORE: