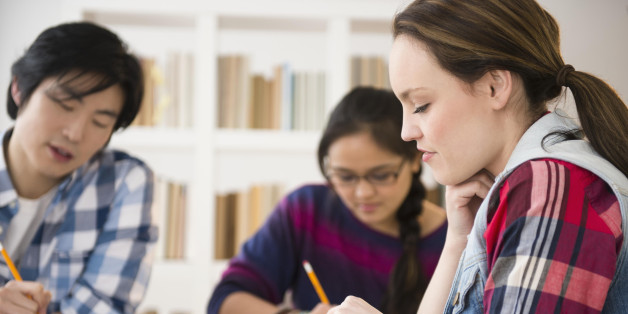 Jamie Grill via Getty Images
International students in the UK will be banned from working while they are studying, and will be forced to leave when their degree finishes in an attempt to crack down on visa fraud, the Home Office has confirmed.
The reforms, which will be introduced in parliament this week, will prevent students from applying for work visas unless they leave the country first, and will no longer allow non-EU students to work for up to 10 hours a week.
Further education visas will also be cut from three years down to two, and students will be prevented from extending their studies in the UK unless they are registered at an institution with "a formal link to a university".
Immigration Minister James Brokenshire said the changes will "further protect the UK's reputation for educational excellence".
"Immigration offenders want to sell illegal access to the UK jobs market - and there are plenty of people willing to buy," he said in a statement. "Hard-working taxpayers who are helping to pay for publicly-funded colleges expect them to be providing top-class education, not a back door to a British work visa.
"Our reforms — which include introducing English language testing, removing sponsorship rights from hundreds of bogus colleges, and restricting students' access to the jobs market — are all of our plan to control immigration for the benefit of Britain."
Read More:
Brokenshire added the changes would "stop immigration cheats abusing publicly-funded colleges".
Since the Conservatives came into power in 2010 around 870 bogus colleges have had their sponsorship licences removed.
Over the weekend it emerged home secretary Theresa May would be putting forward proposals to stop spouses and other dependants of non-EU postgraduates from working in the UK.
Around 100,000 student family members have been given visas in the past five years, a number which May is determined to bring down. Previous plans by May to kick out foreign students after they graduate had been blocked by Tory leaders, reportedly including George Osborne, who warned the move would damage Britain's economy.
The plans have already drawn criticism, however, for their misplaced concern.
@HPYoungVoices UK students are welcome to work in many places abroad, why shouldn't it go the other way around?

— Ciara Cohen-Ennis (@ciarace) July 13, 2015
@HPYoungVoices We (universities) won't be able to recruit the best global applicants as they would prefer the US and more favorable policies

— Thomas Roulet (@thomroulet) July 13, 2015
@HPYoungVoices pandering to the right again. Exactly the opposite of what we should be having. This fuels anti-immigration feeling

— Lewis Campbell (@LewisCampbell__) July 13, 2015
@HPYoungVoices universities make a lot of their money from international students, if they can't work they may be less inclined to come

— Ciara Cohen-Ennis (@ciarace) July 13, 2015
@HPYoungVoices if this happens it is the most backward inward looking UK policy for years - Education is Global and needs mobility

— Stuart Rennie (@sjrconsulting1) July 13, 2015
@HPYoungVoices Very problematic. UK must retain an ability to attract and retain top students.The focus of reducing migration is misplaced.

— Katrina Cooper (@KatrinaCooperUK) July 13, 2015
During his time as deputy prime minister, Nick Clegg called for overseas students to be excluded from immigration figures, urging the government to adopt a flexible approach to student visas.
A 2014 study by the Higher Education Funding Council for England (HEFCE) found growth fell between 2010-2013 - the first time in 29 years. At the time, the University and College Union warned that international students are choosing to go to countries "that make an effort to welcome them".
Sir Christopher Snowden, the vice-chancellor of the University of Surrey and president of Universities UK, said: "The current UK policies on immigration for international students have put the UK at a disadvantage in recruiting talented students compared with the US and Australia for example.
"This proposal will discourage legitimate students with spouses from studying here."
Around 121,000 non-EU students arrived in the UK from June 2013-14, while only 51,000 are recorded as having left, a net influx of 70,000.
Last week, business secretary Sajid Javid said international students should "study [here].. and then leave".
"What we need to make sure – and we do have this – is that our immigration system allows those from abroad that want to come to Britain to study in our world-class universities, our fantastic colleges to come here," he said.
"But we've also got to have a system that doesn't allow any abuse when people are using the right to study as a way to achieve settlement in Britain. So we've got to break the link and make sure it's focused on people who want to study and then, once they've had their studies and completed that, then they leave."