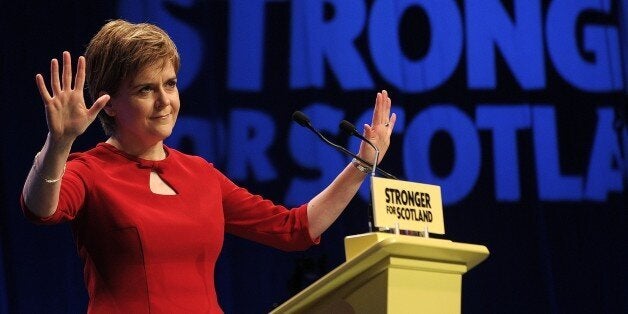 Nicola Sturgeon has accused David Cameron of being "pig-headed" in his attitude to Scotland as she said the Scottish National Party will "never waver" in its commitment to independence - but that there are "no shortcuts" to another referendum.
In her keynote speech to the SNP conference in Aberdeen, the Scottish First Minister and party leader launched a fierce attack on the "arrogant" Tories and warned Labour under Jeremy Corbyn is going "deeper and deeper into the political wilderness".
While making pledges to boost free childcare and increase the allowance for carers ahead of next year's Scottish Parliament elections, she outlined how another Scottish referendum could be triggered against David Cameron treating Scotland with "disdain".
Referring to the devolution "Vow" made by Westminster politicians to avert Scotland voting for the break-up of the union, which she said "does not come close" to being delivered and is one of the red lines that senior SNP figures say would prompt another poll, Ms Sturgeon alluded to the "pig-gate" controversy.
She said: "The Prime Minister's attitude to Scotland betrays the worst characteristics of his government - arrogant, patrician and out of touch. Pig-headed some might say."
She added: "Ignore Scotland at your peril. Know that people are watching and listening."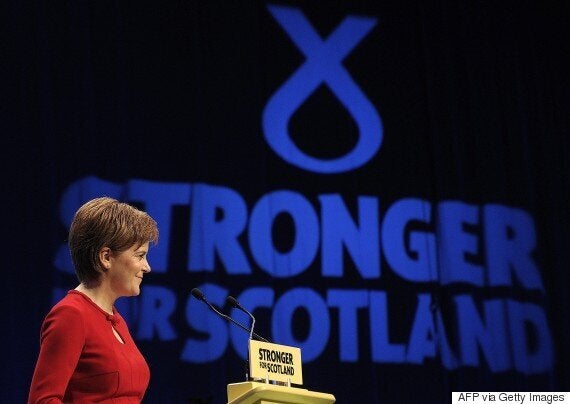 "If we want Scotland to be independent - and we most certainly do - then we've got work to do."
Directly referring to the prospect of another referendum vote, the MSP renewed her argument that there is still "work to do".
Against some pro-independence campaigners agitating for a second referendum, she said: "If we want Scotland to be independent - and we most certainly do - then we've got work to do.
"There are no shortcuts. We must build the case and make it stronger. Convince those we didn't convince last year. And persuade a majority of Scots of what we already know to be true. Independence is the best future for Scotland.
"Independence matters and we will never waver in our commitment to it."
The address went to say she had "high hopes" for Jeremy Corbyn as Labour leader, but he is "allowing Labour to change him", arguing the party has an "incoherent" policy on Trident.
"We are the only effective opposition to the Tories at Westminster," she said.
On next year's Hollyrood vote, where the SNP will seek a third term, she said she will "for the first time look Scottish people in the eye" and ask to be First Minister, pointing to schools investment, more of the poorest going to university and increased free childcare as a record it will "shout from the rooftops", despite criticism over numeracy in schools and health investment.
She went on to say she will "put my neck on the line" and wants to be "judged on the progress we make" if standing again for election in five years.
She said: "Our record in government is one of delivery and achievement. It's not perfect - of course it's not - the recession and Westminster austerity have created a financial climate much tougher than anything we could have contemplated back in 2007. But, make no mistake, it is a record I am proud of."
Ms Sturgeon also commits the SNP to voting against any military intervention by the UK in Syria at Westminster in a move that piles further pressure on Mr Corbyn's Labour.
She warned British airstrikes will only add to the "already unimaginable human suffering" and calls for a "renewed and intensive diplomatic initiative, led by the UN" to solve the crisis.
Related