Shauna Hoare told police she "felt sick" when she found out that the body of Becky Watts had been in her home, a court has heard.
She described how she was "appalled, disgusted, outrageously angry" at learning what her 28-year-old boyfriend, Nathan Matthews, had confessed to, the Press Association reports.
Matthews had admitted to police that he killed his 16-year-old stepsister during a kidnap attempt and then dismembered her body in the bath at his home in Bristol.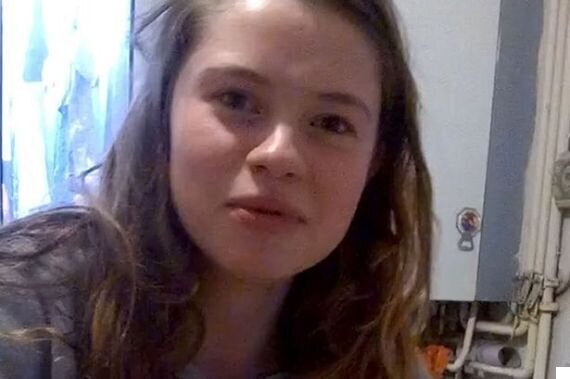 Becky Watts went missing in February. Her body parts were found in March
Asked about his confession, Hoare told officers: "I'm feeling sick to know she was there - appalled, disgusted, outrageously angry - and I feel a bit like I am going to wake up and this is not happening.
"I think it is more angry at the moment than anything - angry he has done it, that he did it, that he could do it when I was there in the house.
"And he acted so normal to me. I am really confused why he did it, what his plans were, how he thought he could get away with it and why.
"I don't understand. I can't even look at him. I just wanted to kill him - bad choice of words. I felt sick looking at him, knowing what he did.
"I didn't always like Becky but she was a nice enough girl, she was so young. I don't understand why he did it. I don't understand how he could have done it to us.
"Obviously I heard the power saw at the time - I didn't think he was doing anything like that with it. I just thought he was cutting pipe.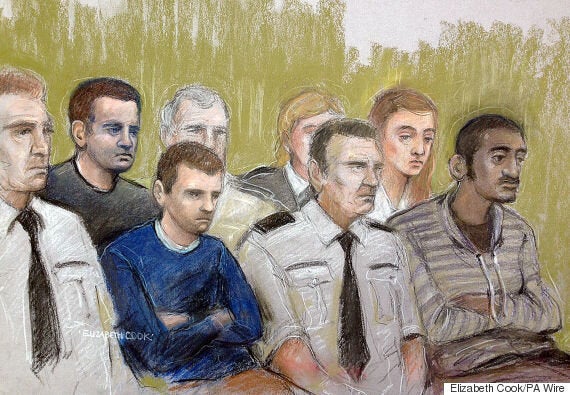 Left to right back row: Nathan Matthews, two dock officers, Shauna Hoare (front row left to right) dock officer, James Ireland, dock officer and Donovan Demetrius at Bristol Crown Court
"Obviously finding out what I found, I assume he wasn't cutting pipe but apart from that I have no knowledge of what has happened at all."
Hoare was asked to explain a shopping trip with Matthews at a Wilko store in Bristol when he bought cleaning equipment, tape and rubble sacks. She said she believed he was going to tidy up their cluttered home.
"(It is) really, really bad timing," she added.
"To my belief she had run away, I didn't really think that someone had taken her so I didn't think that this is a bit suspicious."
Hoare added: "I think because he had the cover-up story that he is going to clear it up, we will have a nice tidy house.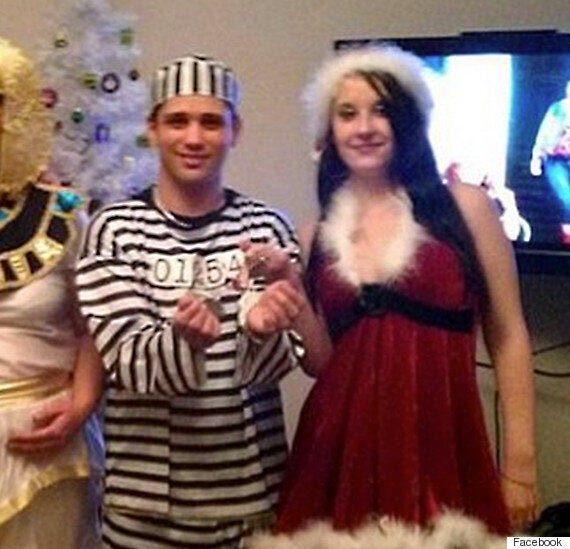 Nathan Matthews pictured with his girlfriend Shauna Hoare at a Christmas fancy dress party
"For the life of me I wanted it so badly. The things he was buying I had reasons to believe he was buying it for genuine reasons. "
During the police interview on March 3 - hours after Becky's body parts had been discovered by police in the garden shed at 9 Barton Court - Hoare denied any involvement.
She said she had no knowledge of Becky's body being brought into her home at Cotton Mill Lane and was also not involved either in moving the teenager's remains to the shed 88 yards (80m) away.
Hoare told police that on the night Becky's remains were moved, she went to straight to bed when she got home, having spent the evening with Matthews at her mother and stepfather's home.
She told the officers that two of Matthews' friends had given them a lift home and she went to bed while her boyfriend went outside to "chat" with the friends.
Jurors at Bristol Crown Court heard that Hoare told police she did not hear Matthews come to bed but when she woke up the next morning he was lying next to her.
Hoare said she had "no idea" why Matthews would want to kill his stepsister.
"Nathan obviously thought he had covered his tracks very well," Hoare said.
"Obviously some of the questions asked made me think Nathan was involved but I didn't think he did it."
Earlier, Hoare had told police that she assumed Becky was killed in her bedroom at her home in Crown Hill, St George, because that was the only room she spent time in.
But she said she did not see Matthews with any blood on his hands or his clothes at Crown Hill that day.
Hoare said she did not go upstairs at Becky's home that day and insisted she had no idea that the teenager's body was in the boot of the Vauxhall Zafira.
Matthews, of Hazelbury Drive, Warmley, South Gloucestershire, denies murder and conspiracy to kidnap.
He admits killing Becky, perverting the course of justice, preventing the burial of a corpse and possessing a prohibited weapon.
Hoare, of Cotton Mill Lane, Bristol, denies murder, conspiracy to kidnap, perverting the course of justice, preventing burial of a corpse and possessing a prohibited weapon.
The residents of the Barton Court property, Karl Demetrius, 30, and his partner, Jaydene Parsons, 23, admit assisting an offender.
Donovan Demetrius - Karl's twin brother - of Marsh Lane, Bristol, and James Ireland, 23, of Richmond Villas, Avonmouth - a work colleague of Karl's - deny the charge.
Hoare told police that Matthews had total control over her life, including telling her what she could eat and controlling her money.
"I feel like a child. He was my dad almost. If I fancied a pie he would say 'You can't have a pie, it's too fatty and you are trying to lose weight'.
"He controlled every aspect of my life. I don't have any friends anymore because of him.
"When I told him I wanted to break up he kind of went psycho and started stabbing himself.
"He had this idea I was going to run away. So I had this theory that if I ran away he would come and find me and I would be in 10 million times as much trouble."
Hoare said that Matthews controlled her money and she would have to ask him if she wanted any.
"If I said 'Can I have a pound?' he would be like 'What for' and I'd say for a drink and he'd be like 'Too much fat in that'.
"Most of the time he wouldn't allow it."
Hoare told the detectives that she spent her entire six-year relationship with Matthews "joined" to him and she rarely went out on her own.
"It was a massive thing when he let me go to college. I don't think I ever went out without him, we were constantly together," she said.
"I basically spent almost six years joined to him.
"One way or another it was like I was going to be stuck like this forever. Never be able to go out, do anything.
"I had a dream that one day he would meet someone else, fall in love and leave."
Hoare claimed she had no knowledge of stun devices in their home.
"I think that would terrify me more than anything to think that Nathan, with the way he could be, had something like that," she told police.
The jury heard that, during the interviews, detectives revealed to Hoare details of Becky's post-mortem examination, in that she had been stabbed 15 times in the abdomen after she died.
"I don't even know why. Obviously I don't understand why he killed her, but stabbing her while she is dead as there is no reason for it," Hoare said.
Hoare told police that Matthews did not like his stepsister but had never spoken about "teaching her a lesson" for her behaviour towards his mother, Anjie Galsworthy, her stepmother.
"He has obviously slightly mentioned her because of the way she treats Anjie. She will go on Anjie's eBay and buy stuff. Nathan, being very black and white, he sees it as 'You are stealing money off her'.
"I didn't ever think it annoyed him to an extreme extent.
"He said he disliked her to Anjie before but never anger towards her. He is always down about everybody all the time - I assumed it was just another reason to moan.
"To my knowledge she has never done anything to him or to Anjie or to anyone that to his twisted mind justified him wanting to scare her."
Hoare described Matthews as quick to become aggressive and said he often took things the wrong way.
"Obviously as Nathan is different to most people and I know he can get angry and he has been aggressive and violent to me but I never thought he would get annoyed enough or lose his mind enough to do something to do that," she said.
"With the intention to just scare her like that, it is so twisted and wrong. I don't understand any of it like his logic, his theory.
"How could he not think that if I found out or if anyone found out he wouldn't be screwed? I couldn't live in a house knowing that he had viciously killed someone.
"You can imagine the suffering she went through, how scared, and to imagine I was round there. If I hadn't found the tin we wouldn't have gone over, she would be happily living her life.
"To know that if I had pushed him one day it could have been me. I just don't understand any of it.
"There is still a part of me that does care for him but it is more anger and disgust that he has taken, that he has done that.
"The fact he has no concern for anyone whatsoever. He is sick, physically sick."
Jurors heard that on the evening of February 20 - the day after Becky died - Hoare searched on YouTube for "Do you want to hide a body?"
She told detectives that she was looking on the internet for a spoof video based on the hit Disney film Frozen and the song "Do you want to build a snowman?"
"I don't recall why Nathan was in a bit of a mood and when I showed it before it did make him laugh, so I thought if I got it up and make him laugh he wouldn't be so p*ssy," Hoare told the officers.
"It was obviously before I knew anything had happened to Becky as it would be very insensitive."
The court heard that Hoare was re-arrested on suspicion of the teenager's murder on May 7 and further interviewed by detectives.
Hoare was asked to explain how her DNA could have been found on a face mask, which was discovered in a ruck sack in the shed with Becky's body parts.
She told the officers that as her house was cluttered she could have inadvertently picked up the mask or brushed passed it.
"To my knowledge I have not touched them but if you are saying there is DNA then my assumption is I have moved them without realising as I grabbed a pile of stuff or swept past while moving something," she said.
Hoare also said that when she and Matthews first moved into Cotton Mill Lane they had worn face masks while decorating.