A huge effigy of David Cameron with a pig's head is due to be burnt for Bonfire Night.
The effigy of the Prime Minister was not supposed to be seen by the public until the Bonfire Night celebrations in Lewes, East Sussex, tonight.
But the massive sculpture was spotted by residents, who shared images on social media.
Images show the effigy of a nearly-naked Cameron sitting on a golden chair with a pig's head resting on his thigh.
David Cameron ready for Lewes bonfire pic.twitter.com/BXiDS9ZpO6

— Steve Tremlett (@stevetremlett) November 5, 2015
Pig fucker? #waterloobonfire #lewesbonfire #lewes pic.twitter.com/MK6t5mOmYT

— Matty (@MattyJam92) November 5, 2015
The effigy is in no doubt inspired by 'pig-gate', a term that was spawned in September following the publication of extracts from the book of a shunned Tory peer.
Lord Michael Ashcroft wrote in his book, 'Call Me Dave', that while Cameron was at Oxford University, he took part in a bizarre initiation ceremony which saw him "put a private part of his anatomy" into a dead pig's mouth.
Cameron is not going to be the only star of the show at Thursday's celebrations.
An effigy of disgraced Fifa President, Sepp Blatter, was also spotted in the town.
There's a 20ft Sepp Blatter effigy by Lewes station #bonfire pic.twitter.com/sKI0JBTVCs

— Tom Phillips (@tomphillipsEG) November 5, 2015
Well there's a sight for sore eyes... A Blatter effigy makes its way through Lewes this morning #lewesbonfire pic.twitter.com/CboE1LyUTS

— nathalie edell (@nathalieedell) November 5, 2015
Furthermore, the town will have the world's "biggest" guy at the celebrations tonight.
Standing 50ft tall, Borough Bonfire Society's Guy Fawkes is the biggest in the world (Photo: @simondackpix) #Lewes pic.twitter.com/SOctsse8WE

— Gary Marlowe (@gmarlowe) November 5, 2015
Lewes has a reputation for its controversial choices of effigy. Last year it burnt an effigy of Vladimir Putin in a mankini.
It isn't the only place that has chosen to torch an effigy of Blatter tonight.
The bonfire in Edenbridge, Kent, which is famous for its effigies of hated celebrites, will also burn one of the 79-year-old.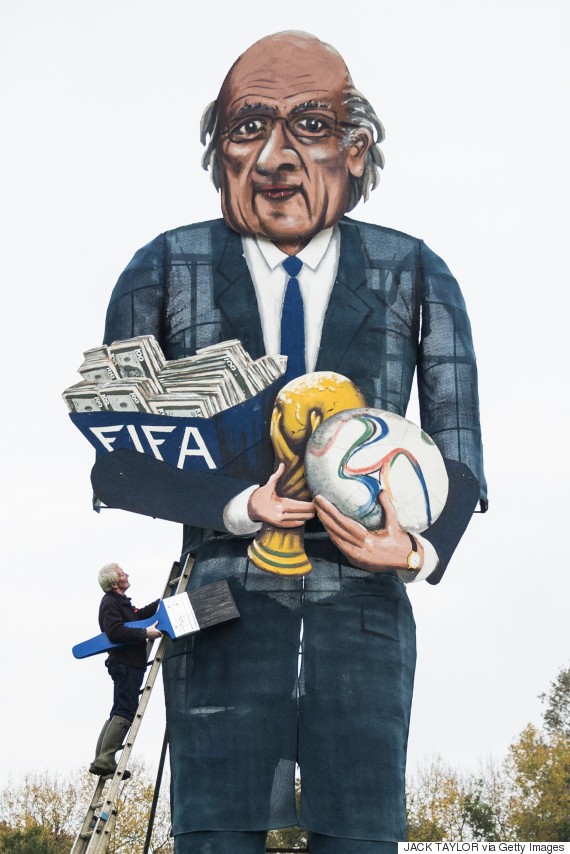 Effigy of Sepp Blatter at Edenbridge, in Kent
SEE ALSO: