A huge effigy of David Cameron with a pig's head is due to be burnt for Bonfire Night.
The effigy of the Prime Minister was not supposed to be seen by the public until the Bonfire Night celebrations in Lewes, East Sussex, tonight.
But the massive sculpture was spotted by residents, who shared images on social media.
Images show the effigy of a nearly-naked Cameron sitting on a golden chair with a pig's head resting on his thigh.
The effigy is in no doubt inspired by 'pig-gate', a term that was spawned in September following the publication of extracts from the book of a shunned Tory peer.
Cameron is not going to be the only star of the show at Thursday's celebrations.
An effigy of disgraced Fifa President, Sepp Blatter, was also spotted in the town.
Furthermore, the town will have the world's "biggest" guy at the celebrations tonight.
It isn't the only place that has chosen to torch an effigy of Blatter tonight.
The bonfire in Edenbridge, Kent, which is famous for its effigies of hated celebrites, will also burn one of the 79-year-old.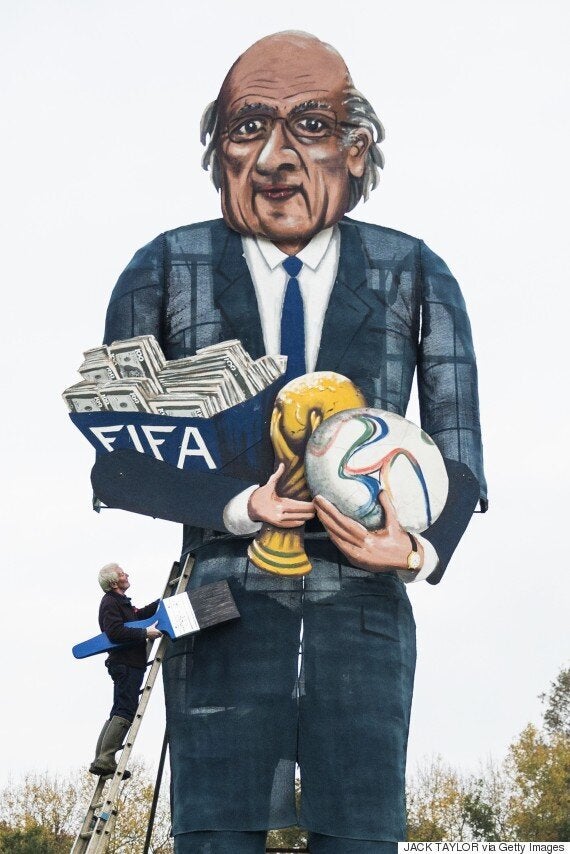 Effigy of Sepp Blatter at Edenbridge, in Kent
Related