Susanna Reid showed everyone how to cope under pressure, when a technical glitch threw a spanner in the works during Thursday's 'Good Morning Britain'.
READ MORE:
The TV presenter was introducing a link, when her co-host, Ben Shephard suddenly interjected, joking: "Woah! Are you're in the bathroom?"
As Susanna reacted with confusion, he remarked that he could hear an echoing in his ear-piece, adding: "It sounds like we're in the loo."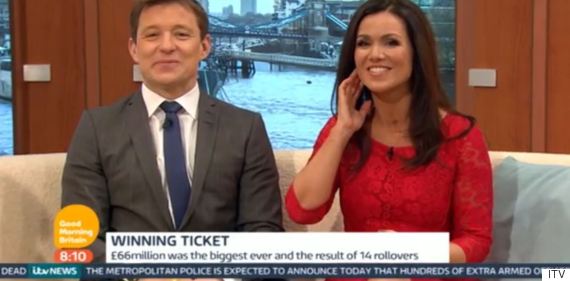 Susanna Reid and Ben Shephard on Thursday's 'Good Morning Britain'
While she was insistent she couldn't hear any echoes, Ben then remarked he was able to hear Kate Garraway off-camera, with Susanna joking: "Well I can always hear Kate…"
After asking whether to restart the link from the beginning, Susanna was then able to get the whole thing back on track, saying: "I'm going to talk about the shock… and not about being back in the bathroom."
What a pro.
This isn't the first time that Susanna has proved how well she copes under strenuous circumstances, though.
Earlier this month, she managed to sidestep an unfortunate moment, when co-host Piers Morgan accidentally swore during a live broadcast, and brushed off any awkwardness that arose when country singer Carrie Underwood mistook her for being Ben Shephard's wife while they interviewed her last year.
Back in the summer, we tipped our hats to Susanna once again, when even an evacuation of the 'GMB' studio on air couldn't break her concentration during a live link.
LIKE US ON FACEBOOK | FOLLOW US ON TWITTER