David Bowie's son, Duncan Jones, has announced he is going to be a dad with an incredibly moving tweet.
1 month since dad died today. Made this card for him at Christmas. Due in June. Circle of life. Love you, granddad. pic.twitter.com/sf7SEUtm64

— Duncan Jones (@ManMadeMoon) February 10, 2016
The film director, 44, took the opportunity to announce the news exactly one month after the death of his music legend father who died of liver cancer.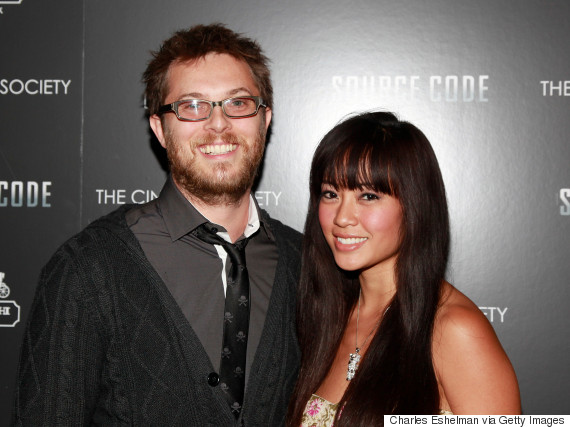 Jones and his wife Rodene Ronquillo
He then asked for some parenting advice and laid out some... interesting plans.
@ghuwevans did you do a film shoot with a newborn? I have that to look forward to! ;)

— Duncan Jones (@ManMadeMoon) February 10, 2016
@alicelowe@corinhardy@ghuwevans holy cannoli! My plan is to use the baby in the background of as many crowd shots as possible.

— Duncan Jones (@ManMadeMoon) February 10, 2016
And then he tweeted this.
& the best news, if you've been a fan of my "directors as babies", I'll now have access to my own, poseable model! pic.twitter.com/DV60OQk1bz

— Duncan Jones (@ManMadeMoon) February 10, 2016
Jones is married to Rodene Ronquillo who beat breast cancer in 2013. She was diagnosed on the day they married, 6 November 2012.
@plappedcrackers she has. She's amazing!

— Duncan Jones (@ManMadeMoon) February 10, 2016
Bowie died aged 69, following a secret 18-month battle with liver cancer, just two days after the release of his final album.
Shortly after his death, Jones posted a moving tribute to his father and said he would be away from social media for a while.
Very sorry and sad to say it's true. I'll be offline for a while. Love to all. pic.twitter.com/Kh2fq3tf9m

— Duncan Jones (@ManMadeMoon) January 11, 2016
He broke his silence to retweet a blog from a palliative care doctor thanking Bowie for helping terminally-ill patients come to terms with their mortality.
A thank you letter to David Bowie from a palliative care doctor. https://t.co/ibFYRY8wc1 - thanks for sharing @DrMarkTaubert

— Marie Curie (@mariecurieuk) January 17, 2016
Last month his long-time producer and friend, Tony Visconti, opened up about the emotional moment the star revealed to him he was dying.
Tony worked with David on 11 of his studio albums, including his most recent offerings 'The Next Day' and 'Blackstar', and has now spoken about the moment the singer broke the news to him that he had cancer.
Speaking to Mojo magazine, Tony explained: "He called me for a meeting and it sounded like I was getting the sack.
"David said, 'I have something to show you', and pulled his woolly hat off. He was completely bald and he said, 'I have cancer.'"
Tony admitted that "his life has not been the same" since David broke the news, and the two then set about creating what became his final album, 'Blackstar'.
READ MORE:
LIKE US ON FACEBOOK | FOLLOW US ON TWITTER