Jude Law joined calls to help children living in the "Jungle" camp - but not everyone was pleased with his efforts to help the young refugees.
The actor visited the camp in Calais to see first hand the squalid conditions in which many people are forced to live.
He said: "I wanted to see it for myself. You can't have an opinion on something until you see it; experience it.
"It seemed to me that the pressing issue was the kids that were unaccompanied and living in awful conditions, and their plight needed to be highlighted."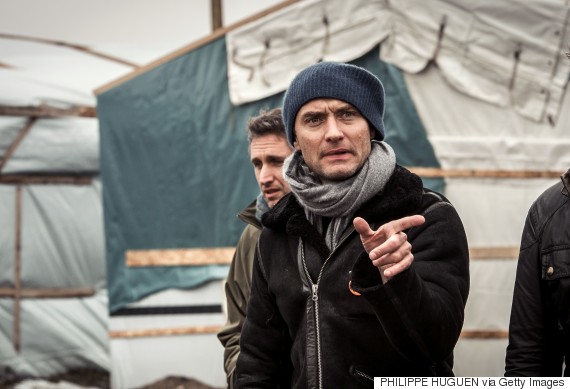 Jude Law on his visit to the 'Jungle' camp in Calais
He also visited the Good Chance theatre, set up in the Jungle by British volunteers last year, alongside charity Help Refugees.
Along with a number of other high profile figures, including Benedict Cumberbatch, Frankie Boyle and Richard Branson, Law has signed an open letter to David Cameron urging him to allow unaccompanied children in the Jungle to be reunited with family in the UK.
But despite Law's good intentions, reaction to his visit was mixed on social media.
Many were quick to criticise him…
If Jude Law wants to look after immigrants he can. They are NOT in danger - they are in France. They can stay there or go home

— Malcolm Wood (@Askrigglad) February 22, 2016
@SkyNews another celebrity trying to make them self into a do-gooder!! Hello we can see straight through you!!

— tiger22 (@nwa2275) February 22, 2016
@SkyNews More luvvie idiocy. These migrant "children" (probably adult men) are in FRANCE. It is safe in FRANCE.

— Devonboy (@Toryboy1960) February 22, 2016
@SkyNews Millionaire thinks poor people should have more refugees in their street. No thanks, mate. Let them live with you.

— Chutney (@hootsforu) February 22, 2016
@SkyNews How many has he offered to accommodate? Oh wait; his ego means there is no room in any of his houses - Another 'Bono' of hot air

— Christopher John (@mrchrisjohn) February 22, 2016
@SkyNews Nothing gets on my tits more than celebs' do-goodery. You serious about this? Quit your day job and do full time humanitarian work.

— Mehran (@the_mehran) February 22, 2016
While others, including comedian Omid Djalili, commended him…
Well done Jude Law: https://t.co/tQE8CDE1Je

— Omid Djalili (@omid9) February 19, 2016
Well done #Jude Law. I don't care if you are a 'luvvie' or rich, using your name and position for good is a wonderful thing to do.

— Tracy (@_pixiecottage) February 21, 2016
Jude Law with other British writers and actors urge David Cameron to rescue refugee children. Good for them! https://t.co/n1OyMit87o

— Alan Dean (@CllrAlanDean) February 18, 2016
French authorities have given between 800 to 1,000 people until Tuesday evening (7pm UK time) to leave the southern part of the French site which has become home to thousands of refugees and migrants.
There are an estimated 4,000 people living in the 'Jungle' at the moment, many of whom have fled war, poverty and persecution, in war-torn states such as Syria and Iraq.
Charity Help Refugees said that there are 445 children in the camp, 315 living without their parents. The youngest was found to be a 10-year-old boy from Afghanistan.
Jeremy Corbyn has previously been given a tour around the Jungle, while Lib Dem leader Tim Farron, a number of other MPs and even Susan Sarandon have visited the Greek island of Lesbos, where many refugees first arrive in Europe.
SEE ALSO: