Britain First have released a divisive video of Muslims angrily reacting to their demonstrations in east London as the mayor of Tower Hamlets has called for far-right groups to be banned from the borough.
John Biggs met with senior police on Tuesday and urged the force to better manage any further "provocations" in the borough and to consider using bans and injunctions to stop Britain First returning after the group staged two protests there within a fortnight.
The call came after around 15 Britain First supporters carrying Union Jack flags, crosses and a banner paraded outside East London Mosque on Saturday. The demonstration came just days after members of the party chanted "we want our country back" while primary school pupils visited the mosque.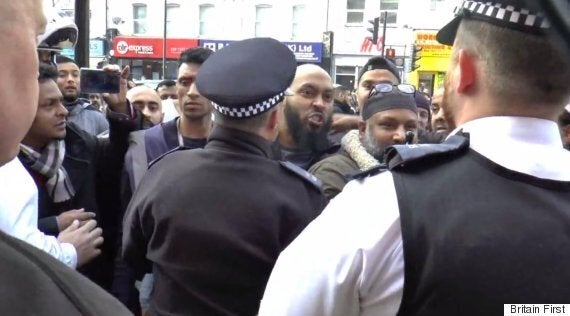 Britain First have released a video showing east London muslims angrily reacting to their demonstration on Saturday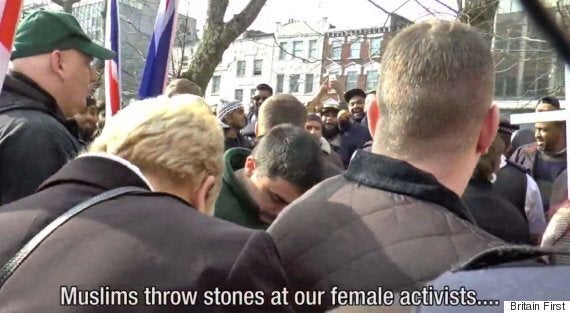 Britain First claim their members were attacked during their demonstration
Britain First has released a video of their latest demonstration entitled 'Muslims in east London: Violence, racism, bigotry and hooligans'. - coupled with more historical footage - entitled 'Muslims in east London: Violence, racism, bigotry and hooligans'. In the video Britain First leader Paul Golding tells those opposing the demonstration that they are "an embarrassment".
A description under the video, which has been viewed over 1.5 million times on Britain First's Facebook page, reads: "Britain First held a peaceful protest in East London and we were violently attacked by hundreds of Muslim extremists who caused serious disorder.
"Islamists threatened death. Muslim councillor refused to shake a woman's hand. Female activists were kicked and punched. Several Britain First activists were injured. Criminal damage inflected on our vehicles. Muslim racists attack innocent English lad."
Golding and his deputy Jayda Fransen are already banned from entering Luton having breached an interim injunction Bedfordshire Police obtained last year. The pair wore "political uniforms" while carrying out their Christian Patrol in the town in January.
Biggs has demanded police investigate using legal powers to block further appearances outside the mosque and elsewhere in the borough by Britain First and to act quickly to break up future protests to "prevent violence coming to our streets".
"Since the appearance of Britain First on Saturday I have overseen the response of the council and partners, and unreservedly condemned these provocative acts, which are dressed up as a 'passive protest' but are clearly designed to provoke a reaction, obstructing local people from going about their lawful and proper business and increasing the risk of violence," he said in a statement.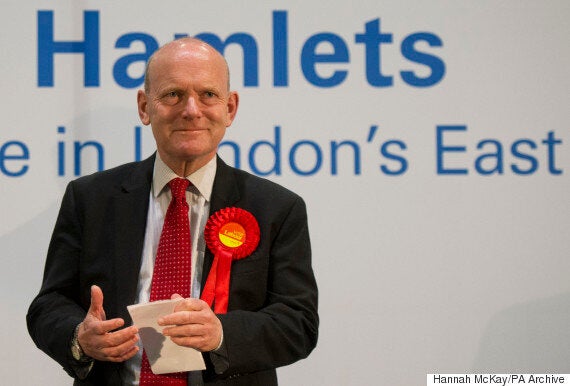 Tower Hamlets Mayor John Biggs has asked police to try and ban far-right group's like Britain First from the borough
"I stand in solidarity with all residents of Tower Hamlets, and particularly our Muslim community, who feel threatened by these events.
"As mayor I am working with all of our different partners and services to address this threat properly and I have instructed our chief executive to determine what other actions are needed.
"I am liaising with our Inter-Faith Network, and with opposition leaders, to see what other acts of solidarity and community leadership we can deploy to reassure and to give the unequivocal message that Britain First are not welcome in any corner of our borough. We must be vigilant, and we must maintain the higher ground, away from the gutter of provocation where these groups belong."
A police spokesperson said police do not have the "legal power" to ban static protests', like that held by Britain First on Saturday.
The spokesperson said an "appropriate amount" of officers attended the demonstration within nine minutes of being informed and remained there for just under two hours.
A Section 12 Public Order Act was put in place, the spokesperson said, to prevent Britain First from taking the protest from the mosque to Brick Lane.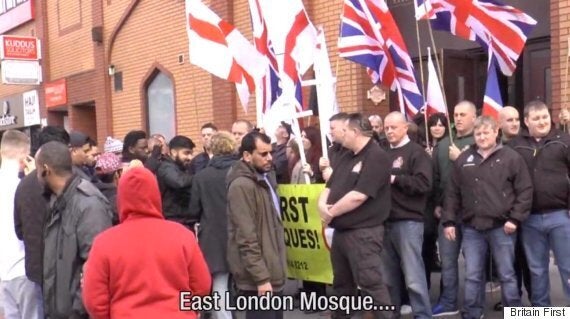 Britain First members protest outside the East London Mosque
"Police have a duty to safeguard the right to protest, and balance that right against the rights of all those impacted by a protest," the spokesperson said.
"Officers are mindful of the responses that can be stirred when those with conflicting views come together in the same area or when protests are held at religious or culturally significant sites.
"Disorder, crime and incitement to hatred will not be tolerated, not just during protest but at any time, and officers will take the most appropriate action if these occur."
The spokesperson would not comment on the Biggs' demands, but added: "Officers in Tower Hamlets listen carefully to all their communities and partners, to ensure they understand their concerns and in return always explain what their policing obligations are.
"Tower Hamlets police have a proportionate, but robust, policing plan in place to respond to any future protests. This policing plan incorporates events that we are notified about as well as those that occur without prior consultation with the appropriate agencies.
"Officers will continue to inform and work with its partners on matters like this."
Britain First could not be reached for comment.
Reverend Prebendary Alan Green, an east London rector, stood in solidarity with his "Muslim friends" when their place of worship was picketed on Saturday and told Britain First supporters to "stop waving crosses around and making them a symbol of hate".
Green, who chairs Tower Hamlets' Inter-Faith Forum, accused the far-right party's members of being "un-Christian" and said they were "undermining the mission of the Church" with their "extremist" views.