Children are consuming up to 500 calories more than is recommended per day, the equivalent of an extra meal, a new report warns.
The data is part of Public Health England's (PHE) latest report on obesity, which claims "too many children and most adults are overweight or obese, suffering consequences from bullying and low self-esteem in childhood, to type 2 diabetes, heart disease and some cancers as adults".
The report found boys aged 16-18 were consuming the highest amount of excess calories per day at 505. However, children as young as four are eating and drinking too many high calorie products.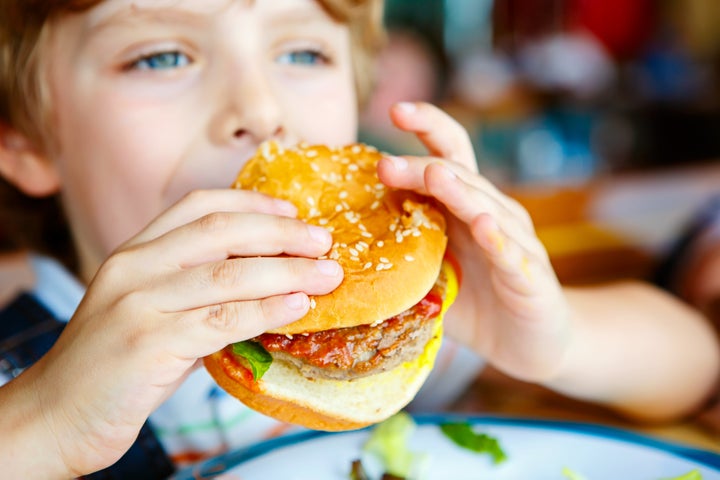 Children need a lot of energy per day because they're still growing and the amount of calories they are recommended to consume changes as they age.
The NHS' Eatwell Guide contains a full breakdown of what children should be eating at different ages, but it is recommend a four-year-old boy consumes 1,386 calories per day while a girl of the same age consumes 1,291 calories per day. This gradually increases and by the time they are 10, boys are recommended to consume 2,032 calories per day and girls 1,936 per day.
From the age of 11 and over, boys and girls are recommended to consume the same amount of calories as adults, at 2,500 and 2,000 respectively.
According to the new report, boys aged four-10 are consuming an excessive 146 calories per day. This rockets when boys attend secondary school, with 11-15 year olds consuming 498 excess calories.
However, it's older teenage boys who have the highest calorie consumption, with 16-18 year olds consuming 505 calories too many per day.
The report also found girls are consuming more calories than is recommended each day. Girls aged four-10 consume an excessive 157 while girls aged 11-15 eat 229 calories per day too many. As girls hit 16-18, this increases to 291 excessive calories.
The report follows advice from PHE to parents to limit their child's sugar and calorie intake by giving them a maximum of two 100-calorie snacks each day.
Responding to the latest report, Caroline Cerny, Obesity Health Alliance lead, said: "It's a real worry that this new data shows some children who are already an unhealthy weight eat the equivalent of an extra meal a day in calories – resulting in extra weight gain and setting them up for future health problems. Of course we all need to eat calories, but with many everyday products containing high levels of sugar and saturated fat, it's all too easy to eat more calories than we actually need.
"The food industry absolutely must play its part in tackling obesity, and through adapting recipes and reducing over-sized portions, can make it much easier for families to make healthier choices. It's important that Government keeps a check on industry to ensure these targets are being met – and if not, takes tough measures to enforce action."